5Dimes Review – Best Odds on American Sports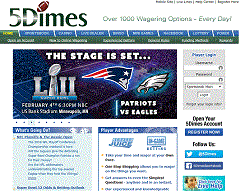 www.5dimes.eu is a popular online sportsbook operated by one of the sharpest handicappers of all time. Online since 1999, today they are best known for their industry leading odds and number of markets per match.
5Dimes Sport Coverage
The first thing you'll notice about 5Dimes is their wagering menu is massive. Listed to the left are American sports including football, basketball, baseball, and hockey. The amazing thing is the number of leagues offered, for football you'll not only find NFL and NCAA you'll also find high school football, UFL, CFL, Arena and more. For basketball you'll find similar including WNBA, and for hockey both International and NHL are on offer. In the center of their betting menu you'll find their soccer coverage that includes international competitions as well domestic matches from 23 different countries. On the right side of the menu you'll find fighting including boxing, UFC, Strike Force and Bellator, motor racing including Formula 1, NASCAR, IndyCar and more as well as golf, cricket and rugby. They also rank number one in the US on our list of tennis betting sites.
More Markets per Match
At 5Dimes there are ton of markets per match in terms of props bets. For example it's not uncommon to find more than 400 propositions on a single match. In American football you'll generally find multiple variants of the same prop such as will there be a score in the first 1:00, 2:00, 3:00, 4:00, 5:00, 6:00, 6:30, 7:30 etc. all broken down with unique yes and no odds for each. You'll find the common props such as team to score first, first score a TD or FG/Safety, 3 unanswered scores, total field goals, total safeties, total punts, interception odds, player performance and a ton more. These odds are priced highly competitive with a lower percent market than other sites offer. For example if another bookmaker was offering Score in the first 7:30 Yes -125 No -105 at 5Dimes the odds would probably offer the same for Yes -115 No +105 as they don't charge as much juice as other betting sites.
Drop Down Menu
Another way 5Dimes offers more markets then their competitors is with drop down menu lines. For example, at the time of this review the New Orleans Saints are -4.5 -110. Using a drop down menu I'm also given the option of moving the line to -4 -118 or -3.5 -125 or moving the line the other way I can take -5 -102, or -5.5 +105. This same option is available for all teams on the board. It's also available for game totals, for this particular game the over is o38 -110 and using the drop down menu I find o37.5 -118, o37 -125, o38.5 -102 and o39. For this game if I liked the Saints to cover -4.5 -110, I'd be highly tempted to save the chalk and just take them -5.5 +105. The cool thing at least is that I have these options as very few betting sites give players the option to move the line in both directions, and no site doing so offers alternative lines as competitively priced as 5Dimes.
Other Betting Options
At 5dimes you'll course find all the usual wagering options such as point spreads, moneylines and totals, as well as the plethora of props and alternate lines already mentioned. Here you'll find some unique wagering opportunities in the form of team totals, and period or quarter wagering. That's right, it's possible to bet on the result of the second, third and/or fourth quarter prior to the game even starting. Quite honestly, 5Dimes has more wagering opportunities than any other site. While their oddsmaker is sharp, with this many wagering options – there is no doubt value to be found.
5Dimes Bonus Offers
At 5Dimes there are six different rewards programs to choose from. All players by default are given the reduced juice reward option, but if you'd like change programs you can contact live help right from their website to discuss changing to a different rewards option. It is advised you do this prior to making your opening deposit. To see the full write up of each rewards option – visit the 5Dimes website. Below I cover each in summary format.
Reduced Juice Rewards – When staying with the default option on game day you'll find a tab in the wagering menu called "Reduced" under NFL, NCAA football, Canadian Football, NBA Betting, NCAA basketball, WNBA, MLB, NHL, grand slam tennis, PGA golf, boxing, MMA, and special events. Again this is only available on game day for most events, but to put it into perspective football and basketball use -105 base pricing where baseball and hockey use an unheard of -102/-103 nickel line overnight and an 8 cent line after 8AM. For most sports bettors this is the rewards option to stick with.
Bonus Offers – This is an option where your account is eligible for bonus offers. The maximum bonus at sign up is 50% up to $400.00 however for deposits $401 to $2,000 you'll get the 50% bonus on the first $400 and a 20% bonus on the remainder. Therefore the maximum bonus is (50% of $400 = $200) + (20% of $1600 = $320) = $520 total. You'll also be eligible for a 25% reload bonus up to $500 on person to person transfers made each month. Now to interject my opinion quickly, if you look into the fine print you'll find this bonus option is not ideal for "most" punters. If you're mostly betting a sport that isn't covered in reduced juice such as soccer, cricket or rugby this bonus might be for you. For everyone else note that the bonuses come in the form of "free play" (as opposed to "cash") credits, and these are only released in 10% increments for each rollover. So if your bonus reward is $520 you'll get $52.00 in free play credits for each $520 wagered, meaning it takes a 10x rollover to receive the full value. Again for most, the reduced juice option will come out better.
Cashback Rewards – With this option you can select to get 20% of your losses back as cash every 6 months, or 15% of your losses back as cash every 30 days, or 10% of you losses back weekly. Additionally after getting your cash back, if you haven't made any withdrawals and your account goes bust – you have 24 hours to claim a reload bonus of 10%. This rewards option is worth considering if you wager frequently in the casino and also bet sports, or if you're someone who doesn't wager often at all, but when you do wager you wager big. For example someone who only bets $2,000 on the Super Bowl, NCAA National Championship Game, and maybe a few tennis and golf matches per year, might consider this option over the default reduced juice rewards.
-107 Juice Including Parlays – If you bet a lot of parlays this is an option you'll want to get your account converted to. Instead of getting -105 reduced juice on game day you'll get -107, but the big draw is all your parlays will also be calculated at -107 true odds. Take for example a 5 team parlay, at most betting sites the fixed odds are 20 to 1 at 5Dimes using -107 true odds a winning 5 team parlay pays 26.10 to 1. If you bet a lot of parlays contact 5Dimes to change your rewards program to option #4.
Point Buying Reward – This is solid option that gives players the ability to buy points at better than standard odds, and also gives them Vegas rules on two team teasers (meaning a push + a loss = a push). While this option can have significant value to certain punters, most will still want to stick to option #1, reduced juice.
Casino Rebate Rewards – This is the best option for those who use 5Dimes mostly for casino wagering. If you're also betting sports this would not be an option worth considering.

Additional Promotions

At 5Dimes there is a plethora of additional promotions. In the casino you'll find Reversed Commission Pai Gow Tuesdays, Radical Roulette Wednesdays, 100x Craps on Thursdays, 2 to 1 Blackjack Blow-Out Fridays, Deuces Wild 100.76% Payout Saturdays and Jokers Wild 100.64% Payout Sundays. You're also eligible for a $25 free bet in there live casino, for details refer to the Rewards Page of the 5Dimes website.

More Everyday Great Value at 5Dimes

At 5Dimes there is a plethora of other wagering options with industry leading odds. For example they offer 728 different options for teaser betting, not including their hundreds of options available for wagering pleasers. They also have the most comprehensive future betting selections on the market including winners of divisions and championships, all with the lowest percent market available on the net. The bottom line this site offer US players the most value. They do however one unresolved dispute which is mentioned on our page US betting sites.