Asian Bookies and Sports Betting Sites for Asia
Sports Betting Sites is doing extensive research on Asian bookies and UK bookies that service the Asia and has added many of them to our sportsbook rating guide. Although our research is still preliminary at this time 188bet is our favorite. You can learn more about them by reading my 188Bet Reviews. As my staff learns more about the Asian market this page will continue to be updated. In the meantime here are our notes.
Asian Bookie Currencies
Some of the currencies popular at Asia betting sites include: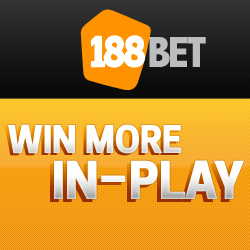 INR – India Rupee
JPY – Japanese Yen
MYR – Malaysian Ringgit
VND – Vietnamese Dong
TWD – Taiwan Dollar
HKD – Hong Kong Dollar
SGD – Singapore Dollar
MPO – Macanese Pataca
If you would like to bet online using your home currency see our guide to below for best betting sites for specific regions.
Best Sites by Asian Country.
Below you'll find preliminary betting site rankings by country. So far I've covered 7 countries. If a site is listed #1 that means it is the site I most recommend to players living there – #2 would be next and so on and so forth. Know that all these sites are good; I did not put any bad sites on these lists so even #4, #5 or #6 is an okay bookie to use.
*** Big #'s are how many in same country search Google in 1 month for that bookies name**
Malaysia (* next to # = MYR | * Next to Name = Malay Language)
For Malaysia www.188bet.com is #1. They have many banking options that allow you to deposit with home bank account and also get paid winnings for free to your bank. This is very secure and the transactions of private in such a way there will be no problems with the banks knowing you are doing online betting. Sure sure that for Malaysia 188Bet is #1.
*1. 188bet – 1300
*2. 12bet – 5400
*3. Mansion88 – 390
*4. Bet365 – 2400
Vietnam (* next to # = VND | * Next to Name = Vietnamese Language)
*1. *m88 49500
*2. *12bet 14800
*3. *188 bet 1900
Chinese Bookies
All sites below are available in Chinese Language and accept RMB Chinese Yuan as currency.
*1. *bet365 12100
*2. *ladbrokes 1000
*3. *188bet 880
*4. *m88 390
*5. *bodog88 260
Indonesia Bookies
M88 and 12Bet are available in local language and take Rupiah (IDR). However 188Bet.com is a slightly better choice. If you live in Indonesia, before betting with any of these sites please read this page.
*1. 188bet – 1300
*2. *m88 – 8100
*3. *12bet – 2900
Japan Betting Sites
All the Sites below accept wagers in Japanese Yen. Pinnacle and M88 are also in choice of Japanese Language or English Language.
*1. *Pinnacle Sports – 590
*2. Bet365 – 2900
*3. ladbrokes – 720
*4. *m88 – 590
Indian Rupee Bookmakers
The only site accepting Rupee that we recommend is Bet365. The other sites on this list can be wagered using GBP or EUR (or USD for some) and all are very friendly to Indians. Read my page on Indian Rupee Bookies.
*1. bet365 – 12100
2. betfair – 74000
3. ladbrokes – 2400
4. william hill – 1600
5. paddy power – 480
6. Pinnacle Sports – 36
Singapore Bookies
All the sites below accept Singapore Dollars (SGD) and are available in multiple official Singapore languages.
1. pinnacle sports – 140
2. bet365 – 5400
3. betfair – 1300
4. ladbrokes – 1000
5. william hill – 720
More Asian Bookies
There are 5 other locations I started research on that Information is as follows.
Hong Kong Bookies
There are not many sites accepting Hong Kong residents, but there are three great options. Pinnacle Sports offers odds in Hong Kong Format, takes Hong Kong Dollars, and has low margins (great odds) and fast payouts. This is my favorite site for Hong Kong. Two other sites accepting Hong Kong Dollars are Ladbrokes and 188Bet.
Taiwan Sports Betting

There are two legitimate sites accepting Taiwan New Dollars (TWD), those being Pinnacle Sports and Bet365. Neither offers a sign up bonus to Taiwan residents, but both are extremely trusted and rated A+ on our sportsbook rating guide. If you're looking for the best odds I'd suggest www.pinnaclesports.com.
Korean Sports Betting
M88.com is available in Korean. I don't know too much about this market to comment beyond that.
Cambodia Sports Betting
Same situation here, I'm not familiar with the market but do know M88.com is available in Khmer.
Macau Sports Betting
Ladbrokes offers Macanese Pataca (MPO) as a currency option. This is a trusted site rated A+ with us and a very good option for Macao residents.
How to Deposit?
The best ways to deposit are Moneybookers and Neteller where allowed. Malaysia residents are advised to use EntroPay, this is a very good option for the Malaysia region.
Check back soon for more content about Asia betting sites.