Bet365 Review – Top Rated International Bookmaker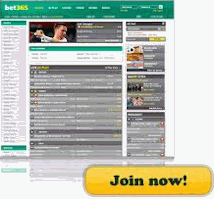 Bet365 is a popular online gambling site offering sports betting, poker, bingo and casino games all accessible from a single account balance. As a punter what I absolutely love about Bet365 is their vast markets. Seriously they have more In-Play live betting opportunities available at any given moment than competitors manage to offer over an entire weekend.
Claim a Special $100/€100/Rs.2500 Bet365 CASH Bonus
The reason for so many live betting opportunities is the fact Bet365 is truly global. Their website is available in 17 languages and 29 currencies and they actually have live streams and In-Play betting targeted towards each market. I've personally become a fan of several international leagues I would never have consider had it not been for Bet365's live streams and comprehensive wagering options for each match.
The two most popular sports at Bet365 are no doubt football betting and tennis betting. If you like these sports you'll be pleased to find dozens of matches running 24/7/365 with In-Play betting offered. They also however have vast coverage of all other sports. Cricket is quite popular in India and the UK, so of course you'll find cricket coverage including Indian Premier League, Twenty20 Cup, English Country, etc. and be happy to know Indian Rupee and UK Pounds are included in the 29 currencies it is possible to open an account in. If you're from elsewhere, no problem – Bet365, more than likely, has streams for your favourite sport and accepts your currency of choice as well.
The point I'm getting at is it doesn't matter where you're from or what sports you'd like to wager. Bet365 name is derived from the saying 24/7/365 – and that's what you'll find here. No matter what time you log in it is primetime somewhere in the world and there are matches available to wager on. Their betting interface includes F1 Betting, and betting on American football, Australian Rules, baseball, basketball, bowls, boxing/UFC, cricket, cycling, darts, futsal, Gaelic sports, golf, greyhounds, ice hockey, lotto, motor sports, Rugby League, Rugby Union, snooker, soccer (football), speedway, tennis, volleyball and other season competitions. The wagering options for each are second to none.
Bet365 Bonus Offers
Bet365 offers new players a 100% initial deposit match up to USD $200 free. For other account currencies the bonuses are also 100% up to $100 (CAD), €100 (Euro), Rs. 2500 (INR) and R1000 (ZAR). This is a small sample of the available bonuses by currency, to see the bonuses for other currencies, click here. Quite impressively – all you need to do to claim this bonus is visit the "offers" section of the members' area (cashier) "after" making your initial deposit. The bonus is then credited instantly as cash and you just need to wager it, as well as your deposit amount, three times prior to cashing out. This makes the Bet365 sign-up bonus one of the highest offered in sports betting period. Using the same exact deposit you can also claim a 100% bingo bonus. Even if you're not fan, there is so much liquidly in their bingo room that the prizes get massive. Considering your bonus allows you many free tries at large jackpots, it is probably worth taking this bonus as well.
Football Promos
Bet365 has several promotions for football, including frequent free bet offers on major English Premier League matches. While the free bets come at random about one or two times per month, they have two standard promotions that are always available, each having massive value.
Bore Draw Refund: For any football league no matter if we're taking a major competition, or division 3 from a small country, Bet365 increases the effective odds offered to punters through their bore draw refund promotion. How it works is all pre-match Correct Score, Half-Time/Full-Time and Scorecast bets are refunded when a match finishes 0-0. Those who understand betting math realise this often makes their effective football odds better than those offered at Betfair and Pinnacle.
Euro Accumulator Bonus: When wagering accumulators with all selections coming from a major European football league (Premier League, Serie A, Primera Liga, Bundesliga 1 or Champions League) Bet365 increases the accumulator payouts. This starts with a 5% increase for trebles, 7.5% for 4-folds, 10% for 5-folds, 20% for 6-folds, and 10% more for each fold all the way to 100% bonus for 14-folds. Having run the math, many of these options entirely negate the bookmaker's advantage.
Note: Bet365 has an even better accumulator bonus offered for American sports including NFL, NCAAF, NBA, NCAAB and MLB betting.
Horse Racing Promos
Bet365 has outstanding promotions for horse racing ranging from guaranteed best odds to free bets. Here are some of the offers you'll find available on their website.
Best Odds Guaranteed – When wagering board prices, bet365 early prices, singles and multiples as well as showcast bets, you don't need to worry about the odds. If the SP is bigger than the odds you wagered Bet365 will pay you based on the SP. This is applicable to all horse racing matches anywhere in the world 24/7/365 and every day this has happens multiple times, earning punters a great deal more money.
Free Bets – If you back a winner at 4/1 odds or greater on any UK or Ireland race shown on Channel 4, Bet365 will give you an equal sized free bet on the next race up to £50.00, if you back a winner again at 4/1 odds or greater, you'll again be given a free bet, keep backing winners and the free bets continue all from your initial £50 stake. This same promo also runs for two featured non channel 4 races each day.
Note: Bet365 has very similar offers available for greyhound races as well.
Bet365 Banking Options
With over 5 million customers in 200 different countries, another nice feature of Bet365 is their banking options. Seriously pretty much every banking option imaginable is offered including credit card, PayPal, Moneybookers, Neteller, EntroPay, PaySafeCard, InstaDebit, uKash, Poli, Webmoney. Countries Bet365 doesn't service include United States, Hong Kong, Turkey, France, South Africa and Netherlands. Punters from other areas are welcomed and Bet365 has you well covered with banking options friendly to your region.
Bet365 Has our Highest Recommendation
Bet365 is highly rated at all major industry review portals, including a 4+ of 5 at BMR, and an A- at SBR. Both of these portals are highly critical when it comes to ratings, and the specific rank given to Bet365 has them in the top 1% of bookmakers in the world. At Sports Betting Sites we rank them even higher. You see, I'm well familiar with sports betting in US, Canada, Thailand, UK, and India and have friends from all over the world who are professional gamblers. I think what SBR who is US focused, and BMR who is UK focused, fail to realize is what a powerhouse brand this is internationally. Many betting sites attempt to service all markets – and what usually ends up happening is they are strong in one area, and mediocre in others. Bet365 has managed to build a global gambling brand better than anyone else period.
Of course this was the plan all along. Licensed since 1974 in the UK, Bet365 had 49 live betting shops part of their franchise when in 2000 Denise Coates purchased the domain name for £10,000 from Ebay with the intent of taking her father's business global. In 2001 Bet365 became the first UK Bookmaker to embrace the internet, and one of the first to set up support and betting in over a dozen languages. Their success came rapidly and today Bet365 is the 7th largest private owned company in the UK. If that's not enough to show their financial security, then note: they are also owned by the same family who owns the English Premier League team Stoke City FC. Meanwhile Bet365 goes out of their way to adhere to all laws of their jurisdiction. They invested large in passport scanners that can verify the age of any of their customers around the world. They do postal mail validation for accounts as well. When you sign up Bet365 will send you a discrete letter that inside contains a code you'll need to enter on their site to confirm your address. These guys take Know Your Customers (KYC) seriously. They are also aggressive in grey area markets like India, while avoiding markets where the risk is great like the United States.
The bottom line, Bet365 has more on offer than any other betting site, is more than financially secure and has a track record second to none for great customer service, fair bookmaking and timely payouts. As a result they are just one of just 4 betting websites that have achieved an A+ rating here at Sports Betting Sites. If you want to wager with the best, then get started at www.bet365.com.