2015 Australian Grand Prix Betting
As is the case in most F1 seasons, the Australian Grand Prix is the first race of the 2015 F1 season. The actual race takes place Sunday 15 March 2015 with practice and qualifying done the days prior.
Because it is the first race of the season, us handicappers have less information available for making our selections. This creates interesting betting strategies for serious punters who look to make consistent profits.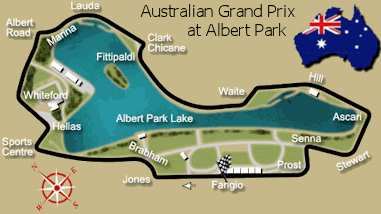 The Albert Lake Park Street Circuit runs all the way around Albert Lake, inside the confines of the park. For the most part, it is a wide open circuit with high speeds and only a few tight turns. With that said, this is a difficult circuit for overtaking.
Location: Albert Park, Melbourne, Victoria, Australia
Circuit: Albert Lake Park Street Circuit
Circuit Length: 5.303 km
Total Race Distance: 307.574 km
Turns: 16
Hard Turns: 9 (Turns 1,3, 4, 6, 9, 13, 14, 15, 16)
Hard Turns/Km: 1.697
Fastest Lap Time 1.24.125 (Schumacher, 2004)
Fastest Seconds/Km: 15.8637
Betting on Race Winners at the Australian GP
If you're betting before qualifying, you're taking a larger risk than you are in races later in the season. The odds for favourites tend to be slightly greater, but we really don't know whose cars are dialed in until qualifying is done.
That creates another problem, which is the history of the circuit. History shows us the importance of being on the pole at Albert Park. Since polesitters have a much better chance of winning here than they do at most circuits, when you place your bets before qualifying, you're essentially betting on who will win the pole. The problem is that the odds for the polesitter are usually quite low – offering very little value.
The ideal way to bet on race winners at the Australian GP is to pay attention to off-season practice and early practice at the track – before qualifying has begun. The idea is to bet on the qualifying itself, trying to predict which driver will end up on the pole. This way, you can take advantage of the greater odds offered before qualifying has ended.
Our article on betting F1 race winners has helpful tips to consider for betting any race. The reason I link to that now however is to mention at the bottom of that page there are links to drivers and teams. This content was all updated during the off season. Navigating around you can get my predictions on what I am expecting in 2015 from top teams and driver. This is very helpful as a lot has changed since last season. McLaren is now McLaren-Honda and the team has signed Alonso Fernando. Sebastian Vettel has moved to Ferrari, Red Bull has a very young team, and this is only some of the many changes.
As far as the circuit goes, understand this has NOT been modified in recent years. The historical results, when only glancing at the most recent years in a table format, are deceiving. Without the full story it does not support how difficult this track is for passing.

In 2014 the Podium was Nico Rosberg 1st, Kevin Magnussen 2nd and Jenson Button 10th. They started respectively at P3, P4 and P10. What happened here is Lewis Hamilton started on the pole but completed only two laps due to engine trouble. Daniel Ricciardo who started P2 was disqualified for breaching fuel consumption and measurement rules. The top two thus essentially held their position while Jenson Button was able to move up several spots finishing behind fellow McLaren-Mercedes teammate Kevin Magnussen.
In 2013 the Podium was Kimi Räikkönen, Fernando Alonso, and Sebastian Vettel who started in P7, P5 and P1 respectively. While this would seem to indicate there was a lot of overtaking, some of it happened rather quickly. Vettel's teammate Mark Webber had started in P2 but a problem with an ECU meant he could not use his KERS off the start line and quickly dropped down to seventh. This caused a lot of initial shift. Even so the top seven finishers all started top seven on the grid, but the order changed a lot.
In 2012 the top four were Jenson Button (G2 start), Sebastian Vettel (G6 Start), Lewis Hamilton (G1 Start) and Mark Webber (G5 Start).Again a similar situation occurred here. Romain Grosjean who stared G3 finished only one lap due to a collision which seen the order quickly shift. Then Michael Schumacher (G4 start) was done after 10 laps (gearbox)
At the 2011 Australian Grand Prix, Sebastian Vettel started on the pole, followed by Lewis Hamilton. They also finished in that order. 2010 was an anomaly, with flukey events. In 2009, the starting grid was 1/ Button 2/ Barrichello. Button won and Barrichello took second. In 2008, Hamilton won from the pole. In 2007, Raikkonen and Alonso started 1 – 2, and finished in that order as well.
Again there has not been changes to the circuit. Despite some mix-up in historical results, our analysis remains the same. This is a difficult track for overtaking.
Betting after Qualifying: This is a fast circuit and difficult for overtaking, which means that punters taking the polesitter should do well when betting the race winner.
I also look at who's in P2 or P3 of course, but history shows us that the pole has added value at the Australian GP. To bet on P2 or P3, I think it's important to have some knowledge about how well the polesitter does on the start. For example, a few years ago (now-retired) Mark Webber had started to gain a reputation for losing the pole by the first turn. When someone with such a reputation is starting on the pole here, P2 and P3 have a much better chance of winning than they would if guys like Hamilton are on the pole.
Top 3 Bets
For Top 3 bets, I look for aggressive drivers in the P3 or P4 that offer better value than P1 or P2. At the 2015 Australian Grand Prix, the odds will be much lower for those starting in the P1 and P2 positions than most other races. So, we have to look for value, but also be realistic about it. Going after guys in the P5 or lower positions will offer much better odds, but it's very difficult for them to get onto the podium. This is one of those races where we have no choice but to go for less risk, less reward.
Top 6 Bets
For Top 6 bets, we can go a bit deeper, looking back to P8 or P9. There is more movement back in the pack, and P8 can end up in P6 with nothing more than a good start. So, once again I'm really looking for a guy who offers us good odds, who has a reputation for moving up on the start, and also has a car capable of doing that.
Results for the past 4 Australian Grand Prix F1 races including where each started on the grid are attached below.
| | | | | |
| --- | --- | --- | --- | --- |
| Results | 1st (Grid) | Time | 2nd (Grid) | 3rd (Grid) |
| 2014 | Nico Rosberg (3) | 1:32:58.710 | Kevin Magnussen (4) | Jenson Button (10) |
| 2013 | Kimi Räikkönen (7) | 1:30:03.225 | Fernando Alonso (5) | Sebastian Vettel (1) |
| 2012 | Jenson Button (2) | 1:34:09.565 | Sebastian Vettel (6) | Lewis Hamilton (1) |
| 2011 | Sebastian Vettel (1) | 1:29:30.259 | Lewis Hamilton (2) | Vitaly Petrov (6) |