Betting on Fernando Alonso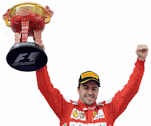 Fernando Alonso is one of the most experienced Formula 1 drivers. He won the World Driver's Championship (WDC) back to back in 2005 and 2006 with the Renault team. From 2010-2014 he drove for Ferrari. In his first four season with them he finished 2nd, 4th, 2nd, and 2nd in the point standings. 2014 was an off year for him. He finished 6th. This had more to do with Ferrari not adjusting well to F1's change to V6 Turbo charged engines that were new in 2014, than it did his own driving.
For the 2015 F1 season Fernando Alonso has changed teams. He will race with McLaren and have Jenson Button as a teammate. McLaren previously known as McLaren-Mercedes has changed engine suppliers and is now McLaren-Honda. If they can give Alonso a competitive car, chances are very good he will be a staple of the top 6, and might even be in the hunt for the Championship.
The preseason betting odds have Alonso as the third favourite. Albeit at 10/1 at Bookmakers, and less at betting exchanges, he is a distant third. The two Mercedes AMG drivers Lewis Hamilton (4/6 odds) and Nico Rosberg (11/4 odds) are the early favourites. Still at 10/1 Alonso might well be worth a punt. If not, or even if so, when betting race winner in individual races, his odds will be worth a look in many races this season.
Our goal with this article is to help readers find the best ways to bet on Fernando Alonso in 2015. You will also find Alonso's recent racing stats, information about his driving style, and tips for finding value. Before getting started here is his quick bio.
Fernando Alonso Bio
Born: 29th July 1981. Oviedo, Asturias, Spain
Residence: Oviedo, Asturias, Spain. Alonso moved back to Oviedo (from Switzerland) in late 2010 to be closer to his friends & family. The move has been reported to have cost Alonso £50 million in taxes.
Team: McLaren-Honda
World Drivers Championships: 2 (2005, 2006)
Alonso F1 Racing Stats
*Through the end of 2014
Races Started: 235
Career Poles: 22
Career Poles/Starts: 9.4%
Career Wins: 32
Career Wins/Starts: 13.6%
Career Podiums: 97
Career Podiums/Starts: 41.3%
Fernando Alonso's Racing Style
Alonso is a well-rounded driver who will fight for a win. He's willing to take the risks required to win, but he does it with smarts and craftiness. The only thing that has held Alonso back in recent years is his car.
His prowess on the track was exemplified in the 2010-2013 seasons with his success over teammate Felipe Massa. In 2010, Alonso finished 2nd in the Drivers' Championship, while Massa finished 6th. In 2011, Alonso finished 4th in the WDC, while Massa finished 6th. In 2012 Alonso was only 3 points shy of winning his third World Drivers' Championship finishing with 278 points, behind Sebastian Vettel who had 281. Massa finished 7th that year. In 2013 Alonso finished a distant second in the point standings while Massa finished 8th.
As mentioned, due to engine changes 2014 was an off year. Massa changed to the Williams Team and Kimi Räikkönen became Alonso's Ferrari teammate. Alonso finished 6th while Räikkönen finished 12th. For 2015 Fernando Alonso is with team McLaren-Honda and is there is no reason to suspect he won't return to being competitive this season.
Fernando Alonso Betting Tips
For early in 2015, I love Alonso at 3/2 or better when he qualifies on the pole. I also like him at 5/2 or better when he qualifies 2nd, or 4/1 or better when he qualifies 3rd. FIA continues to make rule changes to make top teams more competitive. The teams that stand to benefit the most from these are ones like his old team Ferrari and his new Team McLaren-Honda.
Starting in the top 5 grid positions, I like Alonso's chances for top-3 finishes throughout the 2015 F1 season. We'll get better odds on him than Lewis Hamilton, and are likely to see Alonso return to making podiums.
For matchup bets that include the top F1 drivers, there is no reason to place a matchup bet on anyone. Remember, the eventual winner is likely to come out of this matchup anyway, so place a bet on the outright winner instead and get the greater odds. If Alonso is matched up with drivers that don't include Hamilton or Rosberg, then Alonso could be a good pick.
Based on what has happened the last couple of seasons, and the rule changes made during the off-season, Alonso should be a staple of the top 6. Although low odds on him may deter handicappers, consistent top 6 bets on him should pay off in the long run. I'll be more likely to make top-6 bets on Alonso when he starts in P3-P8 than P1 or P2, looking for greater odds for him to hold (or gain) position and deflecting low odds on potential DNF's.
Results in Past 5 F1 Seasons
2014:
Team: Scuderia Ferrari
Races: 19
Poles: 0
Wins: 0
Podiums: 2
WDC Points/Standings: 161, 6th
2013:
Team: Scuderia Ferrari
Races: 19
Poles: 0
Wins: 2 (Chinese Grand Prix, Spanish Grand Prix)
Podiums: 9
WDC Points/Standings: 242, 2nd
2012:
Team: Scuderia Ferrari
Races: 20
Poles: 2
Wins: 3 (Malaysian Grand Prix, European Grand Prix, German Grand Prix)
Podiums: 13
WDC Points/Standings: 278, 2nd (3 points behind Sebastian Vettel)
2011:
Team: Scuderia Ferrari
Races: 19
Poles: 0
Wins: 1
Podiums: 10
WDC Points/Standings: 257, 4th (1 point behind Mark Webber)
2010:
Team: Scuderia Ferrari
Races: 19
Poles: 2
Wins: 5
Podiums: 10
WDC Points/Standings: 252, 2nd