2015 Malaysian Grand Prix Betting
The Malaysian Grand Prix is the second race of the 2015 F1 season. It will be held 27-29 March 2015. Friday is the practice session, Saturday is practice and qualifying and the actual race is on Sunday the 29th. This article provides details of the circuit and what to look for when placing wagers.
Sepang International Circuit Information

From a visual standpoint, the Sepang International Circuit is one of the most beautiful F1 race tracks. With a signature hairpin that separates two long straights down the middle of the circuit, and its clover-like outer track design, there is no mistaking this circuit for any other in the world. Between the straights is where the main grandstand is positioned – an incredible vantage point that provides spectators an excellent view of either half of the track, depending on which side they're sitting on.
While the track is fairly open for high speeds, there are a few turns that are extremely slow. Turns 1 and 2 are very slow, along with the hairpin on turn 15. Turn 9 is also very slow, many calling it a hairpin. Aside from these turns, this is a very fast race where acceleration and top speed are critical.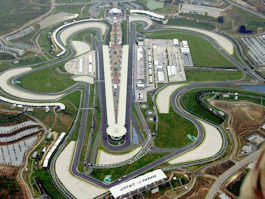 Location: Sepang, Selangor, Malaysia
Circuit: Sepang International Circuit
Circuit Length: 5.543 km
Total Race Distance: 310.408 km
Turns: 15
Hard Turns: 10 (Turns 1, 2, 4, 5, 6, 8, 9, 11, 14, 15)
Hard Turns/Km: 1.804
Fastest Lap Time 1:34.223 (Montoya, 2004)
Fastest Seconds/Km: 16.9986
The 2015 Malaysian Grand Prix is the final year this circuit is under contact, but it will almost certainly be extended. This likely remains on the F1 calendar for years to come. There have been no major modifications to the track in recent years so historical results are accurate for comparison purposes.
Betting on Race Winners at the Malaysian GP
There are plenty of overtaking opportunities at Sepang, and punters should be looking for value from the 2nd – 4th starting grid positions. Circuit analysis suggest that handicappers should expect to pick winners at the Malaysian GP a little less often than some other races, but the odds should be better when wins are had. That said, the more recent historical results don't reflect the overtaking opportunities of this track. The polesitter won this race in 2014, 2013 and 2011.
In 2014 Lewis Hamilton started on the pole and won. The three starting behind him also finished top 4. The only change is Nico Rosberg started P3 and finished behind his Mercedes AMG teammate in second by passing Red Bull Racing team's Sebastian Vettel who started P2. In 2013 Sebastian Vettel started on the pole and won. His teammate Mark Webber started P5 and finished second while Lewis Hamilton who started P4 completed the podium. In this race Fernando Alonso was P2 but was out lap 1 due to a collision. P2 was Felipe Massa, he was competitive but finished fifth.
Before the start of the 2012 Malaysia Grand Prix we advised bettors to look for value on race winner deep in P3 to P6 due to the overtaking opportunities. This advice proved almost good, but that year the top two were Fernando Alonso and Sergio Pérez who started 8 and 9 on the grid respectively. This race didn't have a large set of anomalies either so our prediction had value, but the winners were probably deeper than most punters were willing to go.
Provided there are no major changes before the 2015 Malaysia Grand Prix our advice is again to look deeper. While it helps at any circuit, the pole position is less important here than many other races. If you like the polesitter, but don't like the odds, don't be afraid to pass. Value likely can be found deep.
Betting Before Qualifying
Generally speaking, anytime you do Formula 1 betting before qualifying, it's usually best to stay away from the top 1, 2, or even 3 favourites. These drivers will have the lowest odds, yet they have less chance of winning in Malaysia than they will other races. So, if you're going to bet on the race winner before qualifying, this is a race to be looking for much better odds on a driver who is not favoured quite as highly. If he ends up in the top 4 starting positions, his odds will go way down, and he will still have a legitimate shot at winning.
Top 3 Bets
With so much movement between drivers, in 2015 bettors should look for Top 3 value from P6 – P8. If you find a driver who is generally fast but had a poor qualifying position, this could be a great opportunity. Once the racing gets started, anything can happen.
Top 6 Bets
If you like taking bigger risks, the 2015 Malaysia Grand Prix should be a fun race for Top 6 bets. It's not uncommon to see drivers starting in the top 12-15 ending up in the top 6. Look for experienced drivers who know how to make skillful risks, and are willing to do some blocking. If you can find a contender for the 2015 World Drivers Championship starting from P8 – P12, this could be the ideal guy to place a bet on.
Recent Results
| | | | | |
| --- | --- | --- | --- | --- |
| Results | 1st (Grid) | Time | 2nd (Grid) | 3rd (Grid) |
| 2014 | Lewis Hamilton (1) | 1:40:25.974 | Nico Rosberg (3) | Sebastian Vettel (2) |
| 2013 | Sebastian Vettel (1) | 1:38:56.681 | Mark Webber (5) | Lewis Hamilton (4) |
| 2012 | Fernando Alonso (8) | 2:44:51.812 | Sergio Pérez (9) | Lewis Hamilton (1) |
| 2011 | Sebastian Vettel (1) | 1:37:39.832 | Jenson Button (4) | Nick Heidfeld (6) |
.
Circuit Specifications