Bet Cricket and Sports with Online Bookies in Indian Rupee (INR)

Indians are prohibited from gambling at sports betting sites due to the Public Gambling Act which was written 145 years ago. When it comes to sports betting the penalty for being caught using a local bookie is a tiny Rs. 100 fine, but also potentially up to one month in prison. Luckily for us, there are over a dozen highly legitimate online betting sites, located outside of India, that are more than happy to take our bets. It should be noted, to date, no Indian has ever been arrested for using offshore online bookies from the privacy of their own home internet connection.
Online Bookie for India
www.bet365.com is the most popular online bookie used in India. They offer odds on Champions League and IPL cricket, EPL, La Liga and i-League football, and also Formula 1, field hockey, tennis, rugby, boxing and sports from all over the globe. What makes them so popular is they allow Indians to open online betting accounts in Indian Rupee (INR) currency. They're highly reputable. They've been in business since 1974, are based in the UK and owned by the same family that owns Stoke City Football Club of the English Premier League (EPL). They're also an industry leader in live in-play betting as well as mobile phone betting. It's been reported that more 650,000 Indians make wagers each year at Bet365; this obviously makes them the #1 choice for India sports betting.
How to Use Bet365 from India

To deposit in to Bet365 in a hurry, the best method is no doubt www.entropay.com. Here you can register an EntroPay account and fund it with your Indian debit card. You can then use you EntroPay virtual visa to deposit at Bet365. The downside is this method cost a 4.9% load fee, but this is offset by the fact Bet365 offers first time depositors a 100% cash bonus up to Rs. 2500 free. You'll simply need to turnover your starting balance three times prior to cashing out. For reason that there are several small challenges that come up I suggest first you open a Bet365 account (Click here to Register) then head to my instructions on Using EntroPay from India, to make the deposit while reading that page.

From here you'll want to set up an account with www.skrill.com which has far lower fees. Verifying a Skrill account from India can be an extreme hassle so I suggest reading my article on Skrill India for detailed instructions and advice. The good news is once you go through the verification process (often takes one week or more) you'll be set up to easily transfer money to any sports betting site.
The third method available for depositing is Neteller India. I however do not have a review of their service written yet. I will considering adding that in the future if there is demand, but for right now EntroPay India and Skrill India are by far the best betting deposit and cash out withdrawal methods for Indians.
Understand Betting Odds
When dealing with online bookies there are several different odds formats available to bet with including European Odds, American Odds, Fractional odds, Indonesian, Malay or Hong Kong odds etc. Understand that the payouts are the same no matter which odds format chosen and at most sites you can change how the odds are displayed. If you can't then you can see odds you're familiar with using my odds converter. If you're new to sports betting the odds format you should select is European odds. This is for reason that European odds are the most popular and not all betting sites offer odds in the other formats. Getting in the habit of using European odds at the start will mean less confusion should you change betting sites in the future.
To explain how these work: European odds are always listed as a positive number with 2, 3 or 4 decimals. The odds listed represent how much a winning ticket will payout for each unit wagered. So for example if you wager Rs. 300 on odds 1.91 and win your return will be 300×1.91= Rs. 573. Note that this return includes your initial Rs. 300 stake, so the profit is Rs. 273. If you're betting on a team or player highly likely to win (a large favourite) the odds will be a small number (example 1.21) if you're betting a team very unlikely to win (a considerable underdog) the odds will be a larger number maybe 4.23. No matter what the size the odds are your return will be "stake*odds=return" (and that return includes your initial stake).
Importance of Shopping the Odds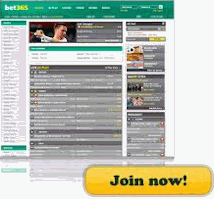 Even a recreational bettor is well advised to use multiple online betting sites. This allows you to compare odds between the bookies and only bet at the one with the highest payouts. As mentioned Bet365 offers accounts in Indian Rupee (INR) and therefore is a must have accounts. There are other reputable betting sites Indians might use choosing GBP, EUR, or USD as their account currency. You can still fund these accounts using your rupee Skrill or Neteller e-wallet; either company will complete the currency exchange on your behalf for a reasonable fee.
Additional Betting Sites to Consider
Betfair.com – Betfair is the world's largest peer to peer betting exchange and very friendly to Indians, you can learn more about them in our Betfair review. They offer betting on Indian Premier League, and all sorts of sports from all over the globe. The only missing feature here is i-league football betting.
Ladbrokes.com – Ladbrokes is very friendly to India and offers betting on IPL cricket, i-league football, English premier league, f1, tennis and a plethora of additional sports.
PaddyPower – This is a great site for live betting, they have plenty of cricket coverage, offer betting on all Indian sports, as well as all Irish and UK sports as well.
Victor Chandler – This is another website very popular for Indians with similar coverage as Ladbrokes and Paddy Power offers.
PinnacleSports.com – If you bet football and like to shop the odds this is a MUST HAVE betting account. Pinnacle operates on much smaller margins than their competitors. The only down side is they are best for European football and American sports, their cricket coverage is not good.
188Bet.com – If you enjoy live betting on football matches this is much have account, this is best Asian Bookie for Indians. They offer live betting on all the major football competitions from around the globe including EPL, and also offer it on leagues less popular internationally such as i-league, Chinese Super League etc. The same as Pinnacle though 188Bet is not the best for cricket.
Do I have to Pay Tax on Winnings?
This is a bit of tricky question and it would be best to consult with a tax advisor and lawyer. Under Indian law Section 115BB of the Income Tax Act any lottery, card game, horse racing or other gambling winnings are taxed at 30%. Where it gets tricky is there are massive penalties if the gambling profits came from abroad and were remitted into India, which technically abroad is the only place Indians can bet sports online without fear of legal consequences. What many Indians do is set up a small freelance business (think website designer, content writer, consultant, etc.) with its own website and then list Skrill as their payment method. From here they account all funding of Skrill as an expense and all withdrawals from Skill as revenue, basically masking their gambling as small business transactions. While this isn't legal it is fairly common practice.
Smaller gamblers – mostly those winning less than Rs. 3 Lakh rupees per year – often don't report gambling winnings and this goes largely unnoticed. What these guys participating in cricket betting India do is limit the number of transactions going to and from their Skrill account and betting accounts (freely moving between the two) by keeping the money in Skrill and just cashing out in small increments less than Rs 40000 every 2 or 3 months. This is extremely common; most Indians don't pay tax when they are recreational gamblers even though they are supposed to. In the rare event questions come up, they'll often claim this was a gift, donation or something else. Which does fit the story line as Skrill is a common money transfer system between friends.
Again we're not legal experts, nor tax experts. It best you check with experts in own area to understand what the risks are. Our very limited understanding is that many of those who do pay taxes do so by running their betting through a small business they set up on the side, while many others simply don't pay tax and call the payments loans or something else. The reason they're able to get away with this is the betting sites are located outside of India and don't have any communication with Indian authorities.