Indian Premier League IPL Betting Online

The 2015 Indian Premier League (IPL8) season is scheduled to being at the conclusion of the 2015 Cricket World Cup. This will most likely involve 60 T20 cricket matches, including the final, played between 8 April to 24 May 2015.

www.bet365.com, the most popular betting site servicing punters from India, has made the two-time champion & three-time runner up Chennai Super Kings the early favourites at 3/1 odds to win the Championship. Defending champions Kings XI Punjab is only fifth favourites at odds 6/1. Priced ahead of them with smaller odds are Royal Challengers Bangalore 9/2, Mumbai Indians 5/1 and Kolkata Knight Riders 11/2. Priced at 14/1 the Delhi Daredevils are the biggest underdog. Hyderabad Sunrisers and Rajasthan Royals are each priced at 8/1 odds. Again though it will take 60 T20 matches to crown a champion. All 8 of these teams start with a clean-slate and will have a shot to win.
For cricket betting in India this is no doubt the most exciting time of the year. What makes IPL such a great league for betting is the fact there are games every day of the week. Because this is Twenty20 cricket, games last only a little over 2 hours. The fast pace of it all means higher turnover, more excitement and of course more opportunities to win rupees betting IPL cricket online.
Why Online?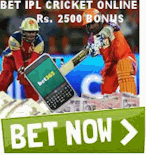 Well if you're from India there are many reasons to choose foreign online bookmakers over local bookies. For one, the legality reasons – betting sports from India is illegal; however Indian law enforcement only goes after local bookies. Reputable betting sites such as www.bet365.com are licensed in the European Union, heavily regulated and highly reputable. Indians are never hassled over using foreign betting sites from the privacy of their own home. The great news is Bet365 also accepts rupee deposits, issues rupee withdrawals, and takes bets in Indian Rupee (INR).
Secondly IPL cricket has grown into such an international phenomenon that all bookies everywhere in the world accept wagers on it. You can use your mobile phone, home computer, laptop or can even call in bets. It doesn't matter if you use US sportsbooks, Asian bookies, or UK bookmakers, all of them offer wagering on Indian Premier League. Although most don't offer rupee betting accounts, they all accept wagers from Indians. Using e-wallets such as EntroPay India or Skrill India depositing online is only a trivial challenge. This is all explained in more detail on my page on Indian betting sites.
The real best reasons to use online betting sites for IPL, is the ability to use multiple sites to shop for the best odds. All sites linked to here at Sports Betting Sites are reliable, reputable and pay winners. They're also each licensed by high profile gambling commissions, which means you have recourse if there are any complaints. When dealing with local bookies where can you turn if there is a dispute? So, no doubt, internet betting is by far the best for Indians looking to wager IPL cricket online.
Best Betting Sites for IPL Cricket
Again, as mentioned, dozens of betting sites take bets on Indian Premier League, but the ones in my opinion that stand out as best are Bet365, PaddyPower, Betfair and Pinnacle Sports. I'll provide the reason why for each in this section.
Bet365 and PaddyPower for Recreational Bettors
Bet365 Accepts Rupees – The fact Bet365 offers betting accounts in Indian Rupee (INR) is a huge plus. This saves a great deal on currency conversion fees. The other nice factor is Bet365 has many markets, not only can you bet on the match winner but you can also bet on which team will have the highest opening partnership, highest first six overs, most match sixes, and even which team will win the toss. You can also bet on the top batsman or how each player will fair. Even more ideal is the fact Bet365 has a great selection of live betting on most all IPL matches. If you have a Skrill account deposits and withdrawals are easy. Again, to learn more see our page on Indian betting sites, or if you're experienced betting online you can get started at www.bet365.com.
PaddyPower Has Most Live Betting Markets – at PaddyPower there are far more live betting markets for IPL cricket than any other site. Their menu is so impressive you need to see it with your own eyes by visiting www.paddypower.com. Although they only offer accounts in Euros and UK Pounds, Indians can still bet at PaddyPower using these currencies.
Pinnacle Sports and Betfair for Professional Bettors
Pinnacle Sports does not offer live betting on IPL, nor do they have all the alternative markets you'll find on other sites. However, on more than 90% of matches they have the best IPL cricket odds on match winner. If you're a serious bettor and just need a great place to wager who will win the match, betting anywhere other than www.pinnaclesports.com would be a mistake.
Another site where you can get great odds on match winner, both before the match starts and live in-progress, is the Betfair Betting Exchange. I link this article rather than direct to their site as I feel it is important to understand how Betfair works prior to joining up. Once you understand Betfair this is a great website to use, nowhere will you find better match winner odds in-play than you will at their peer to peer betting exchange.
Final Words
In summary Bet365 is great because they accept rupees, PaddyPower is the most fun for recreational bettors, Pinnacle has best prematch odds, and Betfair has the best match winner odds in-play. All four of these sites are friendly to Indians and all accept both Skrill and EntroPay deposits. If you happen to live outside India then there are many other great sites for choose for IPL betting – but when it comes to betting IPL from India these four sites are by far the best.