Legends Sports Closes; Players Stiffed 50% in WagerWeb Transfer
Posted by admin on 20 April 2013 in Betting Sites News

On April 10, 2013 a 95-page US federal indictment charged 34 individuals and 23 entities associated with Legends Sports with money launder, conspiracy and operating an illegal gambling business. A week later their online betting site betlegends.eu closed for business. Existing account holders were told to expect their balances would be transferred to an A rated sportsbook in the next 24-48 hours. Unfortunately, 48 hours later this closure turned ugly.
WagerWeb Acquires Balances with 10X Forced Rollover
On April 19, 2013, Legends announced their accounts will be transferred to WagerWeb as opposed to an A rated book. Far more concerning is that WagerWeb is set to require players to rollover their account balance ten times prior to making a withdrawal.
Understand, the theoretic hold a sportsbook has on 10X rollover is 50%. In other words, by making enough bets to complete ten-times rollover – the average sports bettor is expected to lose half of their starting balance. In this case, they are also forced to play at a much lower rated book.
Update –After many players were vocal on this Legends theft, WagerWeb has reduced the rollover to 5x. This is still an expected loss of 25%.
As is covered in our WagerWeb.ag review this company has had some issues in the past.
This is unfortunate, but players have no recourse here. SBS strongly advises NOT to play the arbitrage (do not play arbs) hoping to bust your balance. The result could be an increasing balance at a lower rated book. Why is explained lower in this article.
Warning About Using US Sportsbooks
This should be a reminder to players in the United States that post up balances are never 100% safe. Legends was rated A+ at SportsBookReview.com (SBR) and B here at SportsBettingSites.org (SBS). This marks the second major sponsor of SportsBookReview.com to close with great loss to players in a 4 month time span.
The other was BetIslands which was a sportsbook that most all their players came from SBR. Unfortunately, when BetIslands closed in December 2012, 458 players referred by SBR were stiffed for $1,539,391 in account balances.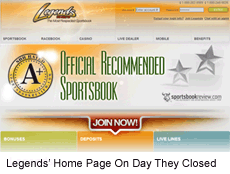 Understand as a bookmaker, SBS held a high opinion of Legends Sports and gave them a solid B rating. A main reason we never promoted them (and this is true: we have never made a dime from them) was their close relationship with SBR. The image to the right shows their home page on the date they closed. It was our belief this could have mislead players into believing SBR ratings are reputable.
Although no sportsbooks are 100% safe, SBS still strongly feels the options on our page on US betting sites are the safest. Since our launch 21 months ago, and dating back to our old website launched in 2006, we have still never recommended a sportsbook that has failed. We do however acknowledge we did get lucky with Legends as our opinion was such that we "possibly" "could have" recommended them. Still, as warned throughout the pages of our website, there are risks in using all US sportsbooks. However, if you are going to bet sports online it is our opinion these are the best sites to use.
Why Did Legends Close
One week prior to closing, news broke on April 10, 2013 that Legends, their owners, financial backer and many agents had been indicted in the United States. The following day a 95-page indictment was released where 34 individuals and 23 entities were accused of operating a sports betting business that had connections to Legends Sports.
The most famous person indicted and later arrested when he turned himself in was Spiros Athanas. The indictment alleges he loaned between $1.5 million and $3.5 million dollars to Luke King (also indicted) to build a Panama-based call center for Legendz Sports.

Spiros Athanas is best known in the industry as The Greek. He is the founder of Olympic Sports, known for its brand TheGreek.com. It also had a popular recreational sportsbook named BetJamaica and at one time owned WagerStreet.com. Over the years he bailed out many failed sportsbooks which helped players using his competitors avoid financial loss.
Spiros' websites have long used the slogan "sweat the game, not the payout". It was a major loss to the industry when in July 2011, BetJamaica closed, and TheGreek.com stopped servicing US players. This was because these were long considered two of the safest places for US players to play.
No longer running offshore post-up sites servicing US players, it is our understanding Spiros has moved back to the United States. He turned himself in two days after being indicted and has been released on a $1 million dollar bond. Many other individuals, primarily agents were arrested hours before the indictment made news. The key player believed to be Legends primary owner is Luke King, who at the time of this report remains abroad, and may be difficult to apprehend. The indictment lists him as Bartice Alan King, aka "Luke" and "Cool," 42, of Spring, Texas.
The full list of those indicted is as follows:
BARTICE ALAN KING (also known as: "Luke" "Cool") 42 Spring, TX
SERENA MONEEQUE KING 43 Spring, TX
SPIROS ATHANAS (also known as: "The Greek") 53 Gilford, NH
ROBERT JOSEPH ROLLY (also known as: "Bob") 79 Key West, FL
KASSANDRA BATES 43 Panama (also known as: "Sandra" "Sandra Teresita Vargas Farrier")
WILLIAM JAMES BATES 59 Panama (also known as: "Bill" "Billy" "Wild Bill")
EDWARD LOUIS BUONANNO 50 Spring, TX (also known as: "Gooch" "Bubbles")
KORY ELWIN KORALEWSKI (also known as: "Ski") 42 Parker, CO
MAXIMILLIAN MCLAREN MANGUS (also known as: "Max") 34 Panama
MARIA ROJAS 36 Panama (also known as: "Mary North" "Mary Isabel Rojas Mata")
ARTURO GARCIA JIMENEZ 41 Panama
RIGOBERTO NOLAN (also known as: "Rigoberto Nolan Forbes") 53 Panama
JAVIER ESPINOSA (also known as: "Javier Espinosa Jimenez") 37 Panama
DAVID GORDON 75 Canada
JAMES FRANKLIN ACKER, III, 54 Moore, OK (also known as: "Frank" "Frank The Bank")
TERRY LEE CAMPBELL (also known as: "Top Cat" "Gato") 70 Lake Ozark, MO
RALPH GEORGE HERNANDEZ 73 Pleasanton, CA (also known as: "Georgie""Rico")
DEREK EDWARD HEWITT (also known as: "D") 52 Altamonte Springs, FL
MICHAEL CASEY LAWHORN 47 Longwood, FL (also known as: "Fat Mikey" "Big Mike")
JOSEPH MICHAEL MCFADDEN 56 Longwood, FL (also known as: "Joe" "Roll Tide")
BRUCE LANDEN MIDDLEBROOK 44 Edmond, OK (also known as: "Jose" "Jose C")
GREGORY WILSON ROBERTS (also known as: "Patchman") 54 Gadsden, AL
CHRISTOPHER LEE TANNER 56 Sarasota, FL (also known as: "CT" "Limo" "Tan" "Magic" )
PAUL FRANCIS TUCKER (also known as: "Paul") 48 Mount Dora, FL
ROBERT C. VANETTEN, JR. 51 Moore, OK (also known as: "Bob" "Fbobv" "Bingo Bob")
ROBERT PAUL WILSON (also known as: "Big Dog" "Cliff") 65 Rancho Murieta, CA
LEON MARK MORAN, II 52 Kingsburg, CA (also known as: Makavelli" "Mastiff")
NEIL JOHN MYLER (also known as: "Bono") 53 Houston, TX
LUIS ROBLES (also known as: "Big Lou") 48 St. Beach, FL
DAVID LYNN ROSS (also known as: "OB" Obie") 51 Choctaw, OK
JAMES LESTER ACKER (also known as: "Les") 30 Moore, OK
KELLY JAMES DORN 51 Oklahoma City, OK
TODD WILLIAM HOSS 47 Norman, OK
ROBERT ANTHONY LAY (also known as:/ "Tony") 48 Moore, OK
MAGNA TOURS, INC. Registered in Panama
DATA SUPPORT SERVICES, S.A. Registered in Panama
LEGENDZ GAMING CORP. Registered in Panama
GRUPO LEGENDZ, S.A Registered in Panama
OMNI GROUP INTERNATIONAL CORP. Registered in Panama
GLOBAL DATA PAYMENT SERVICES, S.A. Registered in Panama
JR GROUP, INC. Registered in Panama
DSS INTERNATIONAL CORP. Registered in Panama
UDS INTERNATIONAL SOFTWARE, INC. Registered in Panama
INVESTMENT CONSULTING SERVICES (ICS), S.A. Registered in Panama
OLMOS OVERSEAS, LTD. Registered in Panama
REGENCY COMMERCIAL LIMITADA Registered in Costa Rica
STARTING 5, LLC Registered in Texas
INTERNATIONAL GOLDSTORE CORP. Registered in Panama
TEN GRANDCHILDREN FOUNDATION
DIGILUME, INC. Registered in Panama
PROGRAM ADVISORS, INC. Registered in Panama
ZAPT ELECTRICAL SALES, INC. Registered in Florida
PLPA AND ASSOCIATES, INC. Registered in Florida
CAN-AM, LLC Registered in Colorado
ZIMA HOLDINGS, LLC Registered in Texas
6 MONKEYS S. DE R. L Registered in Belize
STARLINK INVESTISSEMENTS, INC. Registered in Panama
While the charges vary for each, if convicted, up to 55-years in prison is possible for some of these individuals. This is up to 20 years racketeering, up to 20 years for money laundering conspiracy, up to 10 years for money laundering, and up to five years for operating an illegal gambling business.
The indictment also seeks forfeiture of assets valued at over one-billion. These include various homes, bank accounts, brokerage accounts, CDs, IRAs, domain names, an aircraft and vehicles.
WagerWeb Takeover
Below is the message players logging into their Legends account began seeing as of April 19, 2013:

Dear customers,
Due to recent events surrounding Legends Sports' gaming license being revoked in Panama, Legends has ceased accepting wagers at this time.

After careful consideration WagerWeb Sportsbook and Casino has agreed to give players from Legends a new home with their full balance intact. This is a huge undertaking, and as such we ask that players be patient and understanding as we accommodate every one of our new clients. WagerWeb will be assuming responsibility for all accounts both funded and non-funded. Wagerweb will be requiring all pass through accounts with a balance fulfill a maximum 10X (Rollover of their balance) before any funds can be withdrawn.

WagerWeb has agreed to assist Legends customers for the good of the industry, as well as the well being of all Legends customers. WagerWeb will be calling out to all Legends customers and will be providing Customer Service to ensure the transition to WagerWeb goes smoothly and without incident. Wagerweb has always been a Sportbook that caterers to the recreational player and as such will be upholding the terms and conditions WagerWeb currently has listed on the Website. All WagerWeb Terms and Conditions and/or Rules must be agreed to prior to any wager taken place. Please contact WagerWeb directly with any questions and concerns.

WagerWeb looks forward to providing you with a stable wagering environment, and outstanding Customer Service.
The bold part has been bolded by SBS. If you have read our WagerWeb review, you can perhaps understand why the inclusion of this statement causes us concern. While they have been operating good for a while now, WagerWeb does have a past history with large winners, and with bonuses.
One other aspect with how offshore gambling works: is there any way to know whether WagerWeb purchased Legends or not. Is it not outside the realm of possibility that perhaps Legends actually purchased WagerWeb? Of course this is something we can't know. Ownership in US facing gambling sites are hidden inside shell after shell. What we do know is that Legends disappeared off into the night without paying players. Leaving them with forced rollover is the same as stiffing players for part of their balances.