Sportsbook.com Voids Wagers and Bonuses
Posted by admin on 29 September 2011 in Betting Sites News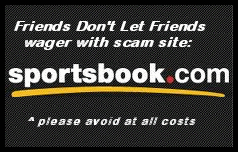 Sportsbook.com is the headlines once again for unethical business practices and borderline theft. Yes, in case you're not aware – Sportsbook is a less than reputable bookmaker – that grew to prominence thanks to the hundreds of affiliates and portal operators that were willing to throw any player under the bus to make a quick buck, and their own internal marketing campaigns that gained them top Google rankings for betting terms.
The latest episode in this never ending running saga occurred yesterday when Sportsbook.com cancelled all pending wagers made by non-US players. The likely result is huge profits for them on all MLB future bets their clients victims placed. An early report already tells of one player who in December made a $300 bet on Philadelphia Phillies +600 to win the World Series and another on Texas Rangers +450 to win the ALCS. Chances are great there are hundreds of players who will be cheated out of their equity on future bets, while chances are also great based on Sportsbook's past they will not be refunding players who made wagers on losing teams.
This is a Repeat – Sportsbook Pulled this Scam Before
Please note – Sportsbook.com already pulled this exact same stunt (see Beetman's post here). They left the US market and voided all futures with pending equity. A week later the returned to the US market and did not reinstate them. Perhaps seeing how profitable this was last time, they decided to do it once again.
A few posts down from the thread I just linked to, the poster goes on to share:
"The most egregious example of the futures cancellation, at the time of the voided futures, baseball was in the league championship series, so they'd already graded LCS and World Series futures on 26 of the teams as losers, but anyone holding a ticket on the 4 remaining teams had their bet voided. So sportsbook.com essentially freerolled everybody and didn't have to pay out a single LCS or WS future while they still got to collect on a bunch of losing bets."
Reason for Scam and an Additional Theft
Back to the current episode where they've pulled off the same scam yet again – This comes as the result of a long email that was sent yesterday to all Sportsbook players located outside the United States informing their accounts had been transferred to www.global.sportsbook.com. This new website is part of WinUnited Ltd., which powers YouWin.com and is licensed in Malta by the Lotteries and Gaming Authority (LGA). Included in this email was an additional theft where Sportsbook.com is forcing players with pending bonuses to choose from loss of a bonus or an agreement not to withdrawal funds for 60-days.
Players who took advantage of sportsbook.com bonus offers, and players who made future wagers on MLB baseball or any other sport did so in good faith and any legitimate bookmaker would make good on their offers and would honor bets they accepted. Sportsbook.com has shown time and time again however they are not interested in fair bookmaking and ethical business practices. Over the years there have been numerous instances where they've stolen from their players. Sometimes they use correlated parlays as an excuse to steal, where other times they just rob a player blind for $150,000.
Avoid Sportsbook – There are Legit Alternatives
If you live outside the United States there are numerous trustworthy bookmakers to wager with including Pinnacle Sports, Bet365, Ladbrokes and William Hill. If you're from the US you ideally want to stick to using www.5dimes.eu or www.bookmaker.eu – there are quite honestly no better choices than these two which are head and shoulders above the field. With all the great choices out there, for your own bankrolls sake and the good of the industry we urge you to avoid Sportsbook.com and their sister sites. These associated sites include Players Only, Belmont, Superbook, Sports.com, Linesmaker, Hollywood, EZBets and approximately 40 additional smaller brands.
Now to be fair, while Sportsbooks.com actions are downright criminal – they are far from the most toxic brand out there. They are still a company you want to avoid. With choices such as www.bookmaker.eu available which has been in business since 1985 as the first offshore bookmaker, and has never so much had a slow pay let alone stiff a player – there is no reason to deal with shady brands such as Sportsbook, Players Only, Belmont and the like.