Oddsmaker.ag Review – Avoid this Futurebet Scam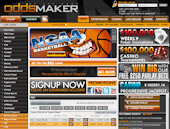 www.oddsmaker.ag (formerly oddsmaker.com) is a rogue online sportsbook with a long history of cheating players, confiscating funds and not honoring balances and cash out requests. Their scam involves a high paying affiliate program, free bankrolls, and constant lies claiming new management or new ownership. Members of their affiliate program are often paid $200 or more for each depositing victim and are the leading fuel behind the oddsmaker.ag scam. These affiliates write reviews, post fake ratings and make recommendations in such a way oddsmaker.ag (a scam site) appears reputable and legitimate.
Less the case today, but it still sometimes happens, on occasion the website marketing oddsmaker.ag is not aware this is a criminal mafia like organization. This was the case nearly 5-years ago when the internet's top poker forum 2+2 sold Oddsmaker a featured advertisement position in their sub-forum on sports betting. My user name on 2+2 is PropPlayer and you can see in this thread upon bringing oddsmaker.ag history to the attention of 2+2 management they removed the advertisements in order to keep players out of harm's way. Unfortunately, most affiliates are well aware of the oddsmaker scam and profiting from it, so bringing it to their attention doesn't help.
New Management Scam

Please understand Oddsmaker.com (now oddsmaker.ag) has never been, nor ever will be, a legitimate online gambling site. As you can see in the 2+2 thread I just linked to almost 5-years ago they were pulling the we're under new management scam (reference here). You can also see in SBR's coverage of oddsmaker.ag the scams never stopped despite "claiming" new management/ownership. In fact, just recently Oddsmaker stole $45,000 from a player (February 2012). The new management, new ownership is a reoccurring lie to trick new victims into believing things are now different and somehow this company is now reputable. As I'll support in this detailed article on oddsmaker.ag – the parent company behind this brand has been responsible for the stiffing of at least $5 million in gamblers balances dating back more than a decade and never will be legitimate.
Oddsmaker.com/Oddsmaker.ag Origins
The parent company behind www.oddsmaker.ag is best known in the industry as Futurebet. Their history dates back to 2002 when they launched as a World Gaming online casino. The World Gaming host ended up stiffing them for $1.5 million and in 2003 they left World Gaming and started their own online software for sports betting and online casinos. This same year they became a white label provider offering affiliates their own branded online gambling site that offered casino and sports betting. The cost was $50,000 to $75,000 upfront plus 30% of royalties. Futurebet handled everything from deposits, bets, software, bonuses and payouts while the white label affiliates focused on marketing. Unfortunately for the affiliates who purchased such packages most felt scammed and eventually truly were scammed.
White Label Issues

Many affiliates who purchased white label packages from Futurebet felt scammed when they discovered Future Bet had little integrity when it came to accounting. Typical settlement reports would start with Future bet first taking their 30% of net win royalty off the top, and then deducting 10-14% for payment processing costs, additional fees for marketing, and then a deduction for all player bonuses. The end result was skin owners getting 30% instead of the 70% of net win expected, from which they had to pay for marketing, staff, hosting and the like, with whatever small amount left over making up their profit. Therefore it cost these affiliates $50,000 to $75,000 one time to buy into a system that paid less than had they just stuck to promoting affiliate programs.
Where the real issue started was when upfront fees of $50,000 to $75,000 from licensees stopped, due to it being well publicized that this was a borderline scam. In order to compensate for the slowdown in upfront revenue Futurebet began making excuses to stiff players outright. This caused many skin owners to go bankrupt while some paid winners out of their own pockets hoping Futurebet would eventually make good. In the majority of cases this never happened and those owning a Future Bet white label product were stiffed.
Oddsmaker is Born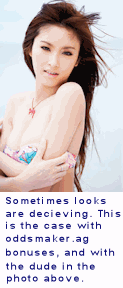 Oddsmaker.com (now Oddsmaker.ag) first came about in late 2006 when Futurebet sold their stiff white label brands to Jazette Enterprises Limited, now known or associated with Domain Holdings who operates sites such as Sportsbook.com, PlayersOnly.com, Hollywood Sportsbook, Belmont, and others. The deal here was Jazette simply stiffed anyone with a significant account balance and took over losing accounts with small balances, focusing mostly on keeping players who never cashed out. With the proceeds of this sale Futurebet changed their flagship brand from BetOnUSA.com to Oddsmaker.com.
Immediately Oddsmaker became very aggressive in marketing purchasing spots on the recommended list of portals such as Gambling911.com and Covers.com. They also had a massive list of past clients from the white label skins they had robbed to market to. What Futurebet did was postal mail anyone on these lists an Oddsmaker.com promotion offer of a $50.00 free bankroll. This offer required players to complete a large rollover requirement. There also was strict rules such as no parlays, no long shots, and players needed to reach $1500 account balance in order to cash out. It didn't take long for the net to be filled with complaints from players who actually met all the requirements only to be unjustly disqualified, grossly slow paid or stiffed. The gist of this marketing strategy is only a couple percent of players would ever meet the requirement. Therefore 97% or 98% would never know it was a scam, and Oddsmaker could then market large first time deposit offers to players already having an account and already familiar with how soft the oddsmaker.com betting lines were.
The real scam was deposits they gained and stole via a 50% up to $500 cash bonus or sometimes even a 100% up to $2500 cash bonus or other ridiculous offers. Of course many sports bettors failed to recall the old saying "if it sounds too good to be true, it probably is". To see what happened from here, follow this SBR Oddsmaker complaints news feed to see reports of just some of the many sports bettors they stiffed.
All Honest Portals Agree: Oddsmaker.ag is a scam
When it comes to sports book ratings the most respected companies in the industry are our top competitors Sportsbook Review and Bookmakers Review. When it comes to online casino there is no more honest guide than Casinomeister. To show that each source here agrees:
You can also see this oddsmaker promo code blog has been converted into a oddsmaker warning blog, in order to help expose these long time criminals. Also respected portal SBR warns this company spends more than $1 million annually on marketing in order to find new victims and on another page rates them the worst sportsbook of all time.
Futurebet Poker Thefts
Another area I haven't reported on yet is the millions of dollars in mass-thefts Futurebet perpetrated against poker players. This all started in 2005 when Futurebet made a deal with the Ongame Network and began providing white label online poker sites. OnGame was the largest online poker network at the time hosting sites such as Bwin, PokerRoom, Betsson, Hollywood Poker and others. Some of the many white label Futurebet sites added to the network included Daniel Negreanu's Full Contact Poker, Pokes Poker, Bayou Poker, Carnaval, and New York Poker. It didn't take long for 2+2 threads such as this one to appear with numerous cash out complaints. Upon becoming aware Futurebet was stealing from players Ongame booted them from the network on October 27, 2006. Ongame issued a statement at the time which read:
Ongame Network has strict policies on what we believe is correct and respectful treatment of players. We are committed to the highest standard among our operators and their players. This forces us to sometimes take action toward operators that do not live up to those standards.
Futurebet and Dubrosoft / Digital Gaming Network
After being booted from the Ongame network many skins had no online poker home, which caused several sites including PokesPoker.com to go bankrupt. PokesPoker was a very popular skin due to their high rakeback rates and popularity with 2+2 forum members. It is estimated over $1,000,000 was stolen from players as all PokesPoker account balances eventually disappeared. This did not happen immediately however as for a while Pokes remained active on forums saying Futurebet had assured them payments were coming to players, which of course never happened. With other Futurebet poker sites the stiffing was delayed due to Futurebet purchasing the Dubrosoft network and renaming it the Digital Gaming Network.
At the time Futurebet purchased Dubrosoft Network in 2006 the only reputable site on it was PokerWorld which was owned by TheGreek. After moving several poker sites to this network and operating clean for a while, in mid 2008 slow pays had apparently turned to no pays with Futurebet back to their old tricks. In early 2009 the Digital Gaming Network failed. There were 67 skins on the network at the time and the players of most sites on this network were stiffed. PokerWorld.com owner Spiro stepped up and out of his own pocket settled some of the Futurebet debts including repayment of the $400,000 badbeat jackpot Futurebet had stolen; he then moved PokerWorld to the Cake Poker Network. Futurebet would soon resurface and today all their online poker sites are part of the Merge Network, sharing the network with non-futurebet skins such as CarbonPoker, LockPoker, Hero Poker, GR88 and others that can be found listed on the PokerScout.com Merge Network Page.
Oddsmaker is the Flagship Futurebet Site
Please understand Oddsmaker.ag is the FLAGSHIP site of Futurebet! Which is hands down the most toxic and criminal group ever associated with the online gambling industry. If you care about your bankroll you should avoid oddsmaker.ag at all costs.
Futurebet Name Changes
Futurebet is also known as IGaming Software (IGS) which they rebranded to in 2008, and as GameTech Solutions which they changed their name to in July 2010. All three of these companies are one in the same and should be avoided at all costs.
List of Futurebet/Gametech Sites Still Online
There is a long history of gambling sites that associated themselves with Futurebet eventually scamming players. All sites on the list below either have Futurebet ties or at one time were tied to Futurebet. It is best in our opinion to avoid all sites on this list, but at the very least you should proceed with great caution when considering depositing with any of them.
www.oddsmaker.ag – The flagship site of Futurebet (a scam) discussed in this review.
www.betonusa.ag – The original FutureBet flagship site that should absolutely be avoided.
www.feltstars.eu – On December 9, 2010 their sponsored player Ken Callis (DrCheckRaise) claimed FeltStars once leased some Gamtech software but was its own company and defended them (source). However they were rated F at SBR at the time. The company has since changed to "poker only" ditching their sportsbook. There is considerable history of slow pays with Merge Sites; for poker, see our guide on Best US Poker Sites.
www.gorake.com – was a long time licensee of Futurebet since the early days. I have no knowledge of what network or software their website currently uses.
www.stridepoker.com – is part of the Merge Network likely with a white label provided by Futurebet. At one time they used futurebet cashier but I believe they are now using Merge's cashier. Perhaps a small step up but should still most likely be avoided.
www.topbet.com – Topbet leases their software from Futurebet, but we have credible reason to believe they do their own processing and have unique ownership and management.
Note: www.sportsbookusa.com and www.usasportsbook.com are past Futurebet scams still online but it appears as of the time I'm posting neither is actually operational. If they are operational these are sites I strongly suggest avoiding.
Always Check Our Rating Guide
If you're going to bet sports online I encourage you to use our sportsbook rating guide as a reference to the legitimacy of various sports betting sites prior to making a deposit.
Please Help Us Spread the World
As mentioned earlier it has been said Oddsmaker.ag spends over $1 million annually on marketing in order to find new victims, and has one the top paying affiliate programs of all US sportsbooks. With this kind of marketing exposure, it is very difficult to make our warnings rank well in search engines… this is where we, and future potential victims, could use your help. If you own a blog or website, please consider linking to this post. Also/alternatively considering sharing this page on facebook, tweeting it, posting it forums or doing anything else you can do to help spread the word Oddsmaker.ag is NOT a reputable sports betting site, but is rather an elaborate scam fueled by dishonest gambling affiliates.