Sports Betting Online in Polski Złoty (PLN)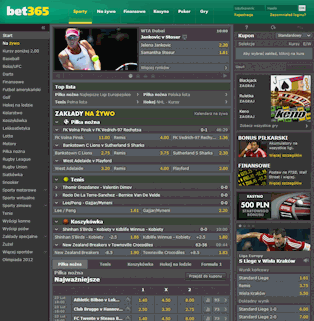 In Poland legal sports betting was long restricted to brick and mortar bookmakers with the three largest Totolotek, STS, and Professional making up most of the market share. In April 2011 internet betting was legalized; however, to obtain a Polish license, bookmakers had to agree to a 12% tax on turnover and there are additional taxes to players as well. Today's polish betting market is quite large yet most savvy players turn to online betting sites licensed outside of Poland for the purpose of obtaining better odds.
Click Here for 200 ZŁ Free at Bet365
The reason Polish licensed bookmakers are not competitive relates to the excessive taxes. The good news is that even though sites like Ladbrokes now restrict players from Poland, there are still a small handful of highly legitimate options for betting sports tax free from the comfort of your own home. I won't delude you into thinking these options are as many as UK punters who are often welcomed with a no deposit bonus have, but the existing options are suitable for even professional bettors looking to bet as a source of income. In this article I'll start by covering two highly reputable foreign betting sites that offer Polski language and online betting accounts in Polski Złoty (PLN).
200 ZŁ Free at Bet365
The leading foreign betting site supporting Polski language and Polski Złoty (PLN) currency is www.bet365.com. This is a highly reputable company licensed in the UK since 1974, and owned by the Coates family who also owns the English Premier League franchise Stoke City Football Club. Here bettors from Poland are welcomed with a 100% initial deposit mach up to 200 ZŁ free. This is a cash bonus credited to your account instantly (see website for bonus code) and you're only required to turnover your deposit plus bonus three times prior to cashing out.
Worth noting is Bet365 is an international betting site. Here you'll find plenty of markets for sports like cricket and American football that the typical Polish resident has no interest in. You will however also find popular international sports such as Formula 1, European football and of course a plethora of Polish leagues and competitions. Included in the later is all football regulated by Polski Związek Piłki Nożnej such as T-Mobile Ekstraklasa, I Liga, Polish Cup, Polish SuperCup etc. You'll also find polish volleyball competitions, including PlusLiga and Enea Cup in both the men and women versions; Ekstraklasa Men and Superliga Women handball; Tauron Basket Liga (TBL) – Polski: Polska Liga Koszykówki (PLK); Polish Hockey League; and a plethora of Polish tennis competitions. The great news is most of these leagues are available for live betting and you can hold a Bet365 online betting account with Polish Zloty as the account currency and select Polish (Polski) as your account language.
Pinnacle Sports offers Best Odds

Pinnacle Sports is another highly reputable online betting site supporting Polish Language and PLN currency. Here you'll find betting on Polish Football Ekstraklasa, Handball Ekstraklasa, Futsal Ekstraklasa, Beach Volleyball including stops on the 2012 SWATCH World Tour, PlusLiga and Enea Cup Volleyball, and Poland Tauron Basket Liga at by far the best odds available on the net. The reason I state best odds is because this is Pinnacle Sports business model; since 1998 they have been operating with the lowest margins in the industry (best odds) while offering the highest betting limits and fastest payouts. This is the no fluff, no bonus, no flash, site that serious punters who understand the importance of best odds and no personal limit collars all prefer.
Using Przelewy24 to Deposit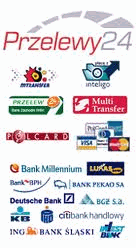 At both Pinnacle Sports and Bet365, residents of Poland holding a bank account with mBank, Place z Inteligo, Bank Nordea Poland, Bank Zachodni WBK, PKO BP (PKO Inteligo), Multibank,Bank BPH, ING Bank Slaski, Lukas Bank, Kredyt Bank, InvestBank, PeKaO S.A., Citibank handlowy, BGZ, Millenium, Fortis Bank, Deutsche Bank PBC S.A. or Bank Ochrony Srodowiska can use Przelewy24 to fund their online betting accounts. This method connects your personal bank account to your online betting account. This is entirely safe and confidential and thousands of Poland residents use this method on a regular basis. If you don't have a bank account with any of the mentioned banks, alternative banking options for Poland include www.skrill.com, www.neteller.com and www.entropay.com. For the fee conscious serious gambler, opening a bank account at a Przelewy24 supported bank would be a better option than using some of the alternatives. This is because you can then deposit and withdrawal in Polski Złoty (PLN) without need to pay any currency conversion fees. For example at Bet365 50 zl minimum to 40000 zl maximum per transaction can be deposited via Przelewy24 without any fees. The best news is it takes 15-minutes or less from the time you initiate the deposit to have the betting funds available in your Bet365 online betting account.
Cashing Out from Poland
Bet365 and Pinnacle Sports each offer Polish residents one free fast bank transfer withdrawal per month. Using this method you'll have your requested withdrawal in your bank account in 1-3 business days. At Pinnacle you can make additional withdrawals via the same method for a fee of 75 zl, where at Bet365 you can make additional free withdrawals using paper cheque, Skrill or Neteller as the withdrawal method. The later is the fastest method as Neteller withdrawals are processed in a matter of minutes and if you also have a Neteller debit card you can access the payouts immediately at the nearest ATM machine.
Using Additional Sites for Better Odds
While Bet365 and Pinnacle Sports are sufficient one-two-punch combo for most Polish sports leagues and competitions, it does make sense to use other online betting sites for the purpose of shopping the odds. Serious punters know the importance of shopping as many betting sites as possible and then betting at whichever has the best price on the team they'd like to bet. The few extra zlotys won or saved on each bet adds up over time and can often make the difference between a winning a losing betting season. Here are some of our suggestions on other reputable betting sites to consider.
Bookmaker.eu – Bookmaker is most popular in the US market so as a result you'll find most of their advertisements geared at American football, basketball, baseball and hockey. For Poland however they are somewhat of a well kept secret. Despite not supporting Polish language, their website actually does allow punters opening an account to select Polish Zloty as their account currency. They also offer betting odds on Poland Football including Ekstraklasa, Poland Tauron Basket Liga, Polish League Hockey, and Poland Handball Ekstraklasa. With Bookmaker you may need to use Moneygram or Western Union to deposit (they'll cover the fee) and then can cash out via paper check, Moneygram, Western Union or perhaps Neteller if supported for your account.
188bet.com – If you bet football (soccer) online 188Bet is a near must have account. They are an Asian bookmaker that specializes in reduced margin prematch betting and live betting. Here you'll find some of the best Polish football odds on the net for Ekstraklasa, I Liga and Polish Cup. They also have competitive odds with smaller limits on Polish basketball competitions. I can't stress enough, this is a near must have account for anyone who bets football online, as quite often 188bet has the best odds available. You can deposit at 188Bet using credit card, if declined for country restriction reasons you can sign up for an entropay.com account and deposit using your virtual Entropay card by selecting credit card as the deposit method. For withdrawals you can get a free bank transfer to your home checking account. Note: At 188Bet you'll need to wager in English using Euros as your account currency.
Betfair.com – This another online betting site worth considering for football and basketball betting. Just note Betfair is not a bookmaker but rather a peer to peer betting exchange. Prior to joining with them I suggest reading my article: How does Betfair Work. That article is decent length and focuses on cricket and non Polish sports but the concept is the same when betting Polish sports and it will be well worth the read. Using Betfair is a great way to get far better odds. Note: Betfair DOES support Polish language, but DOES NOT support PLN currency; here you'll want to open a betting account with Euros as the account currency.
Betting Online from Poland Conclusion

As you can see there is no shortage of highly reputable foreign online gambling sites to use as alternatives to the Polish bookmakers who have poor odds due to excessive taxes. Websites such as www.pinnaclesports.com support Polish language and currencies while others are easily useable in English language with Euros, or GBP as your primary betting currency. If you're serious about making profits betting Polish sports getting the best odds via foreign betting sites is vital. While a select few online bookmakers block residents of Poland, these are exceptions and not the norm. This means if you do happen to enjoy betting foreign sports leagues as well, there are even more options available than what is covered in this article. However, I must warn there is no shortage of scam sites on the net. If you're going to venture outside of what's recommended in this article, then I strongly suggest also using my sportsbook ratings as a guide to assist you in your search.