Legal Online Betting at South African Bookies
South Africa has gambling laws similar to Australia. There are nine provinces each with their own gambling and racing board. These are the equivalent of gambling commissions. In order to offer online betting bookies must be licensed by one of these boards. As a punter living in South Africa, you can use any licensed bookie legally regardless of which province they are licensed by. When betting sports, winnings are not taxed, but for horseracing a 6% tax in the form of VAT is deducted from winnings. As of 2012, no additional tax is charged to recreational bettors, and there is no need to include gambling winnings on income tax returns.
South African Bookies vs Corporate Bookmakers
For legal SA online sports betting, there is a choice between traditional bookies and corporate bookies. I'll discuss the difference between them in this article. First let me provide my top choice for each.

www.sportsbet.co.za is my recommended traditional South African bookie. This is a well-known family business founded three-generations ago. They are fully licensed and 100% legal. The benefit to using them is they understand what South African punters are looking for, and also provide more personable support. Here you'll find betting odds on all sports leagues popular in South Africa. This includes Super Rugby, Currie Cup, ABSA Premiership, MiWay T20 Challenge and other sports. You can also bet on soccer around the world, and on American sports such as NFL, MLB, NBA, NHL etc. This names just some of what's available for wagering at Sportsbet South Africa.

www.ladbrokes.co.za is our top suggestion for a SA licensed corporate bookie. They've been in the betting business for more than 125 years, starting in 1886 as a horse racing commission agent in the United Kingdom. They have 2,700 retail betting shops, most of which are in the UK but also have locations in Ireland, Spain, and Belgium. They are publicly traded on the London Stock Exchange and their online division has more than 800,000 accounts active each month. Their SA division is registered as Ladbrokes (SA) (Pty) Ltd and is licensed by the Western Cape Gambling and Racing Board with license nr 10144385. Here you'll find in-play live betting and mobile betting supported for all sports and leagues from all over the globe including SA.
Licensing and Odds Format
Both Sportsbet and Ladbrokes are licensed by the Western Cape Gambling and Racing Board (WCGRB). This can be confirmed on the WCGRB License holders' page. Between the two sites there is confusion regarding odds formats. Traditional South African bookies, such as Sportsbet, use a decimal odds format rest of the world refers to as Hong Kong Odds. Take for example a Currie Cup match with the following odds:
Lions: 0.91
Draw: 20.00
Natal Sharks: 0.91
The odds are how much you'll get paid in winnings for each rand staked. For example, if you bet R 100 on the Lions and win, you get paid R 100 * 0.91 = R 91 AND you also get back your R 100 stake.
At corporate bookies, such as Ladbrokes, decimal odds also include the stake. Here the same odds would be listed as:
Golden Lions 1.91
Draw: 21.00
Natal Sharks: 1.91
These are the exact same odds – the only difference is these odds represent total return (stake + win). If you bet the same R 100 on Lions and win you get back R 100 * 1.91 = R 191. Of this, R 100 was your stake and your winnings are the same R 91. There's no difference in the payouts, only in how the odds are displayed. This is important to understand to avoid confusion and/or the false feeling the payout has been shorted. Just know at some bookies the odds include the stake, and others the odds represent just the winnings.
How to Deposit and Withdrawal
When betting online at licensed South African bookies the banking options are not a mystery. These websites are 100% legal to use, and therefore clearly display their policies for making deposits and getting payouts. The most common method is credit or debit card, but most also accept instant bank transfer, UKash, Skrill and Entropay.
Credit Card Payments

Using a credit card or debit card issued from a South African bank is the most popular way to deposit at ZAR bookies. Each betting site has a different policy regarding which cards are accepted and if payouts can be processed to the card. As a general rule most accept VISA, MasterCard, Delta and Maestro cards, and most will only issue credit/debit payouts up to the rand amount deposited. To get payouts for your excess winnings you'll need to use a second banking method such as bank transfer or paper cheque.
Traditional Bank Transfer
For players without a credit or debit card it's possible to deposit and withdrawal via traditional bank transfer. This involves getting a reference code from the betting website to send a traditional bank transfer. Once the payment has left your bank account, you'll need to contact the betting site back to notifying them of the payment. They'll then confirm the payment within 1-5 days (most often in just 1 day) and manually credit your betting account with the rand amount sent. This process is well explained at both the websites for Sportsbet and Ladbrokes.
Ukash – Fast Transfer with Standard Bank
Much faster than traditional bank transfer is using Standard Bank AutoPay to purchase Ukash. If you don't have already have a bank account with Standard Bank, it is well worth opening an account with them to use this feature. To add AutoPay capabilities to your Standard Bank account, inquire with your branch (or see details here). The next step is opening an account at www.ukashonline.co.za. Here you can purchase Ukash easily using Standard Bank AutoPay. Once you have UKash, you can use it to deposit at www.ladbrokes.co.za or at other .co.za betting websites accepting this method.
Other Deposit Methods
Each bookie has it's own unique banking methods. The three covered so far are the most popular, but some bookies also accept SID Payments Instant EFT via Standard Bank, ABSA, Nedbank and First National Bank. Many others accept EntroPay, Skrill and other e-wallets.
Foreign Betting Sites Supporting South African Rand (ZAR)
There's a lot of confusion whether or not using foreign betting sites from SA is legal. What we do know for sure is that online gambling is illegal in South Africa, however betting on sports and horse racing is fully legal. If players were only to bet sports and races, and avoid poker and casino, using foreign betting sites might be legal. No court has ruled on this. In short, we are not sure if using foreign betting sites is legal or not. Consult with your own authorities or legal professionals, and know the section below is for information purposes only.
Using Bet365 in South Africa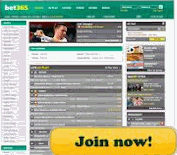 www.bet365.com is the most reputable foreign bookmaker offering betting accounts in South African rand (ZAR). This is a very well respected company licensed in the United Kingdom and Australia that is owned by the same family that owns the English Premier League soccer team Stoke City FC.
As a global company, Bet365 offers betting odds on more sports leagues around the world than any other online betting website. In addition to American and European sports they also offer betting on all major and most minor South African leagues. This includes Super Rugby and Currie Cup, ABSA Premiership and National First Division for soccer, and MiWay T20 Challenge and one day domestics for cricket.
Bet365 also has the most markets, best mobile betting website, and best live in-play betting platform. New players are welcomed with a 100% up to R 1000 sign up bonus. This is an instant cash bonus requiring just 3-times turnover prior to withdrawal.
Deposit Options
In order to use Bet365, or other foreign bookmakers, you'll need an alternative method of deposit. Most do not support instant EFT bank transfer. Some suggestions for banking methods are below.
EntroPay – this is a costly but highly convenient method to use. Via the website www.entropay.com, you can open an account and then fund it with your local credit card. This then gives you immediate access to a prepaid VISA card number where the funds can be spent online. You can also for $9.99 US (about 84 rand) order a plastic prepaid MasterCard. You can then withdrawal winnings from betting sites you deposited with EntroPay, back to the same method. From here you can use your EntroPay debit card to access your balance at any ATM machine in South Africa.
Skrill – This is one of the best options for deposits and withdrawals at foreign betting sites. However, it's also one of the most complex and timely options to set up. You'll need to follow the instructions at www.skrill.com to open an account and get it verified.
Note: Many foreign bookmakers incorrectly claim South Africans can use Ukash at their website. Understand Ukash purchased in South Africa can be used only with South African merchants. For example, the official Ukash SA website lists www.ladbrokes.co.za as an approved merchant. When you try to use Ukash at .com gambling sites, your SA UKash voucher will not be accepted (it will say declined).
Full Disclaimer
Sports Betting Sites is an international guide to online betting. We make no guarantees regarding the legality of using any online betting sites. We simply know many South Africans use foreign betting websites. So, you'll either read this information on our website or read it elsewhere. Again, we encourage you to check with your own local authorities regarding the legality of using any specific online betting bookie.
Also understand there are many great options for legal sports betting and horse race betting in SA. Other bookies licensed in South Africa include voltbet.com, bettingworld.co.za, betxchange.co.za, worldofsport.co.za and interbet.co.za, which names just a few. The challenge here is the odds. The sites discussed earlier in this article on average offer the best odds in South Africa. Which betting site is best for you, does however depend on your personal preferences. We wish you the best of luck online betting, and will be adding betting strategy and tips for South African sports in the coming months.