7RedSports.com Review and Warning

7RedSports.com is an online sportsbook based in Costa Rica that services mostly players from the United States. They are rated D on our sportsbook rating guide, due to their association with EZStreetSports. While they have attractive promotions, and "could be" safe to use, it is important to understand the risks. This is a new online gambling site that operates from the same office, and shares wagering, customer service and IT support with EZStreetSports.com who has a history of theft.
7RedSports History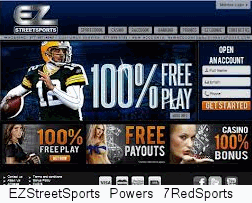 The history of theft is covered in great detailed in our EZStreetSports Review, which is a recommended read prior to depositing any money with 7RedSports. The two claim separate ownership and EZStreetSports is NOT backing 7RedSports balances. This however would be a wise position to state by both even if not true. We're not saying we have evidence one way or another but the two sportsbooks share the same staff, address, and location. 7RedSports.com only came about in early 2012 after the reputation of EZStreetSports was shot over their committed crimes.
The powering company of 7RedSports also has a history of lies and deception. With TheRX.com as their accomplice, they misrepresented facts and stole $46,000 in winnings from a player. During the process they omitted facts, twisted facts, and flat out lied while committing multiple accounts of fraud to justify their theft. Given the many legit and reputable alternatives it would be wise for bettors to use our sportsbook ratings to seek a more legit alternative.
7RedSports Promotions
Before I cover 7RedSports.com offers be advised during Week 3 of the 2012 NFL season they were still flashing a banner for preseason odds. This does not appear to be a well-managed sportsbook. While what I'm about to cover sounds attractive, understand the 7RedSports payouts risks. There is no guarantee your payout will be processed if you win.

Those willing to take the risk are welcomed with a 100% initial deposit match free play bonus. The minimum deposit required for this is $200, and the maximum bonus is $1,000. They do state that with management approval it might be possible to get a higher bonus. They have a term that the free play may be split in "up to 2 bets". This means you need to either go all in or split it between two bets. You can't make more than two plays. Also it can be wagered only on straight bets, meaning point-spreads basketball and football, and moneylines in hockey and baseball. Rollover appears to be 10 times but you should contact them to confirm. Whatever rollover you're given, the rollover is either: (Deposit + Free Play) or (Deposit + Free Play Winnings) and this is determined by whichever is greater.

7 Red Sports also offers -107 juice for basketball betting and football betting (both pro and college). On top of this their cost for buying half points are better than the industry average. These are 10 cents each, except when buying on and off the three they cost 20 cents. The 7 is charged at normal pricing. Understand you can get reduced juice and buy points at these prices. This has considerable value, but again, there is no guarantee 7Red actually processes payouts.
7RedSports Alternatives
Ultimately what comes down to is recreational players looking for a good book to place bets, have plenty of legit alternatives. The DGS software that 7RedSports uses can be found at many other websites such as Bookmaker which is A+ rated and has a great history. Of course, it is quite doubtful many are really DGS fans. There is better software on the market. For example Bovada has far better software than what 7RedSports offers. It's proprietary for sports betting and poker, with great mobile features and supports live in-play betting. Bovada's casino is light years ahead of DGS and is a modified version of Real Time Gaming (RTG) software. Finally if you're considering 7RedSports for reduced juice you could get even better using 5Dimes. All these mentioned companies are highly reputable and are safer legit alternatives.
In conclusion, while for some it might be worth the risk to use 7RedSports.com, most players would be better served playing elsewhere. It's also much better for the industry in general that players avoid known crooks and wager with reputable and legit companies, such as www.5dimes.eu. We will however continue to monitor 7RedSports and will report any complaints or other news we come across.
This 7RedSports.com review was last updated by Prop on September 14, 2012.