A Detailed Review of 888Sport.com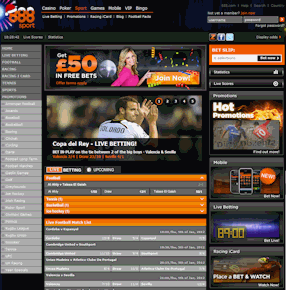 888Sport.com is the online betting arm of the 888 group of gambling website which also includes 888Casino.com, 888Poker.com and 888Bingo.com. It's possible for a player to register at any of these sites and then use the same log in and account balance at the other three. This makes 888 Sport a great choice for players who enjoy both sports betting and at least one other gambling product of poker, casino or bingo. If you've never had an 888 account before you can register and claim up to £55 in free bets.
Free Bet Offers
888Sport offers all new players five £10 free bet token and a £5 risk free mobile bet for a total of £55 in free bets. To start visit their website www.888sport.com deposit and make your first bet of £10 or more on odds 2.00 or greater and your first £10 free bet token will be issued. Going forward every four wagers of £10 or more on odds 2.00 or greater will earn you an additional £10 free bet token until a total of five have been issued. To view the free bets you have stored in your account click "My Account" from the home page and select the free bets offer. To redeem bets just place a wager the same way as you normally would and you'll see an option to redeem the free bet token right at the bottom of your bet slip. An additional £5 free bet is available for the first wager you make using your mobile phone.
888Sport.com is Highly Legitimate
888Sport is the sports betting offering from 888 Holdings PLC, who is the biggest name in online gambling and online gaming. They have been a major force in online gambling since 1997. Their initial focus was online casinos and later online poker, bingo, and finally sports betting. They own many different brands bearing the 888 banner, as well as some additional online gambling websites such as Pacific Poker, Casino-on-Net, Lucky Ace, and Reef Club Casino. 888.com was founded in 1997 by Shay Ben-Yitzhak, Ron Ben-Yitzhak, Avi Shaked, and Aaron Shaked and was originally located in the British Virgin Islands.
The company was reorganized and moved to Gibraltar in 2003, where 888's corporate headquarters currently resides. This move took place nearly two years prior to the company going public, as they are now listed on the London Stock Exchange and are amongst the FTSE Small Cap Index. All of their activity is licenced under the Government of Gibraltar.
In addition to delivering gaming and sport betting to players, they also provide licencing, management, payment processing, and software to other casinos and poker sites online via their business-to-business divisions. Companywide, 888 employs nearly 1000 people and has a market cap of just over £189 million. The company is run by Gigi Levi, 888's CEO who draws his experience from previous holding of various executive positions in the software and telecom industry. Levi has been in charge of 888 Holdings since 2011.
Betting Online with 888 Sport
888 Sport primarily provides lines for bettors residing in the United Kingdom, Germany, Spain, Denmark, Austria and Sweden. Whilst they focus on these markets, they do provide coverage for sporting events around the globe. For example, if you are a fan of Canadian sports, you can find lines on Canadian Football League (CFL) games, as well as NHL Hockey games, where you can bet on teams like the Toronto Maple Leafs, the Montreal Canadians, or the Vancouver Canucks.
You can additionally bet on popular sports leagues and sporting events in Australia. You can bet on AFL games (Australian Rules Football or simply Footie). You can also place wagers on The Ashes – even if betting for England and against the Aussies. 888 Sport is quite friendly to bettors residing in Ireland, New Zealand, Spain, France, Denmark, Holland, Portugal, and Greece. They accept payment in dollars, Euros, Pounds-Sterling, Danish Krone (DKK), and Swedish Krona (SEK).
888Sport.com Banking Methods
Speaking of payments, you can fund your 888 Sport account using a variety of deposit methods that include debit and credit cards, as well as PayPal, ClickandBuy, NETeller, Skrill, Web Money, and e-wire. You can also use an E-Check, or pre-paid credit/debit card. Bank transfers over the wire, as well as personal cheques are also accepted for funding your 888 Sport account. And at 888 Sport, you are sure to find a sporting event worthy of a wager. Whether looking to bet on a popular, mainstream sport like or an exciting, yet less mainstream sporting event such as the 2012 European Badminton Championships or the Champions League of Volleyball – you will find an attractive line at 888 Sport.
888 Promotions and Specials
888 Sport offer a variety of promotions throughout the year to new customers, as well as those returning to wager. The first time you use the mobile version of 888 Sport, you will receive a £5 "no lose bet." As the name states, you cannot possibly lose on this initial bet. Whilst we stated this free no lose bet in pounds-sterling, the no lose bet will default to your currency of choice. Thus, if you have deposited in Euros, then your no lose bet is credited in Euros. Important to note – when taking advantage of the mobile no-lose bet, you must wager through the website, as opposed to the mobile betting platform. Otherwise, you will be unable to capitalize on their mobile betting special.
In addition to the mobile betting promotion, 888 Sport are also offering 20 free spins on their City Life slots game for those making their first bet in excess of £5. This offer is a cross-promotion between 888 Sport and 888 Casino. To use your free spins, you will actually have to log into 888 Casino, where your 20 free spins will be waiting. You can use the same user name and password combination that you have selected at 888 Sport to access their casino platform.
Additionally, 888 Sport runs daily specials for those who place the 888th bet of the day. If you are on the 888th bet of the day, 888 Sport will hand you a match bet for free (up to £888 in value); this all for being at the right place at the right time. Also a regular staple in 888 Sport offerings is the late goal refund, which they call the 88th minute special. If you bet a Football match and a goal is scored in the 88th minute or beyond that turns your win bet into a loser, then 888 Sport turns it into a winner of sorts by giving you a free bet up to £50 in value.
You can also become a member of the 888 Sport VIP program, which gives you access to higher and regularly recurring bonuses, additional free bet offers, and invites to some of the greatest sporting events around the world. When becoming an 888 Sport VIP, you will be assigned your own personal VIP Manager, who will be your point of contact regarding your 888 Sport account.
888 Sport Rating
We give 888Sport an A- rating our sportsbook rating guide which is about as a top as it gets for a purely recreational online betting site. They are a strong company financially and are experts in offering online games and online gambling. If you're a small bettor who enjoys free bets, bonuses, and a wide variety of sports coverage, www.888sport.com is a potentially excellent choice for you.