Asian Bookies for Indonesia Sports Betting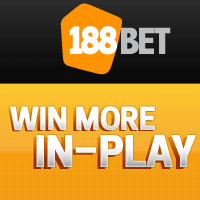 If you live in Indonesia and want to bet sports online #1 is www.188bet.com. This is because they offer accounts in Indonesian Rupiah (IDR) and also have many good methods to send money to bet and to get paid when you win. You can pay with your bank account or ATM card. When you win you can have money transferred to bank account. This all is done safely and your bank will not see you're sending money or getting paid for betting.
Bet Sports Online in Indonesia Rupiah IDR – CLICK HERE
The sports that can be bet at 188Bet are many. They are #1 for in-play betting football and also #1 for hang cheng betting (Asian Handicap). You can bet on local football Liga Super Indonesia or can bet on European football such as English Premier League, Spanish La Liga, Italian Serie A, UEFA Champions League, or football from many other places of the world. They also offer betting on Basketball, Tennis, Boxing, Badminton, Cycling, Formula 1, Australian Rules Football, Rugby Union and many other sports.
Indonesia Betting Odds
188Bet and other Indonesian Bookies offer betting odds in several formats including EUR decimal odds, HK Hong Kong Odds, Malay Malaysian Odds, and Indo Indonesian odds. When you join from Indonesia the default odds format will be set to Indo. If you like one of the other odds formats better you can change this in your account profile. For those new to betting with online bookies I will cover how Indonesia odds work.
Positive Odds: In the case the odds are positive this is the amount you'll win for each unit wagered. So for example if the odds are 2.451 and you make a Rp. 2.500.000 bet and win, you'll get back your Rp. 2.500.000 stake plus Rp 6.127.500 in winnings. The winnings were calculated by multiplying the 2.500.000 stake by the odds 2.4510 (2.4510*2.4510=6.127.500).
Negative Odds: In times where odds are negative, this is how much you must stake in order to win one unit. If the odds are -1.4520 and you stake Rp. 90.000 and win, you'll get back your Rp 90.000 stake plus Rp 61.983 in winnings. The winnings were calculated as stake divided by odds. (90.000/1.4520=61.983).
The good news is when using online bookie www.188bet.com they will show you what the payout is before you confirm your bet.
Betting in Indonesian Rupiah (IDR)
Most Asian bookie accept wagers in rupiah. However, for reasons that it takes over 1400 rupiah to make up a single Chinese Yuan (CNY) adjustments are sometimes made. For example at M88.com, in their system a wager of 1 rupiah is actually 1000 rupiah. So if you were deposit Rp 100.000 your account balance would be 100 units, each of those units being 1000 Indonesian Rupiah (IDR).
Indonesia Sport Betting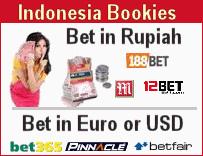 There are over 36 million non-Muslims living in Indonesia and many of them enjoy betting on sports such as football, badminton, basketball, Formula 1, cricket and tennis. The most popular betting site servicing this market is Mansion88 (M88) but personally we think 188Bet is a slightly better option. This is because M88 is not regulated as much, they service only Asian markets where betting is illegal. 188Bet.com on the other hand is a big name in UK where there are laws they need to follow and someone to complain to when things go wrong. M88 is still okay we just think 188Bet is a little better option. You can see this in our ratings below.
Top Asian Bookies for Indonesia
#1 is 188Bet.com – If you're fluent in English and live in Indonesia this by far your best choice. Here you can open an account in Indonesian rupiah and wager in Indonesian, Malay, Hong Kong or European odds format. 188Bet is a well-known for having the most markets and operates on a lower margin than most Asian bookies operate with. This means 188Bet has better odds and you (the sport gambler) will win more when betting here. Their company is licensed in the Isle of Man, Canada and the Philippines and you can deposit and withdrawal using your bank account. To learn more read our 188Bet.com Review.
#2 is M88.com – Mansion88 is no doubt the most popular Indonesian online gambling site. Their site is available in Bahasa Indonesia, offers betting accounts in rupiah and supports Indonesian Odds format. After joining their betting site, you'll find they offer many methods for deposit and withdrawal. This is very reputable online bookie that sponsors football clubs in China and holds a gambling license in the Philippines.
#3 is 12Bet – 12Bet is another Asian bookie very famous in Indonesia. Their website uses the same odds as ibcbet. The difference between the two is ibcbet is hard to open an account with, but anyone can join 12bet. They are licensed in the Philippines and the same that is true with M88 – 12Bet is available in Bahasa Indonesia, offers accounts in rupiah and supports Indonesia odds format. Their company is highly reputable and the sponsors multiple football clubs. They are the shirt sponsor of Wigan Athletic FC and the official betting partner of Newcastle United Football Club. This is a solid choice for anyone in Indonesia wanting to bet sports online.
Indonesia Gambling Laws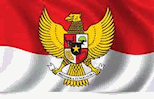 Although at times gambling by non-Muslims (Dhimmi) has been tolerated in Indonesia, this has a history of changing in a hurry. For many years tourist cities, such as Batam and Bintan, hosted gambling arcades. In mid-2011, Islamic extremists declared jihad against these operations and burnt down churches under the false accusation that their members were the secret owners. As a result, the national police force intervened by demolishing all known gambling establishments. Dozens were arrested and sentenced to seven strikes from a 1-meter long rattan cane, which was carried out in public with thousands of spectators. As far as what the laws are – we're not aware, though there is certainly danger in Indonesia when committing any act that violates Islamic Sharia laws.
The good news is all the online gambling sites mentioned in this article are located outside of Indonesia and all are legal under both the laws of the countries they are located in and international law. These sites are well experienced in offering online gambling to Indonesia residents and each site has the highest level of privacy. Therefore your information will never be turned over to a third party without your knowledge and consent. No doubt the safest and most private site for betting from Indonesia is www.188bet.com.