Entropay Banking Method for Online Gambling Sites

EntroPay is a betting site banking option for India, China, Indonesia and other nations where online gambling is restricted. Accounts take a just a couple minutes to open online, and can be funded with any credit or debit card displaying a VISA or MasterCard logo. With special instructions Maestro debit cards can be used (see: loading EntroPay with Maestro). Once funded, EntroPay account balances are available for use via an online EntroPay Virtual VISA Card assigned to each user's account.
The EntroPay service is popular because most American and European merchants have trouble processing foreign debit card transactions. This spans outside gambling. Many companies such as those offering virtual reality games, pay per click advertising, network marketing, etc. encourage visitors from certain countries to load an EntroPay account with their debit card, and then use the EntroPay Virtual VISA Card to make purchases.
Why Use EntroPay?
If you're from a country where gambling deposits are difficult, this method allows you to deposit to EntroPay with your debit card, and then in a second step, deposit those funds into a betting site. To note you can use your EntroPay Virtual VISA Card at any online gambling site accepting VISA, meaning EntroPay does not need to be listed in the cashier. At gambling sites that do list EntroPay as a banking method, your account can be used just like an e-wallet to make both deposits and withdrawals.
E-Wallet Functions
The e-wallet functionality of EntroPay makes moving money between online betting sites simple. For example, say you cash out €1,000 to EntroPay from Ladbrokes. Here you might then decide to deposit €500 of it at 188bet and withdrawal the remainder as cash. For the cash portion you have three options: you can transfer the funds to you home bank account, withdrawal them at the ATM, or spend them online.
Transferring to Bank Account – To transfer your EntroPay balance to your bank account, login, click EntroPay Card, and then click Transfer Funds. From here, select the option New Bank Account and follow the online instructions.
ATM Withdrawals – In addition to EntroPay offering Virtual VISA Cards, they also offer Plastic MasterCards for a one-time fee of USD9.99/GBP4.99/EUR7.49. With the Plastic Card it is possible to withdrawal your EntroPay Balance at a local ATM.
Spending EntroPay Online – Using either your EntroPay Virtual VISA Card or EntroPay Plastic MasterCard it is possible to spend money online with merchants. You can attempt to use the cards anywhere VISA or MasterCard is accepted, however with some non-gambling merchants the card does not work; you'll need to attempt to use it to see.
Open an EntroPay Account
The actual process of opening an account is simple. All you need to do is follow the registration instructions located on their website www.entropay.com. For reason there are small intricacies with funding accounts in various countries, I've decided to write separate EntroPay articles by region. A lot of this content is still being developed, however some of it is linked below.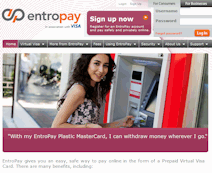 Using EntroPay in China (Coming Soon)
Using EntroPay in Indonesia (Coming Soon)
Using EntroPay in Malysia (Coming Soon)
If during the setup process, or after using your account, your EntroPay account becomes restricted don't panic. EntroPay is a very legitimate company and your funds are always safe with them. On occasion they do random security checks asking for a copy of your ID, funding source, utility bill and the name of the merchant at which you intend to spend. If this happens refer to my article on temporarily restricted EntroPay accounts.
Declined EntroPay Transactions
When loading your card for the first time you'll be prompted with an option to either enter you Verified by VISA / MasterCard SecureCode password, or to register for this service. Understand in many countries such as India, Indonesia, Malaysia etc. this step is required because many debit cards are not automatically set up for foreign transactions. When you register your card for a 3D secure code, international transactions and currency conversion will be activated as well. If for some reason you're not given instructions on how to enrol, Google search the name of your bank along with the words "Verified by VISA" or "MasterCard SecureCode" for further help.
EntroPay Fees
With the exception of United States, Turkey and a few other restricted countries, most anyone can open an EntroPay account. Accounts however are only available in USD, EUR or GBP currency. Worth noting is EntroPay fees for loads are a high 4.9%, and if you then use your balance in another currency they charge 2% additional in foreign conversion fees. For example, if you have an account at 188Bet.com in Indonesian Rupiah IDR and deposit with your Euro currency EntroPay account, you'll lose 2% additional if fees. Be advised, for this reason, it is a good idea to set up your accounts at betting sites, using the same currency as your EntroPay account.
EntroPay is Highly Trusted
The parent company of EntroPay (Ixaris Systems Ltd) is headquartered in the United Kingdom. In business since 2002, they've developed many contracts with high profile corporations. For example their VISA cards are issued under a license from VISA Europe and their MasterCards under licence by MasterCard International Incorporated. They of course have arrangements with some of the world's largest gambling sites. This is a highly reputable company, regulated in the UK by the Financial Services Authority (FSA). Their registration number is 540990 and they operate legally under the UK's Payment Service Regulations Act of 2009. The bottom line: this is a safe company to use for making sports betting site deposits.