Bodog.eu Review – Best Canadian Gambling Site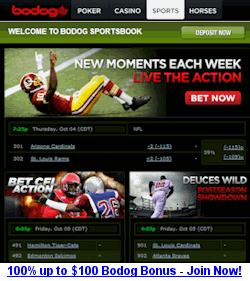 www.bodog.eu is a Canadian gambling site that offers sports betting, a racebook, online poker, and casino games from the same website. If you're from Canada, chances are you've seen their many advertisements. They are previous Canadian Football League (CFL) sponsors. There was also a Sportsnet branding deal with Prime Time Sports with Bob McCown. Their poker room markets on television too. In this article I provide an in-depth review of what their betting website offers.
Online Sportsbook
The Bodog sportsbook is in our opinion one of the best on the market for Canadians staking $500 or less per wager. Understand this is not a professional betting site catering to high rollers. If you want to bet thousands or tens of thousands per game look elsewhere. For everyone else they are ideal.
Sportsbook players receive a welcome bonus based on their deposit method. As of March 2019, this is 100% up to $300 CAD for bitcoin deposits. For all other methods it is 100% up to $200 CAD. Those methods are MasterCard, VISA, AMEX, direct bank transfer and bitcoin cash. The only string attached is you'll need to wager your deposit plus bonus amount 5 times before cashing out.
Betting Markets
When it comes to markets offered, Bodog scores a solid B+ grade. You'll find all major sports leagues such as NHL and international hockey. There is NFL, NCAA, CFL, and AAF for football. Basketball includes NBA, WNBA, NCAA and international basketball. There is also MLB baseball, and soccer matches from all over the globe.
For racing there are odd on Formula 1, NASCAR, INDY, and MotoGP. You can bet fights from UFC, Boxing, and other MMA competitions. Of course, they also cover tennis, golf, Rugby League, Rugby Union, and cricket. Snooker, athletics, cycling, Gaelic Games, Winter Sport and wrestling are there too. It's even possible to bet on the results of poker tournaments, world events, and reality TV.
Live Betting and Mobile Betting
Two of the most popular features of the Bodog.eu sportsbook are live betting and mobile betting. The first gives you the opportunity to wager games while they're in play. For hockey this is the ability to bet on which team will win the match and will the total goals be over or under. In some cases you'll also find props such as which team will score the next goal.
For football there are many markets available in-play. You can bet point spread, total and moneyline. Odds are also there for result of the next play, drive, or series and a plethora of props. The same is true with baseball. You can bet on the results of each pitch, or at bat, or on many other markets.
As far as mobile betting goes, the Bodog sportsbook detects the device you are accessing it from. It then renders you the proper platform. It works great on Android, iPhone, iPad, and other smart phones and tablets.
Bodog Utilizes a Dual Pricing Model
One issue bettors should be aware of is the fact Bodog uses a dual pricing model. When you first sign up you'll find they shade the lines towards the popular teams. For example, in baseball the Yankees are generally a fan favorite. What happens is they'll offer poor odds on the Yankees and what might even be +EV odds on their opponents. In the early going it is possible to exploit this by betting less popular teams.
Once they catch on that you have a clue, Bodog will start offering regular odds. It doesn't take long for them to notice. When discussing this on forums, this is generally referred to as "square odds" and "sharp odds". Understand, even when changed to the sharp odds, you can still find plenty of profitable bets.
Not Ideal for High Rollers
The only real complaint I have about Bodog Canada is their betting limits. Most accounts start off with $500 CAD max limit per bet. If you beat them for enough, and your history shows this was more than luck, expect a reduced limit.
It is my opinion that Bodog is one of the most trustworthy betting sites. They always pay, but is not a site you'll win hundreds of thousands of dollars from. When you win too much they might limit you down to $100 or $200 max bet per game, or even less. The same is true all over the industry. If you're looking for a site that never gives personal limits, the best option is Pinnacle888.
Other Gambling Offerings
One of the most popular offerings outside of sports betting is poker.bodog.eu. You can use the same account balance for sports, casino, poker and horse race betting. While Bodog is Canadian, they share branding with several other sites. One such company is Asian Bookie Bodog88.com. This website attracts many gamblers from China, Thailand, and Malaysia. Most have next to no experience with online poker. This leads to some of the softest internet poker games.
Another reason the poker games are soft is because this network does not use user names. When you sit down at a table you become only by a number (examples: Player1, Player2). These numbers change each time you take a seat. This renders tools such as PokerTracker, Poker Table Rankings, and others useless. It's not possible for the sharks to datamine for identifying, hunting and beating up on the fish. This gives recreational players a much better chance at winning. It also keeps the games are soft. You'll be hard pressed to find any online poker room with games easier to beat than you'll find here.
There is also a racebook that covers North American and Australian horse racing. Additionally, you'll also find an online casino with unique bonuses and promotions. While based off Real Time Gaming (RTG) software, for all intents and purposes it is proprietary. It had software modifications to increase the odds and to make the game more enjoyable.
Banking Options
Bodog is Canada's most advertised gambling site. Likewise, of course, Canadian dollar is an account currency. The payment options are Canadian friendly. I discuss those methods below.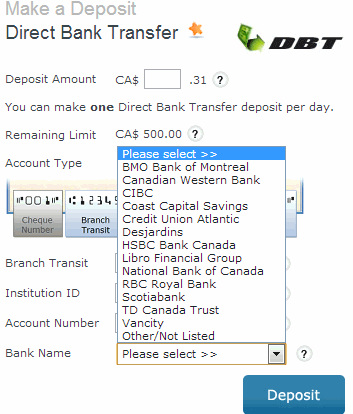 Instant E-Check Payments
This is the easiest way to deposit to your betting account. As you can see from the image shown right, they support all major banks. This includes BMO, Western Bank, CIBC, Coast Capital, Credit Union Atlantic, Desjardins, HSBC, Libro Financial, National Bank of Canada, RBC Royal Bank, Scotiabank, TD Canada Trust and Vancity. New players have a $500 limit for this deposit option. As checks clear this limit is reset. After several cleared checks your limits will increase. To start you can deposit as little as $20 and as much as $500 with Direct Bank Transfer (DBT) instant e-check payments.
Credit Card Deposits
Bodog accepts MasterCard, VISA, and AMEX. It is possible to initial deposit up to $1,000 via this method. You will need to complete KYC verification before withdrawal. KYC stands for Know Your Customer. This will involve sending them a copy of your photo ID. You'll need to also send proof of address and a scan of the credit card used to deposit. Their regulator requires this and it also protects them from fraud.
Crypto-Currency Deposits
Bodog pushes bitcoin (BTC) as their preferred deposit and withdrawal option. As mentioned earlier, the sign-up bonus is larger for those using bitcoin. Their website does an excellent job explaining bitcoin to those not already familiar.
To deposit in bitcoin select this option from the cashier. A pop-up window will open with the bitcoin address and a QR Code. Use either one to transfer bitcoin to your Bodog account. This same screen quotes the exchange rate. The bitcoin deposited converts to your account as Canadian dollar using that rate.
Bodog also supports bitcoin cash (BCH). This is a different crypto-currency than bitcoin sv (BSV), which Bodog does not support. Depositing in BCH works the same as it does with bitcoin (BTC). You can likewise deposit any amount using this method.
Bodog Payouts
Bodog payouts are available in your choice of paper check, bitcoin or bitcoin cash. Paper check withdrawals must be at least $50 and can be up to $3,000 per check. They allow one check withdrawal per 7 days. These arrive in 10-15 days from request.
Crypto-currency payouts are near instant, and can be for amounts $10 and up. The maximums are $3,000 for bitcoin cash (BCH) and $9,500 for bitcoin (BTC). You can request one crypto payout per 5 days. It takes only 1-15 minute for Bodog to process payouts via either crypto currency.
Bodog Promotions
The promotions here are many. As mentioned, there is a 100% initial deposit match welcome offer. It does not stop there. Here there are all sorts of promotions for the Stanley Cup playoffs, and also season long NFL promos. As the other promotions change on a regular basis, it's best to visit their website to find details.