Bookmaker.eu Review (formerly Bookmaker.com)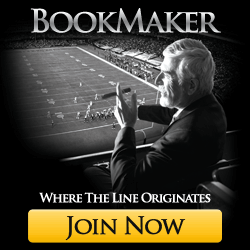 Bookmaker is the oldest and most trusted online betting site, holding unanimous top rankings at all major industry review portals. They accept players from 49 US states (with Washington State being the only that is excluded). Their history dates back to a 1970 when Ron Sacco took over one the largest bookmaking businesses in the US. In 1985, that operation began operating legally in the Dominican Republic, and in 2000 they launched a legal betting site from Costa Rica. Of course, US authorities dispute their legality, but with legal headquarters in the Republic of Costa Rica and satellite offices in Dominican Republic, Venezuela, Argentina, Spain, Mexico, Panama, Brasil and 12 other countries, virtually the entire rest of the world considers Bookmaker a legit betting shop.
Special Bookmaker Bonus Offer – Click Here
To state their relevance in sports betting properly, the Bookmaker website bares the words "Where the Line Originates". This isn't some cheap tagline or marketing hype it's the truth. If you watch line feeds for any US sporting event, be that football, hockey, basketball, or baseball, you'll see the very first place to post betting lines is www.bookmaker.eu. The rest of the betting sites follow in minutes once Bookmaker opens the line, and Las Vegas sportsbooks follow the next day. Bookmaker is the company that has helped start numerous payment processors, and also was the inspiration of many gambling sites. Bodog founder Calvin Ayre claims it was after reading an article in 1994 about Ronald Sacco that he decided sports betting was the business he wanted to get into.
Bookmaker Website and Domains
Up until February 2007, Bookmaker operated at www.betcris.com. The change occurred when CRIS decided to separate their brands. The company already had several skins including DSI as the result of failed operations they acquired over the years, but BetCRIS was the main site. Deciding it was time to embrace the modern era of internet betting a little further they made a huge domain acquisition and acquired Bookmaker.com. The BetCRIS website went on to be used mostly in Spanish speaking markets where Bookmaker was the new brand for English speakers.
In 2011, the domain Bookmaker.com was seized by US authorities who believe CRIS, who again operates legally in 15 different countries and is consider legal by most the rest of the world, was committing a crime by taking bets from US citizens. So rather than catching rapist, drug dealers or murders, the terrorists the feds decided to shut them down. CRIS who no matter what US authorities throw at them keeps operating just fine, with high wagering limits and fast payouts, simply changed their address to Bookmaker.eu. So now, the same BetCRIS we've enjoyed for a dozen years is located at www.bookmaker.eu. There was never downtime or anything else. Always when CRIS changed names and website URLs – changes were seamless and all players continued to get paid lightning fast which is CRIS's style for 25 years now; service the players better than anyone else.
What Bookmaker Offers
At Bookmaker you'll find a plethora of betting lines for all major sports including NFL, NCAA, CFL and Arena football. Also NCAA and NBA basketball, MLB baseball, NHL hockey and other sports including tennis, motor racing, golf, soccer, boxing, mixed martial arts, rugby, and lacrosse. They are a great out for all the forms of wagering, but football tends to be their bread and butter. Here bettors can wager as little as $1.00 and as much as $40,000 per NFL side. Their limits are also massive in other areas as well including live betting.
Tips from a Professional Sport Bettor
Bookmaker is a great option for recreational bettors and professional alike. If there is one sports betting site I want to be requesting a payout I need from, it is Bookmaker. For more than a dozen years now they have led the way with hassle free payouts, and are one of the few betting sites that never limit collar winners. Now while you'd think trust would be enough – there are several intricacies about their site that make them even friendlier to professional punters. Those are covered below.
Teaser Betting – Bookmaker updated their football teaser payouts prior to the start of the 2012 NFL season. They are now one the most horrible options on the web for these. For example 2-team 6-point football teasers are -120, which is going to near always be -EV. The one tip worth mentioning is they do have good basketball teaser odds. 2-team 5-point NBA teasers at -110 can sometimes come in handy. Bookmaker has large betting limits on these.
Alternate Lines and Props – These are difficult to spot unless you know to be there looking for them. About one hour before the start of an NFL game (and this applies to all NFL games) Bookmaker opens alternative point spread markets and propositions. I you're there looking for them to open you'll soon see, there is often at least 2 or 3 +EV wagers on the board.
Opening Lines – I'm covering this last, but it is certainly not least. Bookmaker's slogan "where the line originates" is especially true for college and NFL football. If you want first crack at betting the opener, keep an eye out for Bookmaker to open the lines. These come out on Saturday around 4PM for college and Sunday around 4PM for NFL. Personally I suggest being there from 3PM until however long it takes to find these. This is where a serious handicapper can make some serious profits.
Now if you're a recreational bettor you'll be happy to know Bookmaker is also highly friendly to casual gamblers. Here you can wager as little as $1.00 per game. There are also squares and sports pools, and a bingo room, poker room, online casino, and tournament blackjack platform all available from the same player account, balance, and website.
Deposits and Withdrawal
Making your first deposit at Bookmaker is hit or miss on whether it is easy or difficult to do. They offer credit card deposits via VISA but don't have as high of an acceptance rate as say bovada.lv. This is where it is hit or miss, sometimes VISA cards work, other times they are declined. If you only carry MasterCard, or don't have a credit card, then it will take a little extra work to make a deposit. This second method involves taking cash to your local supermarket and making a WU or MG person to person transfer. You can get the details of who to send to via Bookmaker's live chat, and so long as you deposit $300 or more, they will cover the fees. So if you deposit $1,000 via this method and there was a $72 fee, your starting balance will be $1072.
Cashing out of Bookmaker is also relatively simple. The ideal way is to request a next day person to person money transfer. The day after making your request Bookmaker will follow up and provide you the senders name, location, money control number (MCN) and exact amount sent. Take this information down to the local supermarket and you'll have the cash in hand. If you prefer however to reduce the fees you can request a paper check, or for those cashing out $10,000 or more, wire transfer withdrawals are offered.
In 2014, I advise all US sports bettors to be extremely cautious of sports betting sites accepting e-check. This generally means the site is high risk and not worth depositing with. Sure, while Bookmakers methods are a little less ideal, once again Bookmaker is the sports betting site you can most count on to pay you when you win. Their track record dates back 28-years and over that period they've never had a slow pay complaint nor have they missed payment. If you're going to bet online, play it safe and use www.bookmaker.eu.