Bovada.lv Review
www.bovada.lv is a popular gambling site dedicated entirely to the United States market. They offer US residents of 48 states sports betting, online poker, casino games and a racebook from a single website. You can access all four products using the same player log-in and account bank. If you're from WA or MD, note these are the two restricted states. You'll want to review our articles on Washington State Gambling Sites, or Maryland Betting Sites to find alternatives. This aside, in this Bovada review I cover mostly sports betting, but also touch on poker, casino and horses.
Top Reasons to Choose Bovada
There are two features that make Bovada an easy choice for US sports betting.
#1 US Credit Card Deposits – This is one of the few betting websites where it is still possible to deposit using a US credit card. There is a 4.95% fee charged when making deposits through this method. Understand this is well offset by the fact they have one of the best sign up bonuses in the industry.
#2 50% up to $250 Bonus – When you join you're welcomed with a Bovada bonus offer that is a 50% initial deposit match up to a $250.00 free play. This means if you deposit $500.00 you'll get a $250 free bet.
Expert's tip: When joining www.bovada.lv it's wise to make an initial deposit of $500.00. Sincerely, any time you join a gambling site, always look to see how much you need to deposit to get the maximum sportsbook bonus. Any other strategy is foolish as these are one time deals and there are only so many reputable betting sites to take free bonus money off of. If $500 is too large for you at the moment, start with another site such as www.5dimes.eu. They offer reduced juice instead of bonuses. This way you're not missing out on bonus cash and you can come back to Bovada later to take advantage of their maximum offer.
Recreational Player Features
Recreational sports bettors might enjoy the following features.
Live Betting – Here you'll find the best live betting interface in the industry. All nationally televised games are covered. While games are in-play, you can do live betting on propositions such as the result of a drive, series or next play in football, or an at bat or pitch for baseball betting. You can also bet the game winner on the point spread or moneyline, or the can bet the over/under total. This is all available while the game is in-play and you're presumably watching it on TV.
Mobile Betting – It doesn't matter if you're accessing from an iPhone, Android, Blackberry or Nokia phone, or with a tablet such as iPad, Galazy, TouchPad or Zoom – no matter which mobile device you're using, they're all supported by Bovada's advanced mobile betting software.
Online Poker – I'll touch more on this later in this Bovada review, but at poker.bovada.lv you'll find the most populated poker room servicing the United States. This ranks tops on our list of US Poker Sites for 2012, for reason it features the weakest player competition in the industry.
Bovada for Professional Punters
If you're truly a professional bettor, where $25.00 positive expectation means nothing to you, you'll be far better suited using www.bookmaker.eu. For lower limit professionals, Bovada does have plenty to offer as a second or third out. The first thing to understand however is that they utilize a dual pricing model. Let me start by discussing how to take advantage of this.
Because Bovada is a recreational gambling site, they often shade the lines in such a way that the odds are worse for popular teams. So, for example if the Patriots should be -6.5 -110, here you might find them -7.0 -110. In this case, betting the Patriots' opponent at +7.0 is probably a great bet. Professionals should take advantage of this by comparing Bovada's odds with those of reduced juice sportsbook www.5dimes.eu. You'll want to do this in a hurry however, betting as many off market prices as you can find your first day. It takes only a day or two of bets for Bovada to discover you're not a pure fish. When this happens they will begin dealing you regular lines. This is called dual pricing. The sharp players get one set of betting lines, where the square (recreational) players get another.
Experts' tip: This has been discussed on betting forums to all ends. Because Bovada is very quick about changing from the square lines profile to the sharp one, the optimal +EV play is to bet as many off market prices your first hour betting as you can find, perhaps putting them all on the same ticket. You'll get switched regardless, so might as well take advantage of it.
Even after you get switched, there is still great value to be found. Here are some of my favorite advantage betting intricacies:
Best Teaser Odds – Here you'll find 3-team 6-point teasers at +180, 3-team 10-point teasers at -110, and 4-team 13-point teasers at -120. Bovada teaser odds are highly completive as is, but are even better because they don't shade against basic strategy favorites. They also often shade basic strategy underdogs in such a way these are more profitable. Their odds makers (or more correctly: their guys who copy odds from competitors) LOVE the point spread 3. Often when other betting sites are offering +1.5 -110, Bovada might be offering +3 -140. Because teasers use fixed payouts: the -110 and -140 make no difference. Here when using 6-point teasers you'll often get an extra 0.5 to 1.5 points better than you get at the competition.
Underdogs – Even with the dual pricing model, there is still plenty of value on the sharp odds for underdogs. There are times where 5Dimes might have an NFL underdog +6.5 -109 and Bovada has them +7 -110 for one group of clients, and +7 -115 for those on the wrong side of their dual pricing model. Obviously the +7 -110 is a GREAT bet, but +7 -115 is still great as well because here a push on 7 is worth FAR MORE than 6 cents. So despite Bovada gouging odds for some, you can still find solid value here.
Propositions – Bovada does not offer propositions on every NFL game, but for the games they do offer props on – plenty of value can be found. I can recall various sack props bets where everyone else was offering over/under 3.5 they had had the line at 4. Or a Mathew Stafford passing yards prop where most sites had the over/under at 307.5 to 312.5 and they had 296.5. Overall smart prop bettors can find plenty of value at bovoda.lv.
Other Bovada Products
As mentioned in the intro, it's also possible to play online poker, casino games or use the racebook with a single log-in ID. You can use your single account balance for any of the four products offered. I'll provide some quick information on each product, before concluding this Bovada review with detailed information on their history.
Bovada Poker Review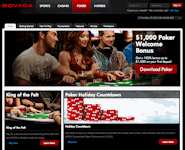 poker.bovada.lv is the URL to use if you wish to visit one of the most popular poker rooms servicing the US market. Here you'll find a $1,000 welcome bonus, a VIP program, chances to win seats to major tournaments such as the WSOP, Punta Cana, APT Macau and much more. Their promotions are endless and include guaranteed tournaments, freerolls, a tournament leader board, and so much more. In fact, because there is so many, Bovada's promotion page spans three pages of content. You'll want to visit their website to check these out.
Perhaps the bigger draw to Bovada Poker is how soft their games are. A number of Asian bookies, such as Bodog88 and Bodog99, operate on the same poker network. As a result many casino gamblers and sports bettors from China, Thailand, Malaysia, Korea and Vietnam end up playing at the same tables. Many of these players have little to no poker playing experience; they're just spilling over from the casino. This is only one of two reasons the games here are super soft. The other is Bovada offers anonymous poker, which they refer to as a recreational poker model. What this means is when you visit their poker tables you won't have a user name. All you have is a number (example: Player 1, Player 2) and this changes each time you sit at a table. This prevents professionals from using pokertableratings.com, Poker Trackers and other tools to track, and take money off of, the fish. If you're looking for the softest games and best bonuses head to poker.bovada.lv.
Bovada Casino Review
The casino is available using the URL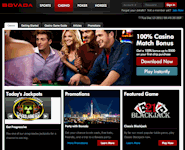 casino.bovada.lv. This casino is powered by Real Time Gaming (RTG) but its source code is modified. Their internal programing team has made many enhancements unique to their casino. Here you'll find one of the most favorable single deck blackjack games in the industry. You'll also find popular table games such Pai Gow Poker, Roulette, Craps, Baccarat and much more. For slots they have all sorts of games including video slots, many which have massive jackpots that can be won. They also have many bonuses starting with your choice of a 100% up to $500 welcome bonus for slots, or a 100% up to $200 bonus for table games. From here you can earn a 100% bonus each week. There are also other promotions. Play the slot game featured on Friday and if you don't win your losses are refunded 50% up to $50. Hit a 21 in blackjack on Sunday and win a $21.00 bonus. There's also a $100K travel promo that if won will send you to 5 continents to visit 5 cities over 5 weeks. This is only a small sample of what's offered. You can learn more visiting their website.
Bovada Racebook Review
The racebook can be accessed at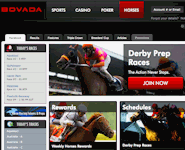 http://horses.bovada.lv/. Here you'll find more than 60 tracks covered. This includes the Major US tracks such as Churchill Downs, Pimlico Race Course, Santa Anita Park, Aqueduct, Gulfstream and Belmont Park, as well as Colonial Downs, Fairmount Park, Kentucky Downs, and many more. Most all the legal gambling in Kentucky is covered. You'll also find Australian tracks covered as well as tracks for Harness racing. They offer a rebate of 3% on straight bets of win, place or show and 5% on exotics. The exotics include Quinella, Exacta, Trifecta, Superfecta, Daily Double, Pick 3, Pick 4, Boxes and Wheels. This rebate is paid to players accounts every Tuesday for their weekly horse racing turnover. Additionally, when you bet Saratoga or Del Mar Races from Wednesday to Friday, the rebate is 6% on straight bets and 10% on exotics.
As you can see Bovada covers all the tracks Americans are interested in betting, and also supports all the wagering options we utilize. Even bigger, they have many prop and future bets available for the major Triple Crown races and the Breeders' Cup. If you're new to betting horses, no sweat – they have a full glossary explaining all the wagering options and terms. They also provide daily previews and all the data needed to properly handicap each horse race. Finally worth noting is the 50% up to $250 sign-up bonus that is available for sports, can also be used at horses.bovada.lv.
The History of Bovada

The history of Bovada intertwines with the history of Bodog. The official story is that in late 2007, Bodog's founder Calvin Ayre was retiring. No longer wanting to stay in the US market he sold Bodog's North American business to Mohawk Morris Gaming Group (MMGG). They then became a licensee of the newly started Bodog Brand.
There were, and still are, other gambling sites that also licensed the Bodog name. This once included Bodog Europe who used the URL bodog.co.uk which is now closed. The sites still active are Bodog Canada (bodog.eu) and an Asian bookie named Haydock Entertainment who started Bodog88.com. The brand didn't involve only betting. There was also Bodog Music, Bodog Babes, Bodog Fight and other companies and products licensing the same brand name. So originally, and beginning in late 2007, MMGG used the URLs Bodog.com, Bodog.eu, and Bodog.ca for the various markets they were license holders of.
In mid-2011 Bodog decided they didn't want their other brand licensees to carry the perceived liability of having their names associated with US gambling. This is because many of these sites were going big time in legal markets. The Asian version was the shirt sponsors of an English Premier League team and had recently started legal betting booths at a UK football stadium. Ample time was given to MMGG to rebrand their US gambling site.
On December 14, 2011 all players were sent notice that their accounts have been transferred to the website www.bovada.lv. There was no change in ownership as MMGG had owned the US version of Bodog since late 2007. 4 years later, this website was rebranded Bovada, and the software and betting features remained the same. Now because we at SBS take pride in being the most honest portal on the web, it's important to share we do have some doubts regarding this official story.

Mohawk Morris Gaming Group (MMGG) is owned by Alwyn Morris. He won two medals, including gold, for Canada at the Los Angeles 1984 Olympics. He's also a Native American who is a prominent member of the Mohawk nation in Kahnawake, which is located on the south shore of the St. Lawrence River in Quebec, Canada, across from Montreal. He was a made a member of the Order of Canada in 1985 for work with Aboriginal youth in the field of Alcohol and Drug abuse. He then spent 12-years as senior advisor to the Chief and Council of the Kahnawake Mohawks. We'll just say it simply as, true or not about the ownership change: moving US operations to a sovereign Indian reservation, the US government couldn't easily reach, is a smart move when dealing with online gambling.
The Bodog Story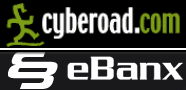 Bodog has been involved in online gambling since it was first getting started. Their founder Calvin Ayre originally sold his online gambling software idea to a company called Cyberoad, which was publicly listed as OTC: BB FUNN. In 1998 Cyberoad was the software hosts for three gambling sites, specifically: Mayan Sports, The Big Book, and Grand Prix. Another part of the idea Ayre sold was an innovation in payment processing that took on the name eBanx. This company took deposits with credit card and paid out via e-check. Back then most gambling sites were using agents that settled in cash, Western Union, or even occasionally FedEx envelopes stuffed with money. eBanx was integrated directly with the gambling sites, and this was the start of easy deposits and withdrawals being available at online betting sites.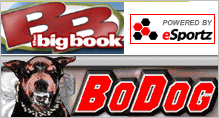 In 2000, Cyberoad failed and was taken over by El Moro Finance Ltd. (BVI). Its assets were assigned to a subsidiary of El Moro called eSportz. What happened from here is Mayan got new software, the Big Book purchased Grand Prix, and eSportz continued initially powering the Big Book. In 2001, an email was sent to former Mayan Sports clients introducing them to Bodog. A huge amount of controversy, that's now a decade in the past, is for years Mayan (who btw, was not very reputable) accused Bodog of stealing their clients. Also, initially the head of Bodog and eSports was known as Cole Turner, but it was later revealed this was just an alias of Calvin Ayre. There was a great deal of debate regarding Cyberoad investors losing their funds, a new company immediately taking over and how it was Cyberoad idea man and consultant Calvin Ayre was suddenly the main beneficiary of this betting operation's profits. Further questions were raised about why he was using an alias if he had nothing to hide. Calvin explained one aspect of the controversy over several betting forum posts. His claim is that he sold the idea to Cyberoad, and eBanx but was never a shareholder, only a consultant. Later when Cyberoad went bust, El Moro asked him for help recovering their asset. They were a Cyberoad secured creditor. During the process he became involved again, helped El Moro sue Cyberoad and gain control. He then started eSports, the software company that evolved into becoming Bodog. Again a decade in the past, there's two sides to the story, but to note: through this entire process Grand Prix, The Big Book and then Bodog were the most reliable companies for paying players, and none of these controversies ever got in the way of that.

Back on the topic of history, initially Bodog and Big Book shared an office. Though Big Book came first, they were essentially a white label of Bodog who had the same owners as the software provider. The company that managed their payment system was called Kazootek Technologies Ltd., likely also primarily owned by Calvin Ayre. The story goes that a Viktoria Zazoulina (known as Vika – and shown left), Tatiana Kostiouk (known as Tanya – and shown right) and Greg Tanner (not shown) were employees that embezzled large sums of money from Kazootek and then conspired with The Big Book to steal eSportz source code. Basically, they had a plan to go solo financed off theft from the company Bovada originates from (Bodog). So anyways in mid-2003 Bodog kicked Big Book to the curb. From this date on Bodog was no longer a software company, but a standalone gambling brand with the best payment processing and betting software in the industry.

Once they went solo their growth came rapid. They introduced poker in 2004, and quickly grew into one of the largest internet poker rooms. In 2006, they purchased one of the oldest and most trusted sportsbooks in the industry World Wide Tele Sports (WWTS), who ran betwwts.com and many other gambling sites through their BetCorp white labels. Today, when you read on Bodog websites that they have been in business since 1994, this is a bit strange. It was WWTS who Bodog purchased, closed, and took over the offices and much of the staff of that was actually in business since 1994. In any case, they began rapidly growing their brand name creating the Bodog Handicapper Challenge, Bodog BEAT, Bodog Music, the Lingerie Bowl, Bodog Fight, Battle of the Bands and all sorts of other products that did wonders for their branding. It also helped that their founder Calvin Ayre made Forbes Magazine Billionaire list, had his home featured on MTV Cribs, and made appearance on BNN, VH1, Extra, Careers TV and CNBC. This only names some of the methods they used in becoming a massive brand.
Bovada and Bodog Legal Issues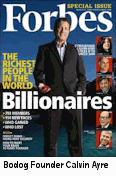 In August 2007, the Bodog.com domain name was seized over a patent dispute with 1ST TECHNOLOGY LLC. They have what in our opinion is a silly patent (one that should have never been issued) on a method of sending information over networks using low bandwidth. It's worth noting this same company later sued PokerStars, BetCRIS, Cake Poker and many other gambling sites too. Bodog just happened to be the first, and they took the hardest hit over being sued. This is because figuring they're not subject to US law, and their main business is betting, it was a good idea to ignore served legal notices. This however resulted in a US judge issuing a default judgment that ordered Bodog to pay $48,937,456 for patent infringement. The domain was later seized over failure to pay. Bodog appealed this and fought in court, while using the domain bodoglife.com in the interim. Finally unsuccessful, Mohawk Morris Gaming Group paid the $49 million and got their domain back in April 2009.
In 2008, while they still didn't have their domain, $24 million of their money was seized cumulatively in the criminal busts of two payment processors. The loss of the player volume and funds seized had Bodog payouts to players seriously delayed. While we had long been fans, even we had to warn players to avoid this site over financial concerns. Bodog however worked through the issues. As mentioned they got their domain back. After this, for two years and eight months (April 2009 to December 2011) they were fastest paying US sportsbook with check payouts arriving in a matter of days.
In December 2011 there were more processor issues that caused Bodog payouts to again be delayed. This was then followed with seeing Calvin Ayre indicted by US authorities for violating US gambling laws. Considering he's not an American, and operates a legal and licensed betting site in the areas he's located, this was more of a show move, or a "just in case" in the event he later visits somewhere the US can legally apprehend him (not going to happen). Concerns over this did affect the newly established Bovada and we had a Bovada Payout warning posted for much of 2012. Initially we suspended their rating. After payout time frames reached 1.5 months we downgraded them. It turns out this was us being overcautious (which is our preference as we'd do the same again anytime we smell risk) as Bovada payouts are now coming very fast (5-10 days in most cases by check, same day by P2P).
Bovada is Rated A-
As mentioned Bodog has been involved in online gambling since it first started in the 1990's. They are one of a very small number of companies from that era that has (to our knowledge) never stiffed a player or had an unresolved dispute over player funds. While there were hiccups that caused payments to be very late in 2008 (all which were resolved) and then delays in early-to-mid-2012, for the most part they have a spotless payout track record. This applies to both MMGG, who we've known of since 2007, and Bodog who has been involved in gambling since 1998. Also worth noting, their payout delays in 2012 were NOTHING compared to what other sites have been through. At poker sites such as Carbon Poker, and betting sites such as Sportsbook.ag, 6-8 weeks has been their standard payout time for more than a year now. Bovada even when having delays was delivering in the range (and most cases faster) than the standard payout times of many other gambling sites.
There will be of course always people who disagree with our sportsbook ratings, but they are not betting affiliates. We could get paid huge money to shill WagerWeb, OddsMaker, or other scam sites that pay large CPA rates. However, all recommendations on our website are always sincere. I understand some feel different about Bovada's rating. Some don't like anonymous poker. Many don't like that they post lines late, or have small betting limits, for some players a delay, and having dual pricing is a very popular complaint. However all things considered, these guys have the longest positive track record of all "recreational" betting sites. Many recreational players want live betting, mobile betting, easy credit card deposits, soccer lines, props, and the ability to play poker, casino and bet sports and horse races from the same website. They also want to get paid checks fast. While Bovada isn't for everyone, we feel they are one the best option for a great majority of our visitors and comfortably rate them A-. This is our sincere assessment of the risk players have when posting up at their gambling site.