Detailed Review of BoyleSports.com

As the biggest independent bookmaker in Ireland, Boyle Sports provides a fine online platform to bet on sporting events, play poker, casino games, bingo, and other real money gambling services. Boyle Sports finds their corporate headquarters situated in Dundlak, where they established themselves in 1982. They are very active in sponsoring various sporting events and sports teams.
Boyle Sports Origins

John Boyle founded Boyle Sports in 1982 and features over 150 live bookmaking shops across Ireland. Of these bookmaker shops, 17 of them were acquired from Celtic Bookmakers and are strategically spread throughout Ireland. Boyle's family are no strangers to venturing into business alone, as his family owned a local grocery store. After working as a bread salesman, John lost his job and he borrowed £5000 from his father, which was used to open his first betting shop in Markethill. He ran the shop himself and draws on that experience to serve as the CEO of Boyle Sport today.
Since that time, it is obvious that Boyle Sports grew significantly – evolving from a 1 man, 1 location betting parlour to the numerous live betting venues and a solid online betting platform that employs north of 600 people. He attributes the majority of his successes to picking highly attractive locations for his betting shops and the vision to grow his business smartly.

Boyle Sports actively sponsors sporting events and sports teams. They sponsor Sunderland of the English Premier League, serving as the official gaming and betting partner of their club. They additionally formed an alliance with Aston Villa's Football Club as their official gaming partner and with both the Football Association of Ireland and the Eircom League of Ireland. You may also recognize them for sponsoring the Boylesports.com International at Cheltenham Racecourse, which is the second most prestigious racing hurdle in the world.
Boyle Sports Complaints and Issues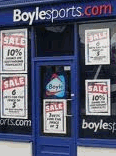 Whilst Boyle Sports has focused on smart growth, this did not happen without some "growing pains" of sorts. In 2008, Boyle Sports attempted to expand its online sports book into Europe and Spain, with its International multi-lingual headquarters situated in Pueblo Nuevo, Spain. However, less than a year later, Boyle Sports shut down their operations.
During this same timeframe, they were having issues with paying out some of their International clients. The majority of these issues revolved around Swiss and other Scandinavian countries and may have been an indirect result of regulatory issues. After waiting and waiting to be paid out, the customers affected by this matter had their bets refunded, as opposed to properly paid out, as Boyle Sports had claimed that they were not legally permitted to pay winners in the countries affected. On a potentially related note, during this very same timeframe, the Royal Bank of Scotland had discontinued processing online gambling transactions involving anyone residing in Switzerland and Holland. The logistical issues that losing their payment processor presented may have played a significant role in the posture Boyle Sports had taken during this timeframe.
Since this "bump" in the road, Boyle Sports has got back on track in honouring and paying out their bets. They have done a terrific job in re-establishing themselves as a trustworthy online bookmaker.
Betting at Boyle Sports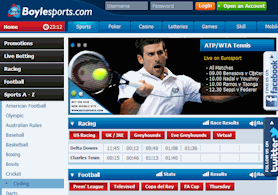 You can open an account at Boyle Sports using pounds sterling, Euros, or US Dollars. When you make your first deposit, you will receive a £20 free bet upon your first deposit. When you have funded your betting account with your choice of wire transfer, credit/debit card, or e-wallets (NETeller, Skrill, or PayPal), you can place bets on many different sporting bets held in Ireland or around the world. You can wager on Hurling and Handball, Scottish, Irish, English, and European Football competitions, and even other football leagues like the Turkish Football League, or South Africa National Soccer League. You can find your markets priced in Fractional, Decimal, or American odds. You can also bet Olympic sporting events, as well as Darts, Cricket, Cycling, Greyhounds, and Horse Racing at Boyle Sports. They also provide markets for television shows and events such as The Voice, Celebrity Big Brother, the Golden Globes, and Dancing on Ice. You are sure to find a bet that peaks your interest at Boyle Sports.
If you are looking for betting tips, you will find a slew of useful tips on the BoyleSports News blog. They provide match and betting analysis across many different sporting events. You can use their tips and information to help you in deciding who, where and when to bet.
On top of betting, you can play poker or take part in your favourite casino game when you are a Boyle Sports customer. They have an attractive selection of poker and casino games, as well as slots games, and even bingo games that you are able to play when you have a real money Boyle Sports account. All of the games and betting offered at Boyle Sports is licenced and regulated through via the Isle of Man Gambling Supervision Commission. This licence means that the games you play are all legal and fair.
In addition to betting online, you can access Boyle Sports via your mobile phone by way of the Boyle Sports apps. They have created a java based phone betting application that can be used on virtually and Droid powered mobile phone and via the iPhone. Through their betting application, you can get the latest odds and scores right on your mobile phone, as well as the ability to place bets on the sporting event of your choosing.
Boyle Sports Rated B
Despite the hurdles of 2008, we at Sports Betting Sites truly appreciate their efforts spent overcoming their payment issues of old. This is a legitimate brand we both like and trust, and as of 2012 have them rated B on our sportsbook rating guide. Also worth noting is their mobile betting suite is fairly new and we look forward to seeing them expand it in the coming months.