Carbon Sports Review with Rating and Payout History
September 10, 2015 Update by SBS Admin
Carbon Sports Serious Payout Issues
SBS is warning all players to avoid depositing any money to Carbon Sports, as well as other sportsbook.ag skins including also PlayersOnly. This company owes hundreds if not over one-thousand players payouts, totaling at least mid five figures. Some players have been waiting 5-months and still have not been paid. Others have been paid after 2-3 month delays. This is well covered in this payout discussion thread.
The article left on this page is our initial rating assessment from 3-years ago. We had started them as D+ and properly explained why. They did a year into their operation spend a short month rated C+, then dropped down to C, D+ and now are rated D. There have been numerous concerns but the biggest one right now is they are massively behind paying players. Some players are being paid after long wait periods, but as of the time of this post, there are still payouts requested 5 months ago that are pending. We strongly suggest avoiding this site and using our Sportsbook Ratings to find an alternative.
The original article published on them is below:
SBS Initiates CarbonSports.ag Rating at D+
OCTOBER 14, 2012 – by SBS Admin

CarbonSports.ag is a new US betting site related to CarbonPoker.ag, a major U.S. friendly online poker room on the Merge Gaming Network. In the past SBS shared opinion that Carbon Poker's management team and affiliate mangers make them a bit more credible than the other sites on this network. We even give them a brief mention in our US Poker Sites Rankings. However, for reason they have long been at the mercy of Merge Gaming we have never given them much endorsement. When it comes to this newest all in one sports, casino and poker product called Carbon Sports, we're far more concerned.
Who Owns Carbon Poker and Merge Gaming

Poker.com was a standalone poker room that launched in 2005. In 2007 they created a carbon copy of their poker site ironically named Carbon Poker. Their initial stated reason for starting a second room was branding purposes. A representative went on to claim they were not allowed to have sponsored players wear gear that said poker.com at WSOP or other televised events. Also they could not purchase television ads for a play money version of their site the same way other brands could because they did not own the domain poker.net.
Shortly after giving this story, the domain poker.com was listed for sale. When questioned another representative of the Poker.com/Carbon group of poker sites claimed they had been leasing the domain and are now unable to renew the lease. There were other versions of this story, but whatever happened, the poker.com site was eventually rebranded to PDCPoker.com. The PDC part was an acronym for Poker Dot Com. the actual domain poker.com was disassociated with this company. It went on to become an affiliate portal, not part of this group.
These two websites Poker.com/PDCPoker.com and Carbon Poker were the first of what would become the Merge Gaming Network. Early on they took on clients Poker Nordica, and IronDuke before taking on dozens of other skins to operate on what they named the Merge Gaming Network.
Quite odd is several different representatives Sports Betting Sites has spoken with over the years are unable to explain how the Carbon Poker related sites and the Merge Network became separate companies. It is simply stated as "they separated" and they now operate on different continents.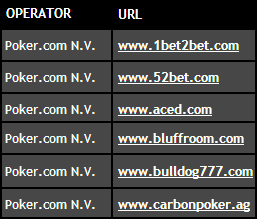 However this played out, it did appear Merge and the Carbon brands were in fact separate companies that did not share ownership. Though lending some doubt is Poker.com was originally licensed as Poker.com N.V. by the Kahnawake Gambling Commission. Even when Poker.com closed, Carbon Poker continued to operate under the Poker.com N.V. license issued by this gambling commission. Here we are now more than 5 years after the fact and in October 2012 all Merge Gaming sites still operate under a license issued to Poker.com N.V.
Did Sportsbook.com Buy Merge Gaming
There's a rumor from several industry insiders that the Sportsbook.com group now owns the Merge Network. These rumors started after this group had a falling out with the Cake Poker Network. They pulled their skins from Cake Poker in 2010 after a four year run. Part of the motivation to leave was believed to be an equity stake in Merge Gaming. Calvin Ayre who founded the popular gambling company Bodog is very knowledgeable about the industry and in this post on December 4, 2010 he made the following claim:
Merge is essentially the poker arm of the Sportsbook.com group run out of Costa Rica, though they do have a business development arm in Vancouver and software development in Australia. Sportsbook.com took over control of the network in the deal last year that saw them transfer all their US-facing sites to this network.
Understand the above post was written by Calvin Ayre himself not one of the other CalvinAyre.com authors. A well known employee of CarbonSports recently updated his location on web profiles to indicate he's in Costa Rica. The claim the Sportsbook.com group owns Merge has been repeated by other CalvinAyre.com authors. For example on May 2, 2011 Peter Amsel referenced Sportsbook.com as the owner of the Merge Gaming Network. There are numerous other references around the web.
Rogue Sportsbooks on the Merge Network
One last comment before moving on to discussion of the sportsbook.com group is they were not the only group of sports book that has joined Merge Gaming. Futurebet (iGaming Software / Gametech Solutions) operates many Merge Gaming skins including oddsmaker.ag. SBGGlobal operates the skin Poker Host. All of these skins are D or lower graded books, which means many less than reputable gambling sites have operated on this network. With this said let me begin to discuss CarbonSports and the Sportsbook.com group.
CarbonSports is a Sportsbook.ag Skin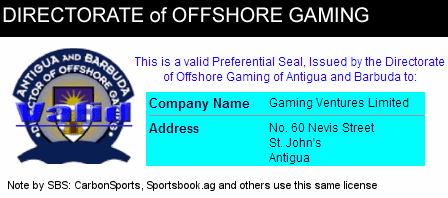 Carbon Sports appears to be a white label of the sportsbook.com group. This group is now known as Domain Holdings Limited. It's also known by the name of its parent company Jazette Enterprises Limited. To add more confusion: wagers placed on most Jazette owned sites are done with Gaming Ventures Limited which is licensed in Antigua and Barbuda. These three names Domain Holdings, Jazette Enterprises and Gaming Ventures are associated companies.
There are dozens of gambling sites part of the Jazette / Domain Holdings group. Some books use their umbrella while others are full turnkey systems. A few of the oldest and largest operating with a single Antigua license issued to Gaming Ventures include sportsbook.ag, playersonly.ag, superbook.com, and belmont.ag. CarbonSports.ag holds the same license and is also essentially a rebrand of Belmont.ag.
Jazette History of Voiding Winning Bets

Sportsbook.com, which is now sportsbook.ag and their other Jazette brands have a history of voiding winning bets. The best example of this is correlated parlays. A correlated parlay is when a player makes two selections in a parlay where the outcome of one selection makes the other selection more likely to occur. For example, if a team is a 14 point favorite and the total is low, a player may take the big favorite and the over assuming that if a big favorite covers the spread then the game will go over the total. This is a higher percentage play than many square bets are but it is far from a sure thing. The fact is half the time the favorite won't even cover the spread. When they do cover the spread they might shut out the underdog and keep the game from going over.

The Sportsbook.com software allowed players to make these types of wagers. They happily took the player's money when the bets lost. Too many times this group then voided winning correlated parlays after the games had been graded. SBS accepts that some games are circled, meaning that a game cannot be parlayed, but legitimate sports books will set their software to not accept parlays on circled games. Once a bet is accepted, it must be paid if it wins. A sports book is freerolling a player if they decide to wait until after a final score is posted to push a winning bet. The sports book wins if either side of the parlay loses but then pushes the bet if it wins. This is outright theft. It is similar to the WagerWeb theft perpetrated against trixtrix (scroll to bottom of that page).
To make this is clear most reputable betting sites block parlays they don't want. For example I got this message recently at 5Dimes:

Google search the words sportsbook.com correlated parlay theft. This was in 2011 and was bad. They retroactively voided many correlated parlays well after the fact. More recently, SBS has also covered the times they have voided future bets. We have also covered them making up rules to void wins. If you want to learn more about the many complaints over the years here's a Google Search to view. If you spend some time sorting through the results you'll find no shortage of complaints regarding sportsbook.com. Understand not all will be sportsbook.com's fault, but there are many you can find where watchdogs have ruled them theft or attempted theft.
Who Calls the Shots at CarbonSports?
We'd love to say we don't place Carbon Poker in the same group with the Sportsbook.com family. Sincerely Carbon Poker does have a decent history of being fair to players through their online poker family and to affiliates through their affiliate company ChipSplit. We do sincerely wish them luck with their new product, but it appears the new brand CarbonSports.ag is a skin of a sports book we rate D. What experience does Carbon have with sports betting that might indicate they are different? While they have experience, their track record with sports betting isn't so great.
Carbon Poker Previously Owned TheSportsBook.com
At the start of the 2010-2011 football season a new online gambling site was started called TheSportsbook.com. This should not be confused with the scam no-pay sportsbook that previously used that same name. This was part of the Chipsplit offers and had casino, sports and poker the same way CarbonSports.ag now does. The only difference is this brand had their sports betting side operated by BetEd. To make a long story short before the season was up this brand that was pushed aggressively with affiliates just stopped marketing. This was discussed in this thread where the company claims they were now focusing on Belmont instead.
CarbonSports.ag and Belmont.ag

Understand Belmont is an old school gambling site once owned by the same man who founded PlayersOnly and managed sportsbook.com. This site has a long history of player complaints just the same as sportsbook.com and other Jazette sites. That's nothing to do with ChipSplit/Carbon except they own a brand where many balances were unjustly confiscated. There is no evidence to suggest they have ever attempt to get the facts and repay these thefts. Perhaps this why they are launching as CarbonSports and never really pushed Belmont.ag.
So again there's the question: who calls the shots at Carbon Sports? Our biggest concern is that if a lucky player makes a large score his funds might not be safe if Jazette / Domain Holdings call the shots. These guys have a history of voiding winning bets and finding ways to confiscate balances. Even if Carbon Sports does call most the shots, if the win is large enough it may be out of their control. Understand we do not know who makes the final decisions on disputes. If it is Carbon Poker management then we are more comfortable. What we are not comfortable with is the fact the Sportsbook.com group handles CarbonSports.ag payouts.
Carbon Sports and Sportsbook.ag Payouts

Carbon Poker staff has already confirmed they are moving over to the cashier and payment processing of their new host. Specifically this is the Domain Holdings / Jazette Enterprises group. This is being billed as great news that many gambling affiliates are excited about because these guys have always been great at processing credit cards. Taking deposits with credit card has been a long struggle for Merge Gaming Sites. However this news is HORRIBLE for players! Since as far back as early 2007, the payouts at Sportsbook.com, now Sportsbook.ag, have been listed as 6-8 weeks to process. There were times just in 2011 that slow pays ranged from 14-20 weeks and occasional cases of 6 months or more. It has long been easy to deposit with sportsbook.ag (.com) but very difficult to cash out.
SBS Rates CarbonSports.ag D+
Understand we're sincere when we say we do like the guys at Carbon Poker. We feel they have had an honest brand and good account representatives. While most other Jazette Enterprises / Domain Holding sites are rated D, we have given them a slight boost to D+ feeling there will be channels for communication in player disputes. We still warn to be very careful any time you're dealing with a site associated with the sportsbook.com group.
Does CarbonSports.ag Make Senses?
The specific question is why would Carbon Poker risk their credibility and reputation by partnering with a company whose names are as tainted as Sportsbook.ag/Domain Holding/Jazette? Well let's look quickly at their recent history.
Recent Carbon Poker History

Carbon Poker is the largest skin on the Merge Gaming Network. After the Black Friday indictments forced PokerStars, Full Tilt Poker, and Absolute Poker out of the U.S. online poker market, Merge Gaming became the largest U.S. friendly online poker network overnight. Players flocked to the network to take advantage of the generous promotions. The network became so popular that they stopped accepting new U.S. players six weeks after Black Friday for a four month period. They needed this time to develop proper payment processing, server space, and support to handle the 500% increase in traffic.
The good times were marred by conflict with Lock Poker, one of the largest skins on the network at the time. Lock Poker was alleged to offer deals to players that violated network rules. Lock Poker eventually decided to buy the Cake Poker Network and rename it Revolution Gaming. This took away about 1/3 of the network traffic and Merge Gaming fell to second place in U.S. online poker. The Bodog Network, led by US brand Bovada, eventually overtook Merge Gaming as well, dropping Merge Gaming to number three.
Why Start Carbon Sports
We assume that Carbon is taking on sports betting to diversify their offering so that they can remain competitive in the U.S. market. Regulated online poker is expected to spread throughout the United States in the coming years but traditional sports betting is restricted to only Nevada by federal law. This ensures that the Carbon Gaming family can stay relevant and competitive in the uncertain U.S. online poker market. It is unlikely that any regulated sports betting will compete with U.S. online sports books in the near future.
CarbonPoker.ag will move their banking away from the standard Merge Gaming cashier with this move. They will utilize the Jazette payment processing system. Carbon Poker has been unable to accept U.S. credit or debit cards since August. Western Union and Moneygram are the only deposit options for U.S. players for the last two months. This move should not only help their online poker and casino business, but it should make it easy for players to make deposits into the sports book.
Conclusion Statement
In short the move does make plenty of sense. While I am sure many affiliates who support the ChipSplit brands will disagree with our D+ rating, I think we're acting more than fair in this spot. We have rated them higher than sportsbook.ag which powers their site and does their payment processing. We'll keep a close eye on them and if there are no complaints we will upgrade them in time. If there are complaints similar to other sites powered by the same group then we can know SBS never put players at risk as we had them rated at D+ out of the gate. Our advice to players is stick to reputable brands with a long proven and clean track record such as www.5dimes.eu or others rated highly on our sports book rating guide.