Coral.co.uk Review – A Top UK Based Bookmaker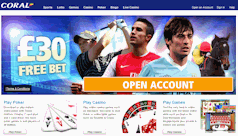 www.coral.co.uk is the online arm of the Gala-Coral Group. Collectively, they own and operate more than 1600 betting shop venues spread throughout the United Kingdom. Their centre of operations finds their headquarters situated at 71 Queensway in London. On top of the 1600+ betting shops under Coral's control, Gala-Coral also owns and operates numerous bingo halls in the UK (Gala Bingo), as well as numerous betting shops in Italy and Europe that operate under the name Eurobet. They also run 30 English casinos bearing the Gala Casino name. With a strong presence throughout the UK, Gala and Coral are clearly staples in the English culture.
Gala-Coral can trace their roots back to Joe Coral, who founded the company in 1926. Originally, Joe Coral was in the racing business, as he ran numerous greyhound racetracks and auto racing tracks. Joe's claim to fame is that he was amongst the first businessmen in England to set up off-course betting parlours under the 1960 law that legalized off-course betting in the UK. He pioneered the betting landscape by setting up parlour after parlour, strategically positioning them throughout the UK.
In the early 80's, Coral began going through a series of acquisitions, though they were the property being acquired. In 1981, Bass, a British Ale & Beer company, purchased Coral. The betting parlours continued to operate under the Coral name during their tenure as owners. In 1997, another big name in the gambling world (Ladbrokes) purchased Coral from Bass. A year later, this purchase was broken up, as it was determined that the purchase formed a monopoly. Eurobet then purchased Coral in 1999.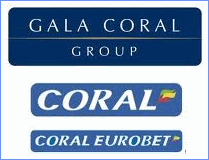 Eurobet's purchase of Coral led to Corals focus on the online sports betting markets. Their name was changed to Coral Eurobet and was recently changed back to Gala Coral, with Eurobet being the name of the Interactive division that focuses on Italian betting.
Whilst their focus is on a diverse mix of casino gambling, book making, and bingo – their bookmaking division employs over 9000 people in the UK. It is important to note, however, that Coral's online sports book and their live betting shops are parts of different divisions within the company. Gala-Coral separates their company into live betting, live bingo, live casino divisions, as well as interactive (online) betting, online bingo, and Italian betting divisions. Whilst each of these divisions all fall under the Gala-Coral umbrella proper, each division runs independent of one another and companywide, there are over 16,000 employees.
Whilst Coral's online sportsbook was profitable, they realized a drop off in business during the fiscal year ending in September 2011. As an entire entity, Gala Coral brought in £238 million compared to £284.2 million during Fiscal Year 2010. Their Interactive division brought in £68.7 versus £90.7 in 2010. Whilst the decrease in income was nearly 24% for their online gambling division, their net profit fell only 11.8% from £32 in 2010 to £28.2 in 2011. This falloff in business can be attributed to Gala Coral consolidating their operations and separating out their Eurobet brand from their Coral Interactive brand. In 2012, Coral plans to focus on growing their business by re-launching their sports betting website in the late summer along with a new and improved platform for online betting that will provide more options and increased functionality for their customers. They also plan to introduce PayPal as a main source of deposit, as well as a new, innovative mobile betting platform.
What we like about Coral
While there is plenty to enjoy about Coral Sportsbook, we will begin with the £30 deposit match offer for new bettors. Simply open a Coral account online and deposit at least £30, being sure to stake £30 on a sporting event or series of sporting events. Upon doing so, you will receive an equal amount (up to £30) in free bets that you can place at your leisure. If you stake less than £30 on your initial bets (£10, for example), Coral will match that amount as well. Whilst the Coral free bets can be utilized on various sporting events, they cannot be used in their casino or other games. Nor can the free bets bet used playing poker, bingo, virtual sports, or in the lotto.
We also like that in addition to telephone assistance (0800 440011 in the UK), you can simply use their call back service by entering your telephone number on the Coral website and their support team will call you back at a time that is convenient to you.
We also like that there are no limits to how much you bet at Coral, generally speaking. Certain events and wagers may have limits, but for the most part, there is no maximum in terms of the size of the bet that you lay at Coral. It is important to note that whilst there are not limits, the payouts for certain bets may be capped.
A major selling feature of Coral is they are one only a small number of betting sites licensed by the UK Gambling Commission. UK punters might be surprised to know most of the top UK Bookmakers including William Hill and Ladbrokes do not operate their internet division in the UK. Instead they run their betting sites from offshore tax havens to avoid or lower tax. Only a few sites including Coral and Totesport have remained local. This involved paying much higher tax, but their owners are committed to supporting the local economy and UK sports.
Overall, we are fans of Coral bookmakers and we very much look forward to their sports betting platform overhaul and their widely anticipated introduction of their innovative mobile betting platform. We are quite comfortable holding a portion of our bankroll here and are happy to place bets at Coral and we think you will be too.