Abu Dhabi Grand Prix F1 Betting
The 2015 Abu Dhabi Grand Prix is the 20th and final race of this season's F1 calendar. It is held 29 November 2015 at Yas Marina Circuit in Abu Dhabi, United Arab Emirates (UAE). In this article I describe the circuit, explain historical results, and provide information handicappers can use towards tipping race winner, podium finish and top 6 bets.
Yas Marina Circuit Information
Yas Marina Circuit is much more than a race track. It is an event, a vacation destination, and an architectural marvel. The circuit runs along a man-made island in Abu Dhabi, passes by the famed Yas Marina Hotel, and next to the Ferrari World Theme Park. If you haven't seen the Ferrari World Theme Park, the best way to describe it is like this: If aliens were looking down on it from space, they would think they were looking at their home planet.
While the Abu Dhabi Grand Prix has a wide variety of straights and turns of different degrees, the circuit has been criticized for its lack of overtaking opportunities. Throughout the development of the circuit, it was believed that there would be plenty of good spots to pass, however drivers have no viewed that to be the case. Track officials have been encouraged to create better passing opportunities, but as of the last race held here in 2014 this hasn't happened. I advise handicappers to take a quick look to make sure there have not been any changes to the circuit before the 2015 race. If so, it could be more difficult to predict winners than it has been in the past, but I doubt any changes will actually have been made.
Location: Yas Island, Abu Dhabi, United Arab Emirates
Circuit: Yas Marina Circuit
Circuit Length: 5.554 km
Total Race Distance: 305.355 km
Turns: 21
Hard Turns: 14 (1, 5, 6, 7, 8, 9, 11, 12, 13, 14, 17, 18, 19, 21)
Hard Turns/Km: 2.52
Fastest Lap Time: 1:40.279 (Vettel, 2009)
Fastest Seconds/Km: 18.055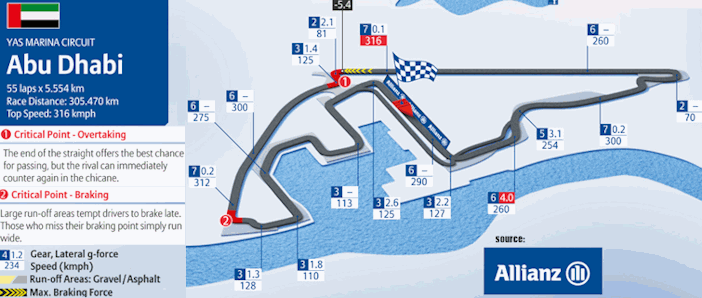 Betting on Race Winners at the Abu Dhabi Grand Prix
This is a circuit that provides significant advantage to top qualifiers. Those that start in front, should remain in front. Clean air and less traffic up front, along with few passing opportunities gives the polesitter the most significant advantage. Therefore I will not go below third qualifier for this one when betting F1 race winner.
Now to be clear, P4 has won this race once in the past. That happened in 2012 when Kimi Räikkönen won starting P4, Fernando Alonso took second starting P6 and Sebastian Vettel made the podium 3rd despite starting from the pitlane. That race however had a set of anomalies involved. Lewis Hamilton started on the pole but retired due to mechanical failure on the 19 lap of this 55 lap race. Mark Webber started P2 and retired on the 37th lap due to a collision. Pastor Maldonado, who is not favoured in F1 races, was P3 and finished 5th. Looking at the results for that race are deceiving. They were based on fluke events that no one would have predicted.
In addition to 2012, there are other fluke stats here as well.
In 2014 the podium in order was P2, P4, P3. In this one Nico Rosberg was the pole but experienced technical difficulties with his car losing the ERS.
In 2011 was another fluke year where Sebastian Vettel started on the pole but retired lap one for technical reasons. The six starting behind him finished top 6 with their finishing positions rotating some.
In 2009, the polesitter was Lewis Hamilton, who had to retire because of brake failure. Vettel won this race starting in the 2nd position, benefitting from the DNF of Hamilton. Mark Webber started third, and finished in second. Barrichello started fourth, and finished fourth. Jenson Button started in fifth, and finished third.
The information in this section was shared to explain, a lot of the historical F1 race results at Yas Marina Circuit are misleading. In races where things went as norm, in 2013, Sebastian Vettel started P2 and his teammate Mark Webber P1. The two swapped positions making the results P2, P1, P3 for first second and third with all three top qualifiers making the podium. In 2010, Sebastian Vettel won the race starting on the pole. Lewis Hamilton started second and finished second. Jenson Button started fourth and finished third.
Chances are pretty good the betting market will be on to the fact, the reasons P1 has not won often relate to fluke events. However, do look, in case that is not the case. There could be potential to get better odds than are often found due historical data, that has no meaning to P1's chances at the 2015 Abu Dhabi Grand Prix.
Top 3 Bets
As mentioned above, when all goes as norm this is not a race that sees much movement in the top five positions. So, we need to look for value, without taking unrealistic risks. I prefer to find a driver in the P2-P4 positions – one who I strongly believe in. I want a guy who has had good results in recent races, and I'm willing to take lower odds to get him. What I mean is, I'm more likely to take a guy in P2 at 1/3 than P4 at 6/5 (if P2 is 'for real'). It is just too hard to overtake on this circuit, thus giving a huge advantage to P2.
Top 6 Bets
Betting options open up for us on Top 6 bets. We can look back to P8 – P9, or even P10, and have a realistic shot at a winning bet. In this area, I'm really looking for experienced and aggressive drivers. Drivers with less F1 experience who had good starting positions will likely get eaten up by more experienced drivers behind them. This can create some good betting opportunities for F1 punters. Look for an aggressive driver who's had good results here in the past, but with a lower starting position than pre-qualifying expectations. A guy like this is likely to weave his way up, exposing less capable drivers in front of him.
Recent Abu Dhabi Grand Prix Results:
| | | | | |
| --- | --- | --- | --- | --- |
| Results | 1st (Grid) | Time | 2nd (Grid) | 3rd (Grid) |
| 2014 | Lewis Hamilton (2) | 1:39:02.619 | Felipe Massa (4) | Valtteri Bottas (3) |
| 2013 | Sebastian Vettel (2) | 1:38:06.106 | Mark Webber (1) | Nico Rosberg (3) |
| 2012 | Kimi Räikkönen (4) | 1:45:58.667 | Fernando Alonso (6) | Sebastian Vettel (24) |
| 2011 | Lewis Hamilton (2) | 1:37:11.886 | Fernando Alonso (5) | Jenson Button (3) |