Belgian Grand Prix F1 Betting
The 2015 Belgian Grand Prix is the twelfth race on this year's F1 calendar. It is scheduled for 21-23 August 2015. Of course Sunday is the actual race, Friday is practice, and Saturday is final practice plus qualifying.
This page was for the most part last updated too soon to give many driver specific predictions. However, it does include a tip on a potential top 3 bet and my reasons I suspect that driver might have value. Beyond that, the idea of this article is to provide information that helps punters better understand what to look for when considering which drivers to tip as race winner, podium, and top 6.
Circuit de Spa-Francorchamps Information
Although Circuit de Spa-Francorchamps has been tamed in the last couple of decades, it remains one of the fastest and most technical circuits in the world. It requires driver skill on many levels, including harder braking after long straights than many drivers realize. Les Combes (turn 5) and the chicane at turns 18 & 19 are good examples of this.
On the other hand, Eau Rouge (turn2) and Blanchimont (17) require fearlessness, as high speeds must be held through these curvy areas of the circuit. The turn 1 hairpin looks vicious on a circuit map, but is less demanding than many F1 hairpins because it comes after a much shorter straight where top speeds are not achieved before entering the turn.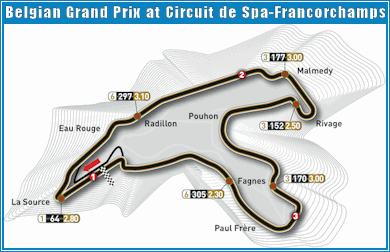 Location: Francorchamps, Spa, Belgium
Circuit: Circuit de Spa-Francorchamps
Circuit Length: 7.004 km
Total Race Distance: 308.052 km
Turns: 19
Hard Turns: 10 (1, 5, 6, 8, 9, 10, 12, 14, 18, 19)
Hard Turns/Km: 1.428
Fastest Lap Time: 1:45.108 (Raikkonen, 2004)
Fastest Seconds/Km: 15.007
Betting on Race Winners
Circuit de Spa-Francorchamps is all about skill. For Belgian Grand Prix betting, it's usually best to go with drivers who have proven they are capable of winning at the most difficult circuits. The circuit is very tricky, which means it's difficult to predict who will win here. Expect a wider range of odds for the Belgian Grand Prix than most others, and be sure to look for the best value.
For punters, the Belgian Grand Prix is a bit refreshing. This is one of the few races during the F1 season where punters can simply pick the driver they think will win, with less regard to starting position. You think driver X has it all going right now? Pick him. Think it's driver Y? Pick him. Of course drivers at the front of the starting grid always have some advantage, but the advantage is much smaller at the Belgian Grand Prix. From 2001 – 2014 twelve F1 races were held here. In those, winners have come from as low as P5, P6 and P10, with a P3 winner, four P2 winners, and four wins from the pole.
Top 3 Bets
While it is not uncommon to find drivers in P8 and lower starting positions make it to the podium, I generally stick with P6 and above. Below that, I feel like I'm gambling more than I need to. I recommend looking for value in the P3-P6 positions, choosing a driver that has had success here in the past. A technical circuit, I want to make sure my driver knows what how to stay out of trouble, and how to carefully weave through the field.

To go ahead and during the off season mention a driver to look for, I'll throw out the name Kimi Räikkönen. The reason I say this is because Ferrari is likely starting the season behind on car development. By the second half of the season they likely have made up ground. He's a driver that chances are there will be big odds on him, yet he has had success on this track. Here are his results by year:
2014: Started P8 and finished 4th
2013: (Started P8 and retired/mechanical)
2012: Started P4 and finished 3rd
2009: Started P6 and finished 1st
2008: (Started P4 and retired/accident)
2007: Started P1 and finished 1st
2005: Started P2 and finished 1st
2004: Started P10 and finished 1st
2002: (Started P2 and retired/mechanical)
2001: (Started P12 and retired/mechanical)
Ignoring those first 2 races that came early is his career and the failures were not his fault: 4 wins, 1 3rd, 1 4th, and 2 retirements are his results in his past 8 races at this circuit.
Of course, this advice is worthless if Ferrari is not yet fielding a car capable of winning. But as I suspect they likely start slow and because Kimi Räikkönen hasn't been in the point standings race in a while, chances are we can find some good odds. This is a bet he could very well be live for, so it is worth keeping an eye on this when the time comes.
Top 6 Bets
At the Belgian Grand Prix, I personally choose to look for experienced drivers in P10 and above. If any newer drivers qualified in the top 10, I immediately remove them from the equation. I will still do this in 2015 even though the previous season Daniel Ricciardo of Team Red Bull won the race. It just is sound capping not to bet new drivers at this circuit. So once those drivers are removed, this usually gives me 8-9 drivers to pick from. Then I remove anyone who hasn't finished in the top 6 at this circuit before, usually removing another driver or two. I look for value within the remaining group, someone who's giving me good odds and has proven ability at this circuit. This circuit chews up inexperienced and less confident drivers, so I steer clear of them.
Recent Belgian Grand Prix Results:
| | | | | |
| --- | --- | --- | --- | --- |
| Results | 1st (Grid) | Time | 2nd (Grid) | 3rd (Grid) |
| 2014 | Daniel Ricciardo (5) | 1:24:36.556 | Nico Rosberg (1) | Valtteri Bottas (6) |
| 2013 | Sebastian Vettel (2) | 1:23:42.196 | Fernando Alonso (9) | Lewis Hamilton (1) |
| 2012 | Jenson Button (1) | 1:29:08.530 | Sebastian Vettel (10) | Kimi Räikkönen (3) |
| 2011 | Sebastian Vettel (1) | 1:26:44.893 | Mark Webber (3) | Jenson Button (13) |