Handicapping the 2015 Brazilian Grand Prix

The 2015 Brazilian Grand Prix is race #19, the second to final, on this season's F1 calendar. It is scheduled for 13-15 November 2015 with practice on the first day, final practice and qualifying on the second, and the actual race on Sunday. Whilst this article was last updated too soon to give driver specific predictions, it does have information helpful towards handicapping the race. Here I break down the circuit details, discuss what to look for when tipping drivers, and provide historical results.
Autodromo Jose Carlos Pace Circuit Information
Autodromo Jose Carlos Pace is one of the few F1 circuits that runs anticlockwise, creating more left turns than right. Aside from fatigue that drivers endure from all the left turns, this really has little to no impact on the racing. It has three true straights, two of which are quite long. It also has a huge left curve between turns 12 and 15 where speeds are high all the way through. Turns 8, 9, and 10 are the tightest, with turn 10 being closest to a hairpin that the circuit has. Overall, the track is pretty wide open and fast.
The circuit also has some hills and bumpy areas, pushing engines and suspensions to their limit. For the Brazilian Grand Prix, look to bet on top qualifiers with cars that have proven to be reliable throughout the season.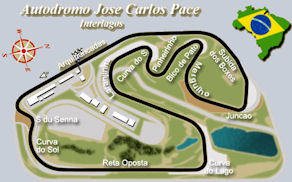 Location: São Paulo, Brazil
Circuit: Autodromo Jose Carlos Pace (Interlagos)
Circuit Length: 4.309 km
Total Race Distance: 305.909 km
Turns: 15
Hard Turns: 7 (1, 2, 4, 8, 9, 10, 12)
Hard Turns/Km: 1.624
Fastest Lap Time: 1:11.473 (Montoya, 2004)
Fastest Seconds/Km: 16.587
Betting on Race Winners at the Brazilian Grand Prix
Formerly known as Interlagos, Autodromo Jose Carlos Pace is a great circuit for F1 fans. Overall, the circuit is quite fast, with a nice variety of fast turns. This makes for exciting, dramatic racing at the Brazilian Grand Prix, and it's even more exciting for punters. This F1 race has been held at this circuit annually since 1990. The last time the circuit was modified was before the 2000 race. Thus, there is plenty of historical data available to use for handicapping the 2015 Brazilian Grand Prix.
The pole sitter has won this race the past two years in a row. That stat might be misleading though, because in the 13 annual races prior the pole had won only twice. Still for handicapping purposes, over the past 15 annual races (2000-2014) P1 has won 4 times, P2 has won 7 times, P3 has won twice and there were single wins from P5 and P8.
What the above stats tell us is that P2 and P3 have very legitimate chances of winning this race. This is good news as their odds are generally MUCH better than what we can find betting P1 after qualifying. For making wagering selections, instead of taking low odds on P1, we can look for the best value in the top three drivers. If you don't think P1 can hold onto his position, don't bet on him and don't second guess yourself.
Top 3 Bets
Of the 45 podium spots in the last fifteen years, 19 of them were filled with drivers who started in P4 or lower. Eight of those started in P6 or lower. While P1 – P3 have taken 57.8% of the podium spots, P4 and P5 have combined for 10 podiums (5 each). I think this is the most interesting area to find value.
If there seems to be a fluke in the top 3 starting positions, see if someone below him is likely to take his spot on the podium. If all of the top three look solid, then P3 is usually the guy who will get my bet.
Top 6 Bets
I said this was a fun race didn't I? For regular F1 punters, it gets tiring when we only have eight or nine drivers to choose from for Top 6 bets. Well, that is not the case at the Brazilian Grand Prix. Here we can go all the way down to P12 looking for drivers.
Though it didn't happen in 2012 or 2014, most years at least one driver in P10 or lower finishes in the top six. In the last 15 years (2000 – 2014), nineteen drivers in P10 or lower have made it into the top six. 36 of the 90 spots have been filled by P7 or lower, good for 40.0% of all top six spots.
In Formula 1 terms, the above stats are almost unheard of for most circuits. Therefore for the 2015 Brazilian Grand Prix, I will be looking for drivers that are consistently finishing in the top 6, but qualified in P7 or lower.
Additionally, a lot of up and coming drivers see this race as an opportunity that they usually don't get, so I look for someone who looks like he's ready to make a move up, and offers a lot of value.
I often place two top 6 bets at this circuit. One solid choice, and one long shot. If my solid pick comes through, I can cover all or part of a lost bet on a long shot. If my long shot makes it, I have a nice payday. If they both make it, I have done really well.
Recent Brazilian Grand Prix Results:
| | | | | |
| --- | --- | --- | --- | --- |
| Results | 1st (Grid) | Time | 2nd (Grid) | 3rd (Grid) |
| 2014 | Nico Rosberg (1) | 1:30:02.555 | Lewis Hamilton (2) | Felipe Massa (3) |
| 2013 | Sebastian Vettel (1) | 1:32:36.300 | Mark Webber (4) | Fernando Alonso (3) |
| 2012 | Jenson Button (2) | 1:45:22.656 | Fernando Alonso (7) | Felipe Massa (5) |
| 2011 | Mark Webber (2) | 1:32:17.464 | Sebastian Vettel (1) | Jenson Button (3) |