Betting the 2015 Canadian Grand Prix F1 Race
The next Canadian Grand Prix will be held 7 June 2015. This seventh race on this season's F1 calendar. In this article I provide information about the circuit, historical results and what to look for before having a punt.
Circuit Gilles Villeneuve Information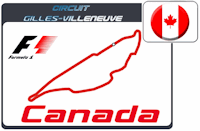 Circuit Gilles Villeneuve is set on a man-made island in the St. Lawrence River. With a low number of sharp turns, this is a very fast circuit, as noted below in the Fastest Seconds/Km stat. It only has 14 turns, and many of them don't require severe braking. Drivers with the best acceleration tend to have the highest finishes, and less driver skill is required than most F1 circuits.
The circuit consists of an extremely harsh hairpin on turn 10, followed by a slightly curved straight that leads to a chicane located roughly 500 meters from the start/finish line. The wall at the end of the chicane (turns 13 & 14) has been playfully nicknamed 'The Wall of Champions'. This is in 'honor' of the large number of great F1 drivers who have crashed into the wall. The list includes Michael Schumacher, Jacques Villeneuve, Damon Hill, Jenson Button, Sebastian Vettel, Juan Pablo Montoya, and others.
Location: Île Notre-Dame , Montreal, Québec, Canada
Circuit: Circuit Gilles Villeneuve
Circuit Length: 4.361 km
Total Race Distance: 305.270 km
Turns: 14
Hard Turns: 6
Hard Turns/Km: 1.376
Fastest Lap Time: 1:13.622 (Barrichello, 2004)
Fastest Seconds/Km: 16.88
Betting on 2015 Canadian Grand Prix Race Winners
Between 2001 – 2014 (not run in 2009), only four pole sitters have finished with the Canadian Grand Prix title. Four more winners have come from P2, and one has come from P3. In 2004, P6 took first, and P7 took second. In 2005 and 2011, the winners came from P7. At the 2014 race the then newest addition to Team Red Bull Racing, Daniel Ricciardo started P6 and won. This was the first F1 race win of his rather fresh career. He went on to win two more that season.
As the above paragraph reflects, the 2015 Canadian Grand Prix will give bettors a chance to look somewhere other than the pole sitter for their winner. According to history, the winner might come from any of the top 7 starting positions. I like to tighten it up more than that, looking for value in a top 5 qualifier with good top speed.
For betting Top 3 and Top 6, as is the case with most races, historically the podium finishers come from the top 8 starting positions. In the past 5 races (2010-2014) heading to 2015, only once has a driver outside the top eight starting positions taken the podium. That was 2012 when Sergio Pérez did it from a P15 start. When searching for value in top 3, I'm not looking for any particular driving style, instead I am looking for speed. Did a typically fast driver/car have a poor qualifying session? Depending on our analysis as to why, this driver might possibly be a good pick.
Top 6 will likely be much more difficult to pick in 2015, unless deciding to tip a favourite. My preference here will however be to look down to P15 on the starting grid, or even down to P20 hoping to spot a long shot with a chance. The betting market tends to not be too keen on these lower spots. While it is much more of a gamble than most top 6 bets, to put it into perspective, only 5 drivers starting in P5 have made it into the top 6 at the Canadian Grand Prix since 1996 (18 races). In some races, top 6 bets seem like a lock. In this race, we do our research, look for big odds, and then cross our fingers hoping that it works out. This is a good race for using our "one time!" on well-researched long shot odds.