2016 German Grand Prix at Hockenheimring
July 2016 is the next time the German Grand Prix will be hosted at Hockenheimring. This article was updated well over a year in advanced. See our 2015 German Grand Prix article if you're looking for information this year's race which is held at the Nürburgring circuit.
In this article I cover information about the Hockenheimring circuit, historical results and which bets I find have the most value for race winner, podium finish and top 6 betting. It is important to note for the historical results purpose, that since 2006, only one race per year is held in Germany. This alternates with Hockenheimring hosting in even numbered years and Nürburgring hosting in odd numbered years.
The Hockenheimring Baden-Württemberg Circuit

A very fast circuit, Hockenheimring is known for its huge sweeping curve between turns 3 & 4 named 'Parabolika'. As a long, fast left turn, Parabolika is always hard on tyres. It is important that cars be setup well for this turn, to conserve tyres as much as possible.
After turn 4 is a hairpin that turns drivers very near 180°. Drivers attempting to pass on the hairpin create exciting action for racing fans, but successful overtaking is difficult to achieve. Hockenheimring isn't a terribly technical circuit, so speed translates into wins here.
With a lack of technical concerns, it's generally best to wager on teams & drivers who prove capable of making the best setup changes from one race to another. Teams who figure out how to conserve tyres on the Parabolika have a distinct advantage.
Location: Hockenheim, Baden-Württemberg, Germany
Circuit: Hockenheimring
Circuit Length: 4.574 km
Total Race Distance: 306.458 km
Turns: 13
Hard Turns: 9 (2, 4, 6, 7, 8, 9, 10, 12, 13)
Hard Turns/Km: 1.968
Fastest Lap Time: 1:13.780 (Raikkonen, 2004)
Fastest Seconds/Km: 16.13
Betting on Race Winners at the German Grand Prix at Hockenheimring

Of the 22 drivers likely to complete in the July 2016 German Grand Prix, only three of them have won a race at this same circuit. Lewis Hamilton has won two German Grand Prix races but only one of those (2008) was at Hockenheimring. His now Mercedes AMG teammate, hometown hero Nico Roseberg, won the most recent F1 race at this circuit in 2014. The only other active F1 driver to win at Hockenheimring is Fernando Alonso. He's done it three times, once in 2005 and then back to back in 2010 and 2012. Again, the race is held at this circuit only every other year.
Based on his past successes at this circuit and the fact he is now with McLaren-Honda who is likely to be competitive in 2016, Fernando Alonso is the driver to look at his odds for betting race winner. While beyond that it is far too early to make 2016 predictions, here is some historical data to archive for now and look at again when the race nears.
Recent F1 Results at Hockenheimring
| | | | | |
| --- | --- | --- | --- | --- |
| Results | 1st (Grid) | Time | 2nd (Grid) | 3rd (Grid) |
| 2014 | Nico Rosberg (1) | 1:33:42.914 | Valtteri Bottas (2) | Lewis Hamilton (20) |
| 2012 | Fernando Alonso (1) | 1:31:05.862 | Jenson Button (6) | Kimi Räikkönen (10) |
| 2010 | Fernando Alonson (2) | 1:27:38.864 | Felipe Massa (3) | Sebastian Vettel (1) |
| 2008 | Lewis Hamilton (1) | 1:31:20.874 | Nelson Piquet Jr. (17) | Felipe Massa (2) |
| 2006 | Michael Schumacher (2) | 1:27:51.693 | Felipe Massa (3) | Kimi Räikkönen (1) |
| 2005 | Fernando Alonson (3) | 1:26:28.599 | Juan P. Montoya (19) | Jenson Button (2) |
| 2004 | Michael Schumacher (1) | 1:23:54.848 | Jenson Button (13) | Fernando Alonso (5) |
| 2003 | Juan Pablo Montoya (1) | 1:28:48.769 | David Coulthard (10) | Jarno Trulli (4) |
| 2002 | Michael Schumacher (1) | 1:27:52.078 | Juan Pablo Montoya (4) | Ralf Schumacher (2) |
The above sample size is small, but it is all the data we have on the Hockenheimring circuit as this was last modified for the 2002 race. What is worth considering here is that in the past 9 races the pole has won six times, while P2 has won twice. The only exception was 2005 when Fernando Alonson won from P3. In that race Kimi Räikkönen started P1 and had the lead when on lap 35 his car suffered a hydraulic failure forcing his retirement. With that Alonso inherited the lead and held it to the finish.
History tells us this is a circuit that favors the guy in front, keeping him out of trouble. This makes it easier to pick winners here, and more difficult to pick winning podium and Top 6 bets.
2016 German Grand Prix Top 3 Bets
While historically the Hockenheimring installment of the German Grand Prix is dominated by the top two starting positions, things change from 2nd place and further down. While it did happen in 2014, in the 8 previous F1 races held since this circuit was modified in 2002, P1 and P2 had never finished together in the top two spots. It is also not uncommon to see P4 or lower on the podium. In the previous race Lewis Hamilton made the podium from P20, and the race before that had Jenson Button (P6) and Kimi Räikkönen (P10) finish second and third. Of course, these lower spots making the podium usually get there from flukey things that happen. This makes it difficult to pick Top 3 bets when betting P4 and lower.
My normal advice here is to recommend picking either P1 or P2 for a conservative bet, or P3 – P5 if you're looking for higher risk/reward. For betting outside of the top 5 starting positions, I only recommend it when there is a top-level driver who had a weak qualifying session. The big guys come to play on Sunday, so I like them when the odds are right.
Top 6 Bets
In the last several years, we're seeing P4 – P7 trade most of the 4th – 6th finishing positions. P4 and P5 have been particularly strong, and offer a lot better value than P1 – P3. This isn't to say that someone below P7 can't make it into the top six, because they do. However, many of those spots have been picked up by drivers who found favorable situations during the race that nobody could have predicted.
Generally, with everything considered, I tend to bet on hot drivers in the P4 to P7 positions. I'm not going to break the bank with a bet like this, but I'm likely to win more often than not.
In 2014 I however did make a small bet on top 6 before qualifying.
With shopping the odds it was possible to find Jenson Button around 2.5 to 1 to finish in the top 6. My thought process was that he is a driver with a strong history having won the World Drivers' Championship in 2009, had 15 career race wins yet only 8 poles. He and his McLaren team had however been lower half of top over the past 1.5 seasons that led to this race. This is of course the reason I found better odds. The stats I had at the time:
Jenson Button at Hockenheimring Past Results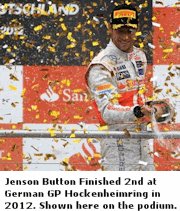 2012: 2nd place & Started P6
2010: 5th place & Started P5
2008: 17th Place w/ +1 Lap & Started P17
2006: 4th Place & Started P4
2005: 3rd Place & Started P2
2004: 2nd Place & Started P13
2003: Retired (Engine) & Started P13
2002: 8th Place & Started P17
As you can see from the above results Button has fared relatively well at this race. In 2008, he suffered from tyre problems during the season and mentioned this after that race. That was the exception as in the other 5 of his past 6 races here has had a top 6 finish. Due to his team slipping some, and him being lower end of the top 10 drivers the past 1.5 season the odds were big at 2.5 to 1 for only needing to make the top 6. The value here came in that his results at this circuit are not flukes. This circuit is a tyre eater and he has historically been one of the best at conserving tyres. This overall is a circuit that gives him a little extra advantage.
I did keep my bet a little small because statements from team McLaren almost indicated they had given up on the 2014 season and are simply now learning lessons for 2015 car development which will use Honda engines. Still this race favoured them much more on paper. The other advantage is there are some slow turns, and they are not as disadvantaged in this race as they are others. Again, I was talking top 6 finish only (I wasn't betting them to win or even podium!). With getting 2.5 to 1 it was certainly not a sure thing, but it was in my strong opinion well worth the value bet.
The results: My bet lost as Button started P11 and finished P8. It was however very live and I felt good about the chances near the end of the race. Considering I had 2.5/1 I got my moneys worth. While I lost, I had the satisfaction of knowing I had made a good advantage bet.
I'll be back closer to race time with my 2016 German Grand Prix predictions, and hopefully for those we will book a win.