2015 Italian Grand Prix F1 Betting

The Italian Grand Prix is the thirteenth race on this season's F1 calendar. It will be held Sunday 6 September 2015. Two days prior are practice sessions, followed by final practice and qualifying on Saturday. This article is last updated a month before the season began. Although it is too early to give driver specific predictions, this page does have helpful information punters can use when considering their wagering selections. It includes circuit information, historical results, and other information gamblers should want to know.
Autodromo di Monza Circuit Information
Monza is a wide open, incredibly fast circuit with just a few hard turns. With that said, drivers can get caught out at the Variante del Rettifilo (turns 1 & 2), and more notably at the Variante della Roggia (turns 4 & 5). The Variante Ascari (turns 8, 9, 10) can be dangerous as well because drivers carry a lot of speed into this area.
Aside from the sections noted above, this is a very simple circuit that doesn't require a high level of skill. For the most part, this circuit requires drivers to stomp on the gas, stomp on the brake, stomp on the gas, stomp on the brake… the entire way.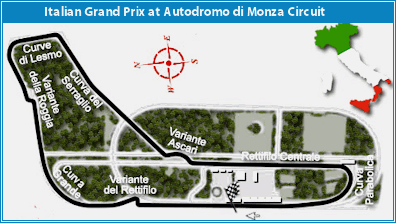 The skill required at Monza is within the engineering, where engines, brakes, and gearboxes take more punishment than anything else. From a betting standpoint, look to bet on constructors rather than drivers. Punters will want to choose cars that have proven to be reliable under all conditions, then pick the best driver on the team of your favoured constructor.
Location: Monza, Italy
Circuit: Autodromo di Monza (Autodromo Nazionale Monza )
Circuit Length: 5.793 km
Total Race Distance: 306.720 km
Turns: 11
Hard Turns: 5 (1, 2, 6, 8, 11)
Hard Turns/Km: .863
Fastest Lap Time: 1:21.046 (Barrichello, 2004)
Fastest Seconds/Km: 13.99
Betting on Race Winners at the Italian Grand Prix
The Italian Grand Prix winner has come from the pole position the past 5 seasons in a row and in 7 of the past 8 seasons. Obviously this is a race that heavily favors the pole sitter, but it's hard to find value on that driver. Instead of taking inevitable 1/3 or worse odds, I prefer to bet before qualifying, trying to pick the eventual pole sitter. When I do this, I can usually get somewhere around even odds on the favourite. If I'm wrong and my driver qualifies in P2 or P3, I might be locked in at lower odds, but I still have a shot at the win.
Top 3 Bets
As mentioned above, this is a circuit that favors high qualifiers more than most. P1 and P2 consistently have podium finishes, but it's not uncommon to see drivers starting lower on the grid make the podium. For value, I prefer looking in the P3-P5 area, looking for a driver who has had success here in the past. I might take a shot at someone in the P7 or P8 area as well, if it's a top driver who had a poor qualifying session. In this case, I'm getting greater odds and hoping his team gets the car dialed in before race time.
Top 6 Bets
For top 6 bets, we can easily look down to P10, or even lower. In most races at the Italian Grand Prix, at least two drivers starting in P8 or lower end up in the top six positions. This is a great time to look for two types of drivers. I look for someone experienced who had a low starting position, or an up and comer who has enough car to move up a few spots. I stay away from guys who qualified better than expected, and prefer to let the cream rise to the top.
At the Italian Grand Prix, I don't mind taking a larger risk than I normally would, because the odds often allow it. We can usually find more attractive odds for P7-P12 than normal, so it's a better time to roll the dice.
Recent Italian Grand Prix Results:
| | | | | |
| --- | --- | --- | --- | --- |
| Results | 1st (Grid) | Time | 2nd (Grid) | 3rd (Grid) |
| 2014 | Lewis Hamilton (1) | 1:19:10.236 | Nico Rosberg (2) | Felipe Massa (4) |
| 2013 | Sebastian Vettel (1) | 1:18:33.352 | Fernando Alonso (5) | Mark Webber (2) |
| 2012 | Lewis Hamilton (1) | 1:19:41.221 | Sergio Pérez (12) | Fernando Alonso (10) |
| 2011 | Sebastian Vettel (1) | 1:20:46.172 | Jenson Button (3) | Fernando Alonso (4) |