2015 Japanese Grand Prix

The 2015 Japanese Grand Prix held at Suzuka Circuit is the fifteenth race on this year's F1 calendar. It will be held Sunday, 27 September 2015 with practice and qualifying taking place the days prior. This article covers circuit dynamics and historical results. The idea is to give punters the information required to make smart bets on this 2015 race.
Suzuka Circuit Information
At the Suzuka Circuit, turns 2 through 7 are a challenging, G-force obstacle course shaped like the hand grip on a knife, consisting of 6 back and forth turns in a row. The circuit is a twisted figure-8, where turn 14 passes over the straight between turns nine and ten. Turn 11 is a hairpin, though slower entry speeds and a larger radius makes this less severe than many other hairpins in F1 racing.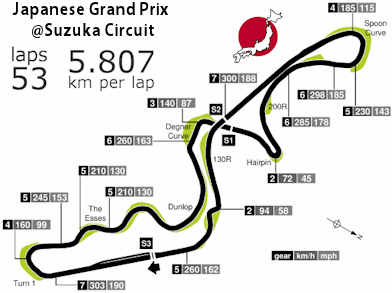 Overall, the circuit is quick, at just 15.76 seconds per Km. It's fast because of two long straights, and the easy curves that eat up a lot of distance on the circuit. Don't let this fool you though, this is a fairly technical circuit that still requires skilled driving.
Location: Ino, Suzuka City, Mie Prefecture, Japan
Circuit: Suzuka Circuit
Circuit Length: 5.807 km
Total Race Distance: 307.573 km
Turns: 18
Hard Turns: 11 (2, 3, 4, 5, 6, 7, 8, 11, 14, 16, 17)
Hard Turns/Km: 1.894
Fastest Lap Time: 1:31.540 (Raikkonen, 2005)
Fastest Seconds/Km: 15.76
*The Japanese Grand Prix has been on the F1 calendar every year since 1987. It was held at Suzuka Circuit each of those years except for 2007 & and 2008.
Betting Race Winner
The Japanese Grand Prix is one of the F1 races that I rarely make large wagers on race winner. History tells us this isn't a track to gamble at. In the past six Japanese Grand Prix F1 races held at Suzuka Circuit the pole starter has won 3 times, finished second twice and finished third once. All three times the pole start did not win the race, it was won by the driver starting P2.
Big underdogs ending up the race winner at Suzuka Circuit are so uncommon, I can't even recall the last time it happened. If absolutely wanting to bet on who will win the race, I suggest doing so before qualifying. Keep an eye on the favourites who are likely to win the pole. The goal is to bet them early into final practice before odds have dropped. If the driver wins the pole you will get better odds than betting after qualifying. If they finish P2 the bet is still live. P2 has won 3 of the past 6 F1 races at this circuit. For me personally I prefer betting Top 3 and Top 6 for this race.
Top 3 Bets
Quite interestingly so, the P3 starter has finished on the podium only three times in the past 12 F1 races held at Suzuka Circuit. While a very small sample size, other data also suggest this is a tough circuit for racing back in the field. Drivers that can get out in front have an easier time staying in front, while lower positions have a much larger battle on hand.
For Top 3 wagers, I tend to look back to P6 – P7, looking for the most experienced driver who also has the speed. I'm looking for versatile drivers that can compete on any type of circuit. Suzuka has a variety of technical driving obstacles, along with a need for speed. Acceleration out of turns is important here, so I tend to sway towards the constructors with proven speed throughout the season. I'm not picking the underdog cars here. I am going with one of the top constructors for sure.
Top 6 Bets
In eight of the past ten F1 races held at Suzuka, P7 has finished in the top 6 (80% top 6 rate for P7). Of course for this stat to matter it will depend who is P7 at the 2015 race. The point is: this is a race there is some room for movement. It is also not uncommon to see drivers as low as P12 finish in the top six too. For these wagers it is smart to look for attractive odds on good driver/car combinations who are starting P7 or lower that we expect can move up in the field. If I get a chance, I will come back and add a top 6 prediction to this page just before the race.
Recent Japanese Grand Prix Results:
| | | | | |
| --- | --- | --- | --- | --- |
| Results | 1st (Grid) | Time | 2nd (Grid) | 3rd (Grid) |
| 2014 | Lewis Hamilton (2) | 1:51:43.021 | Nico Rosberg (1) | Sebastian Vettel (9) |
| 2013 | Sebastian Vettel (2) | 1:26:49.301 | Mark Webber (1) | Romain Grosjean (4) |
| 2012 | Sebastian Vettel (1) | 1:30:53.427 | Felipe Massa (10) | Kamui Kobayashi (3) |
| 2011 | Jenson Button (2) | 1:30:53.427 | Fernando Alonso (5) | Sebastian Vettel (1) |