Betting on Sebastian Vettel

Sebastian Vettel is one the most succefull F1 drivers of all time. He however starts 2015 having changed teams and is coming off for him what was considered a down season. For the four seasons spanning 2010-2013 he started 77 races, all for Team Red Bull Racing and won 34 of them (44.2%). He qualified on the pole 40 times (51.9%), and finished on the podium 53 times (68.8%). He won the World Drivers' Championships each of those seasons and shattered numerous records in the process.
At only age 26, he entered last season as of course a dominate favorite to win the Championship. However in 19 races he failed to win a single one, and finished 5th in the points standings. This was behind a new teammate in Daniel Ricciardo who was promoted after his previous Red Bull teammate Mark Webber retired. Ricciardo won 3 races and finished 3rd in points. This saw Vettel end his time with Red Bull Racing on a low note. While 5th certainly isn't bad for most driver's standards, for Vettel this was a very disappointing season. When it finished he left the team, signing to race the 2015, 2016 and 2017 F1 seasons with the Ferrari Team.
The move to Ferrari is however something Vettel had dreamed about. He had mentioned in the past that he'd like to race for them before his career is over. Commenting on the move he said:
The next stage of my Formula 1 career will be spent with Scuderia Ferrari and for me that means the dream of a lifetime has come true. When I was a kid, Michael Schumacher in the red car was my greatest idol and now it's an incredible honour to finally get the chance to drive a Ferrari. I already got a small taste of what the Ferrari spirit means, when I took my first win at Monza in 2008, with an engine from the Prancing Horse built in Maranello. The Scuderia has a great tradition in this sport and I am extremely motivated to help the team get back to the top. I will put my heart and soul into making it happen.
The odds makers are however not giving Vettel a big chance of returning to his 2010-2013 form. The preseason 2015 F1 World Drivers' Championship odds at bookmakers have him at 25/1 to win. In this article I cover reasons why Vettel's results have likely declined and what punters should know before betting on him in 2015 F1 races.
Sebastian Vettel Bio
Born: 3rd July 1987. Heppenheim, Germany
Residence: Switzerland
Team: Ferrari
World Drivers Championships: 4 (2010, 2011, 2012, 2013)
Vettel F1 Racing Stats
*Career stats through end of 2014 Season
Races Started: 139
Career Poles: 45
Career Poles/Starts: 32.4%
Career Wins: 39
Career Wins/Starts: 28.1%
Career Podiums: 66
Career Podiums/Starts: 47.5%
Racing Style
Sebastian Vettel is often compared to a young Michael Schumacher, not only because of his German background, but also because of his racing style.
As a result of multiple accidents caused by Vettel in 2010, Vettel was forced to defend himself when accused of being too aggressive with his overtaking techniques. While he defended himself publicly, he also seemed to take it to heart. At one point during that season there were talks within the Red Bull Racing Team that his then teammate Mark Webber should be the recipient of helpful team tactics for the remainder of the season – not Vettel. After this, he began timing his passes better, and became more confident that his ultra-fast Renault will give him less-risky overtaking opportunities. Essentially, he had matured into one of the best-rounded F1 drivers in the world. He went on to win 4-straight (2010-2013) World Drivers' Championships.
The records he set or tied in doing the above were many. In 2011 he made a record 15 poles passing the previous single-season record of 14 held by Nigel Mansell since 1992. He also in doing so tied Nigel Mansell's record for most wins from a pole in a season. In 2013 he tied Michael Schumacher's 2004 record of 13 race wins in a season. He also holds the highest average points per race record. He is 1st second and third for most championship points in a single season (2011, 2012, 2013). So, of course, after that 2010 criticism he became the most dominate driver in Formula 1 racing.
Sebastian Vettel Betting Tips
While the odds were short, betting on Vettel had previously been easy money for punters. However, in 2014 everything went sour. That season there were 19 races. Not only did he fail to win a single race, he only made 4 podiums (third three times and a single second). So what happened?
For starters, each season FIA had been attempting to find ways to help other teams compete with Red Bull Racing, the team Vettel drove for (recent changes can be viewed here).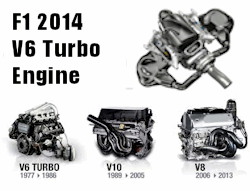 In 2014, the changes were not minor, but rather involve entirely new powertrain regulations. For first time since 1988, turbocharged engines were used. These are 1.6 litre V6 format with an 8-speed semi-automatic gearbox. They use a ninety-degree engine bank, with fixed crankshaft and mounting points for the chassis and are limited to 15,000 rpm. They must last for 4,000 kilometers (2,485 miles) before being replaced which is double that of last year's rules.
Sebastian Vettel was very vocal in complaining about the change. Commentators were quick to suggest the new configuration do not lend well to his natural driving style. Whether the reason or not his results since have been disappointing for a driver of his caliber. Midseason, it even caused team Red Bull to tell him to step up his game (source). However, perhaps this wasn't all his fault. Renault who designed the cars was under a bit of hot water too. Team Red Bull called the performance of the cars thus far unacceptable (source).
As someone looking to bet F1 racing, the question is where do we go from here? No doubt Sebastian Vettel is a highly capable driver. This season he's changed teams and is with Team Scuderia Ferrari, racing with an experienced teammate in Kimi Räikkönen. But does this really increase his changes. Last season Ferrari finished only a very distant 4th in the World Constructors' Championship. In my strong opinion it is too early to say whether there will be value betting Vettel or not. If the team's cars are capable and Vettel starts slow, at the right price, the 14th race of the 2015 F1 season is Singapore Grand Prix could be a good spot to bet him. That's way too far away at the time of this article to discuss. In short I'm going to wait to get a feel for Vettel after a few races and come back and update this page with 2015 Sebastian Vettel betting advice then.
Previous 6 Complete Season Results
2014:
Team: Red Bull Racing – Renault
Races: 19
Poles: 0
Wins: 0
Podiums: 4
WDC Points/Standings: 167, 5th
2013:
Team: Red Bull Racing – Renault
Races: 19
Poles: 9
Wins: 13 (Malaysian Grand Prix, Bahrain Grand Prix, Canadian Grand Prix, German Grand Prix, Belgian Grand Prix, Italian Grand Prix, Singapore Grand Prix, Korean Grand Prix, Japanese Grand Prix, Indian Grand Prix, Abu Dhabi Grand Prix, United States Grand Prix, Brazilian Grand Prix)
Podiums: 16
WDC Points/Standings: 397, 1st
2012:
Team: Red Bull Racing – Renault
Races: 20
Poles: 6
Wins: 5 (Australian Grand Prix, Malaysian Grand Prix, Turkish Grand Prix, Spanish Grand Prix, Grand Prix de Monaco, Grand Prix of Europe, Belgian GP, Italian GP, Singapore GP, Korean GP, Indian GP)
Podiums: 10
WDC Points/Standings: 281, 1st
2011:
Team: Red Bull Racing – Renault
Races: 19
Poles: 15
Wins: 11 (Australian Grand Prix, Malaysian Grand Prix, Turkish Grand Prix, Spanish Grand Prix, Grand Prix de Monaco, Grand Prix of Europe, Belgian GP, Italian GP, Singapore GP, Korean GP, Indian GP)
Podiums: 9
WDC Points/Standings: 392, 1st
2010:
Team: Red Bull Racing – Renault
Races: 19
Poles: 10
Wins: 5 (Malaysian Grand Prix, Grand Prix of Europe, Japanese Grand Prix, Brazilian Grand Prix, Abu Dhabi Grand Prix)
Podiums: 10
WDC Points/Standings: 256, 1st
2009:
Team: Red Bull Racing – Renault
Races: 17
Poles: 4
Wins: 4 (Chinese Grand Prix, British Grand Prix, Japanese Grand Prix, Abu Dhabi Grand Prix)
Podiums: 8
WDC Points/Standings: 84, 2nd
**
*Page last updated 13 January 2015