2015 Singapore Grand Prix Betting Predictions

The 2015 Singapore Grand Prix is the fourteenth Formula 1 race this season. It will be held 18-20 September 2015. Friday is the practice sessions. Saturday is the final practice and then qualifying. Of course, Sunday the 20th is race day. This article was last updated during the 2015 preseason and thus is too early to give predictions by teams and drivers. That said, it contains a lot of helpful information such as circuit details and historical results that can be used to find smart bets on the 2015 race.
Marina Bay Street Circuit Information
The Marina Bay Street Circuit is a very technical, slow circuit that keeps drivers on their feet. It has a lot of slow turns, and relatively short straights. It's a beautiful circuit to view, running along the Marina Bay under lights during the night. Some unique features include a stretch of track that runs over the Anderson Bridge, and an area where the cars drive under the grandstands between turns 18 & 19.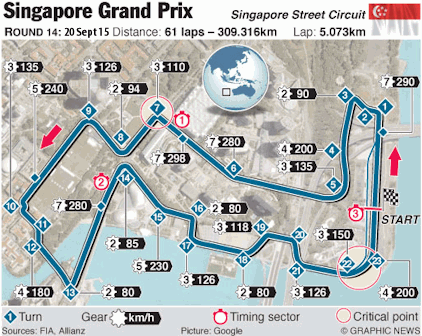 Location: Singapore
Circuit: Marina Bay Street Circuit (Singapore GP Street Circuit)
Circuit Length: 5.065 km
Total Race Distance: 308.828 km
Turns: 23
Hard Turns: 15 (1, 3, 5, 7, 8, 9, 10, 13, 14, 16, 17, 18, 19, 20, 21)
Hard Turns/Km: 2.96
Fastest Lap Time*: 1'48.574 (Vettel, 2013)
Fastest Seconds/Km: 21.436
*fastest lap record only considers fastest lap during an F1 race since this circuit was last modified in 2013.
A lot of driver skill is required for a successful run at the Singapore Grand Prix. Knowing where to pass, where to back-off, and where to slam the pedal down comes from experience, so I tend to bet on previous podium finishers. This is a race where you will generally have the best chance at a win by betting on drivers who have proven their ability to navigate through this difficult circuit. Some drivers have said that Marina Bay is even more difficult than Circuit de Monaco.
Betting 2015 Singapore Grand Prix Race Winner

If his new McLaren-Honda team has competitive cars this season, Fernando Alonso is a driver worth checking the odds for when betting on this race opens. He won this race in its F1 debut in 2008, then again in 2010. He also had a respectable third place finish in 2009, fourth in 2011, second in 2013, and fourth in 2014. Those most recent results came in a time his Ferrari team was slipping on the constructor's side of things. If McLaren is competitive this season he will have a chance at a win.
Sebastian Vettel had done progressively better each year since inception of the Singapore Grand Prix, with a 5th place finish in 2008, 4th place in 2009, 2nd in 2010, and wins three years in a row 2011-2013. His chances depend a lot on the Ferrari team he joined for this season, who I expect might start slow on the season then improve. For details on that read my article on the Ferrari F1 team.

Lewis Hamilton is of course likely to be favoured in most races this season. He took 3rd here in 2008, and won in 2009 and 2014. The rest of his results were not great for a driver of his caliber. He had an early collision in 2012, and mechanical failure in 2010. He finished only 5th in both 2011 and 2013. Though he has a good chance to win, his high risk-style and likely very small odds will make it difficult find value betting him for the 20 September 2015 race held here.
Top 3 Bets
At the Marina Bay Circuit, I look for Top 3 value in the P3 – P6 starting positions. If I can get a driver who has had some success here in the past, he's probably going to get my bet. It's really about the driver and the odds I'm getting, and less about the circuit.
If I can't find a driver in the P3-P6 positions that I really like, I'm usually going to make a bet on P2, if that driver is not a fluke. If it's a top driver, I'll take P2 at the Singapore Grand Prix 2/5 or better (even 1/3 for just the right guy).
Top 6 Bets
The Singapore Grand Prix is another good chance for punters to find value on Top 6 bets. I look at drivers in the P6 – P10 range, and maybe a wager on P2 as well. While the odds are not great for P2, they're better than P1, and P2 is highly likely to make the podium, let alone the top 6. If I'm betting on P2, my only goal is to cover a bet on P6 – P10, in case that one does not pay off. So, the P2 bet is essentially a way to cover my other bet. If they both make the top 6, I'm going to have a decent payday.
Recent Singapore Grand Prix Results:
| | | | | |
| --- | --- | --- | --- | --- |
| Results | 1st (Grid) | Time | 2nd (Grid) | 3rd (Grid) |
| 2014 | Lewis Hamilton (1) | 2:00:04.795 | Sebastian Vettel (4) | Daniel Ricciardo (3) |
| 2013 | Sebastian Vettel (1) | 1:59:13.132 | Fernando Alonso (7) | Kimi Räikkönen (13) |
| 2012 | Sebastian Vettel (3) | 2:00:26.144 | Jenson Button (4) | Fernando Alonso (5) |
| 2011 | Sebastian Vettel (1) | 1:59:06.757 | Jenson Button (3) | Mark Webber (2) |