Betting the Spanish Grand Prix
The 2015 Spanish Grand Prix is the fifth race of the 2015 F1 season. It is held 8-10 May 2015. The first day is of course practice, followed by final practice and qualifying on the second day. The actual race is on Sunday 10 May 2015. This article covers information about the circuit, historical results and what to look for when betting this year's race.
Circuit de Catalunya Information

Circuit de Catalunya is a well-rounded circuit, with a nice variety of straights, sweeping curves, and hard turns. At 4.655 km in length, it's one of the smaller tracks in Formula 1 racing. Because it's such a great track for all types of racing, this circuit is widely used for F1 testing.
Directly after turn 16 reveals a long straight where very high speeds are achieved, followed by a right turn that generates most of the passing opportunities. Wind changes throughout a typical day of racing might be the most challenging aspect to Circuit de Catalunya, causing aerodynamic issues that continually change. While the wind can create problems, this does not seem to be enough to affect pole sitters.
From 2001-2010, every race was won by the driver on the pole!! In 2011, Sebastian Vettel won from P2, breaking that ten year streak. In 2012 Pastor Maldonado made the only pole of his F1 career and won the race! 2013 was a rare anomaly for the Spanish Grand Prix. On the very first lap at turn 3 Fernando Alonso who started P5 managed overtake two others. He went on to win this race despite being huge odds to do so over starting P5 start in a race that has been dominated by pole sitters. In 2014, everything reverted back to the norm. Lewis Hamilton, Nico Rosberg, and Daniel Ricciardo started P1, P2, and P3 respectively and made the podium in the same positions.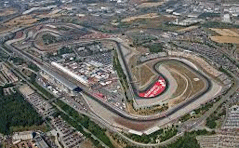 For F1 betting purposes, this is a good race to back off the favourite and find a driver with greater odds.
Location: Montmeló, Barcelona, Catalonia, Spain
Circuit: Circuit de Catalunya (Circuit de Barcelona)
Circuit Length: 4.655 km
Total Race Distance: 307.104 km
Turns: 16
Hard Turns: 10 (1, 3, 4, 5, 7, 9, 10, 12, 14, 15)
Hard Turns/Km: 2.148
Fastest Lap Time: 1:21.670 (Raikkonen, 2008)
Fastest Seconds/Km: 17.5446
Betting on Race Winners at the Spanish GP
As mentioned above, punters could've blindly stuck their life savings on the pole sitter every year from 2001 – 2010 – and won every single year. What driver was on the pole? Didn't matter. What car was he driving? Didn't matter. Of course, if you did it again in 2011 and 2013 you would've lost it all, but it was an amazing streak from 2001-2010 that occurred again in 2012 with Pastor Maldonado making the only pole of his career and winning the race. And again, in 2014 the podium was P1, P2, and P3 starting positions finishing in that exact order.
It's pretty obvious where punters are supposed to put their money betting race winner, but the problem is finding odds that make sense. Who wants to take 1/10 on any race? Not me.
It would be difficult to argue with anyone that said 1/9 offered value, but I still don't like risking £9 to win £1. Personally, I prefer to bet pre-qualifying and try to predict who will win the pole. Whoever it is will likely win the race, but we can get better odds this way. I like to watch the first day of practice, then make my pick before the day is done – before the odds have gone down. Doing it this way, I can usually get something in the range of 1/3 on the favoured driver, using practice as a gauge to make sure he's in the running for the pole. If I'm right, I'm going to lock in much better odds than people who wait until qualifying is done.
At the Spanish Grand Prix, when I bet before qualifying, I usually bet half of my normal wager amount. The reason is because if my driver doesn't finish on the pole, I can usually consider my bet lost – but only losing half my normal wager amount. However, if I'm right and my driver takes the pole, his odds will go way down. This means that I can take a profit about the same as I would have if I had bet my normal wager amount on the pole sitter after qualifying.
Top 3 Bets
For top three betting the 2015 Spanish Grand Prix, history at Catalunya tells us we can confidently look for value down to the 5th starting position. In the last 14 years (2002 – 2014), of course there have been 42 podium finishes. Here is a breakdown of those podium finishers based on where they started on the grid:
P1: 12 podiums (All 1st place).
P2: 7 podiums (One 1st, two 2nd place, four 3rd place).
P3: 7 podiums (Six 2nd place, one 3rd place).
P4: 6 podiums (Four 2nd place, two 3rd).
P5: 6 podiums (One 1st Place, One 2nd place, four 3rd place).
P7: 2 podiums (Both 3rd place).
P9: 1 Podium (3rd Place).
P12: 1 podium (2nd place).
Something interesting from the stats above is how often P2 and P3 have switched positions. Obviously this is a very small sample size that we can't rely on, but six of the seven times that P3 finished on the podium they moved up to second place. P3 also has the same number of podiums as P2.
For top 6 bets at the 2015 Spanish Grand Prix, P4 – P8 is best if we can find decent odds on a driver we like. We should however be looking for a good driver/car combination down to P10 or P11. This area of the field has lot more movement than the top 3, so we need not be afraid to step down to a lower position than we normally might.
Circuit Dynamics