2015 United States Grand Prix

The 2015 United States Grand Prix is the seventeenth race of the 2015 F1 calendar. It will be held 23-25 October 2015. The first day is of course practice sessions, followed by practice and qualifying on Saturday and the race itself on Sunday. Although this article was last updated too soon to give driver specific predictions, it does have information handicappers will find helpful. This includes circuit details, historical results, and what I will be looking for when the time comes to make betting predictions.
Circuit of the Americas: Unique Features
Circuit of the Americas has some very unique features that make for exciting road racing. It is one of just a small handful on the F1 calendar raced anticlockwise. It features 20 turns and one long straight – directly followed by a hairpin turn. It has a change in elevation of 133 feet, most noticeable heading into turn one.
As for more on the circuit, directly after the start/finish line, drivers head uphill. The track then levels off through the hairpin, then it heads downhill into a series of left/right turns. This exciting part of the track shows off the best of F1 road racing to American spectators. While the entire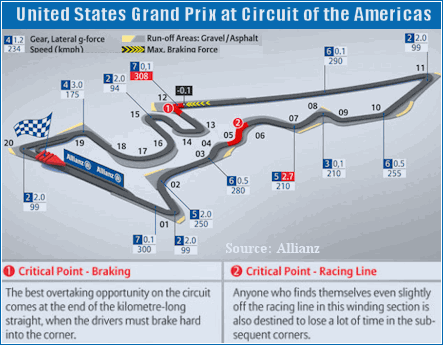 circuit is very different in comparison to tracks used for NASCAR and IndyCars, the high speed turns from 1 – 10 are particularly unique. Turns 12 – 19 are tactically important, but the slower speeds and unlikely overtaking opportunities are not as exciting as turns 1 – 10.
Whilst the circuit design itself is fantastic, the architects could have been more ambitious with the building designs. Although they do have a somewhat contemporary design, the square, white buildings are underwhelming. This circuit has no iconic, memorable buildings or structures that clearly distinguish it from other circuits. While a bit disappointing, this matters none as far as handicapping the race is concerned.
Location: Travis County, Texas
Circuit: Circuit of the Americas
Circuit Length: 5.516 km
Total Race Distance: 308.896 km
Turns: 20
Hard Turns: 7 (Turns 1, 11, 12, 13, 14, 15, 20)
Hard Turns/Km: 1.27
Fastest Lap Time: 1:39.347 (Vettel, 2012)
Fastest Seconds/Km: 18.021
United States Grand Prix Betting Tips:
Since returning from an extended absence in 2012, The United States Grand Prix has moved earlier in the year each season. The past races were held on 18 November 2012, 17 November 2013, and 2 November 2014. This year it is held 25 October 2015. This means slightly warmer weather and less chance of rain.
However, there is still likely a 10% or so chance of rain during race time. Also while the average temperature near race time is 22°C (72°F) on this date, there's potential it could go under that temperature too. This is already a cooler temperature than found at most F1 races. Drivers who benefit from hot, sticky tyres helping keep their cars glued to the track for keeping speeds up throughout the race could have issue here, especially if the temperature comes in lower than average.
Jenson Button is noteworthy name that the weather conditions could make a big difference for. He gets a big advantage for his ability to conserve tyres, but loses some of that edge if the temperatures are less than average on race day.
A tough thing about handicapping this race is we have limited historical data to work from. This is a brand new circuit that hosted its first F1 race in 2012. Back when the circuit was nothing more than a dirt road still being built, we told punters to tip Lewis Hamilton as race winner. Our prediction paid off. He won that year, and also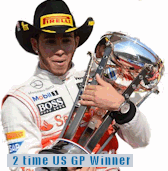 won again in 2014. To be clear this prediction was from way before he was at his current dominance driving a 1.6L Turbo Charged V6 with Mercedes AMG. He was still with the McLaren F1 team in F1's V8 era when we gave that tip.
For the 2015 race no doubt Hamilton will likely be a strong favourite again. The long straight between turns 11 and 12 see top speeds over 200 mph. From T2 – T9 is fast as well, and the ability to make aggressive attempts here to overtake meet his style well. The straight from T20 – T1 through the grandstands will be pedal to the metal which his Mercedes AMG car should handle. The slowest section T12 – T14, along with the two hairpin turns can help set up blocks.
No matter who you decide to tip, understand this is a fast circuit. Acceleration out of turns is the key. So is top speed for gaining position between T11 – T12, and T20 – T1. When making betting selections, look at which constructors which are running the best. This is not a circuit someone can fluke to a win with a car not up to top standards.
Of course as I'm writing this too early in the off season to say which constructors will have the car, I can't give exact predictions. If the Ferrari F1 team has cars running well, check out the odds for Sebastian Vettel. A driver I do like in this race for his fearlessness is Daniel Ricciardo. However, again I am writing this during the off season, many months before the 2015 race. I've yet to see how competitive of a car F1 Red Bull will have him in when the 2015 United States Grand Prix comes around.
Podium Betting
Circuit of the Americas is one where we can look a little down the grid for a strong driver P4 to P7 to finish on the podium. As already covered there are opportunities for overtaking on this circuit. If it is warmer weather a guys like Jenson Button, Fernando Alonso, Daniel Ricciardo etc. promise to offer good odds if they start lower on the grid. If their cars are capable this is where we could find some good value between 2.5/1 and 6/1 on a podium finish.
Top 6 Betting
Interesting enough… the historical results suggest only betting P1 to P6 to finish in the top 6. While the order changed in the last two races those who started top 6, finished top 6. However this in my opinion is where the danger of small sample size comes in. As mentioned throughout this article, this is a circuit where overtaking can be done. As the sample size gets larger we should see a lot more P7 and P8 starters making the top 6.
Recent United States Grand Prix Results
| | | | | |
| --- | --- | --- | --- | --- |
| Results | 1st (Grid) | Time | 2nd (Grid) | 3rd (Grid) |
| 2014 | Lewis Hamilton (2) | 1:40:04.785 | Nico Rosberg (1) | Daniel Ricciardo (5) |
| 2013 | Sebastian Vettel (1) | 1:39:17.148 | Romain Grosjean (3) | Mark Webber (2) |
| 2012 | Lewis Hamilton (2) | 1:35:55.269 | Sebastian Vettel (1) | Fernando Alonso (7) |