Cricket Betting Online From India
www.188bet.com is my favourite online betting site. Watching live streams, I find markets on many different sports. I like that they accept Indian Rupee INR as an account currency and have many bonuses and promotions. Cricket is the sport I wager most.
Of course, Indian Premier League (IPL) is the biggest betting craze in India. I discuss this in my article on 2019 IPL Cricket Betting. Twenty20 is popular for IPL and Champions League, but there is more cricket to bet. This included Tests and One Day Internationals (ODIs). There are major international competitions, Cricket World Cup and ICC Champions Trophy too. For domestic cricket we have Ranji Trophy, Duleep Trophy, Deodhar Trophy, and Irani Cup. I bet these all at 188bet.
Is Cricket Betting Legal in India?
The answer to this question is no. If you're caught placing bets with local bookies you risk a small Rs. 100 fine and up to one month in prison for a first offense. Even with this risk, local market research suggests Indians wager excess of Rs. 3 lakh crore each year with local bookies. We bet even larger amounts online with foreign bookmakers.
Foreign internet bookmakers are ideal because many of them are European Union licensed. They are reputable and service Indian punters. The law is not clear in all Indian states. But, there is no evidence law enforcement bothers Indians who bet from the privacy of their own home. We use internet connection to access bookmakers who are legal in foreign markets.
Why Such a Craze, Despite the Risks?
Cricket has long been India's most popular sport. It dates back to the Oriental Cricket Club in Bombay (now Mumbai) established in 1848. The most influential time was the Bombay Quadrangular held from 1912 to 1936. In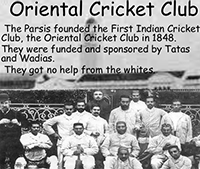 this tournament racial differences were finally put aside. An English team, Parsi team, Hindu team, and Muslim team battled for bragging rights. Buddhist, Jews and Indian Christians were additions in 1937 called "The Rest".
Cricket in India is about pride. In 1947 there was a growing push for India independence. The political movement was about unity and not divide caused by competition. This caused Board of Control for Cricket in India (BCCI) to cancel the Bombay Pentangular. They replaced it with a zonal competition. Of course, on 26th January 1950 India became a nation. While not our official sport (field hockey takes that position) cricket is huge. It is the sport that brought a nation together as one.
Meanwhile, gambling is in the roots of Indian culture. The oldest surviving religious text the Vedas mentions it. Gambling is a pivotal part of the great Indian epic Mahabharata (from period 1500 B.C.E.). It only makes sense Indians love to wager cricket. Again, a sport that captivates and brings pride to the nation. So, for long as India continues to excel at cricket, if we have a way, we will keep betting it.