Intertops.eu Review – Offering Internet Betting Since Jan 1996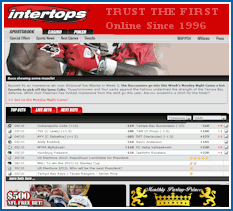 www.intertops.eu (no US players) is a betting site available in English and German that supports betting accounts in the choice of USD, GBP, EUR, HKD, AUD, CAD, RMB, DKK, NOK, SEK, or CHF currency. They are a particularly good second out for players living in Canada, Germany, Austria and Switzerland. These are the only four countries they currently offer bonus and promotions for. Their opening offer is a 20% initial deposit match paid as an instant cash bonus. Many additional promotions by season are also available.
Understand Intertops was the first. This is the oldest and one of the most trusted betting sites. They have a plethora of markets on European and US sports, however haven't embraced some of the latest technology advancements. If you're looking for one single site that has it all, a website like www.bodog.eu might better suit your needs. However if you use multiple betting sites and live in Canada, Germany, Austria and Switzerland, this is a great addition to your betting arsenal.
Company History
Intertops was the first ever sports betting site. Their history dates to 1983 when their founder relocated to London and started a postal and phone-in bookmaking business. Although operating with a British bookmaker license, the majority of their business came from German and Scandinavian punters. While authorities elsewhere objected, there was little that could be done; their business was entirely legal in UK where it was registered.
In 1992, the company moved their headquarters to Austria and set a goal of becoming the first ever internet betting site. To put this in perspective, in 1992 registering a .com domain name was free, the home computer boom hadn't happened, and dialup ISPs such as AOL and MSN didn't exist yet either. Nonetheless, they moved forward and executed this plan to perfection. On January 17, 1996 Jukka Honkavaara of Finland placed a $50 wager on Tottenham Hotspur using Intertops.com (now .eu). This would go down in history as the first ever sports bet placed on the internet. In 2000 they launched the first ever mobile betting site, and a few years later became the first gambling site to offer sports betting, casino and poker seamlessly from a single website that required only one account to use all three products.
Using Intertops in 2015
Intertops is an outstanding choice for anyone living in Canada, Germany, Austria or Switzerland to wager sports. Today, many bookmakers focus on either or of the two sports known as football. Some focus on American football (Gridiron) or the traditional version of the game (which Americans call soccer) – very few focus on both. These guys however have absolutely perfected offering both.
For American Football – more than 20-propositions are offered for each and every game of the NFL season, plus they offer the usual betting options such as point spreads, totals, moneylines, teasers and parlays. They also offer reload bonuses each NFL season, as well as freeroll tipping contests and other football promos. Of course, NCAA football, CFL, Arena and UFL are also available.
For European Football – a massive section of football betting opportunities are available from around the globe. In fact 24/7/365 there is never a time on the clock or date on the calendar there isn't at least 500 football matches available to wager. Their coverage includes the major five – English Premier League, Spanish La Liga, Italian Serie A, German Bundesliga and MLS from the US as well as other leagues including but not limited to Chilean Primera Division, Czech 1. Liga, Danish Superligaen, Finnish Veikkausliiga, French Ligue, Greek Super League, Mexican Primera Division, Norwegian Eliteserien, Polish Ekstraklasa, Portuguese Primeira Liga, Romanian 1st League, Russian Premier League, Swiss Challenge League and Turkish Superlig. In addition to multiple wagering options for each match you can also wager on season results such as group winners and outright winners from all the domestic and international competitions.
Additional Sports – At Intertops it isn't only about the two sports called football. Here you'll find a plethora of odds for Baseball, Basketball, Boxing & UFC, Cricket, Ice Hockey, Golf, Handball, Motorsport, Rugby, Tennis and Volleyball. Plus they also offer wagers on who will with the World Series of Poker, stock market propositions, political markets, entertainment and movie wagers, and world events.
Interops Rated B+ at SBS
Keep in mind Intertops was the first ever offshore bookmaker, and the very first internet betting site. Online for 16-years now they have never had a slow play or missed payout complaint. We give them a solid B+ rating which has them in the top 8% of safest betting sites in the world. In our opinion, this is one the safest and most secure betting sites to wager with.
Tips from a Professional Punter
Intertops is widely considered a recreational sportsbook and because of this reputation many professional punters don't realize how much great value there is to be had here. Allow me run through some of the intricacies I personally love as a professional punter who uses their website.
Free Money Giveaways
While bonus and promotions and are generally targeted at smaller players, there is enough value that even larger punters will want to give them go. Details are as follows:
Bonus Offers – available is a 25% up to $100 (CAD) sign up bonus which requires 8 times rollover. On Tuesdays they offer anyone with a balance of less than CAD 200.00 and no withdrawals within the last 28 days a 10% up to $50 reload bonus and the same on Thursdays for anyone with a CAD 0.00 balance and no withdrawals within the last 21 days. These two reload bonuses have a 6-time rollover requirement.
Reduced Juice – Intertops has a bonus point loyalty program where cash is automatically released as points earning milestones are achieved. Factoring in these points their odds come to about 1.92 (-109) for all odds or even type wagers, including point spread selections added to an accumulator (parlay). Similar savings of vig are available for moneyline markets as well.
Promotions – Intertops has great season promotions. One example for World Cup their offers started with a deposit match bonus of 20% up to $100 (CAD) free. This bonus was paid as cash, meaning it had a much higher value than free play credits or free bets. Next if over the course of the tournament you cumulatively wagered at least $1,000 on World Cup matches you got a $200 free bet at the end. That was a $100 cash bonus for a $500 deposit, and then $200 more for making $1,000 in bets for a total of $300 free. There were also several additional World Cup promotions including daily stakeback offers, cash draw giveaways and an endurance lottery. This is just one example – Intertops offers similar promotions for NFL season, March Madness and has other seasonal offers.
Soft Betting Lines
There are several times per week I find Pinnacle Sports has a point spread at 1.90 (-111) while others have that same point spread at 1.91 (-110) or 1.87 (-115), and Intertops is best at 1.92 (-109). Of course, their betting menu still reads 1.91, but with their bonus point rewards program that releases cash back automatically in small increments, the effective odds are 1.92 (-109). Also worth noting is I've never heard of a sharp bettor having their bonus point rewards revoked so really the odds can always be calculated at 1.92 (-109) when they read 1.91 (-110). While for more games than not, you'll find better value elsewhere – there are enough times they have the best odds that you'll certainly want to use them if you're a winning punter who understand the importance of getting the best price.
Easy to Beat Entertainment Props
A couple other areas where value can be found are props and futures. Their entertainment props have a lot of juice and small limits, but seriously 15 minutes per month Google searching is almost all that is required to make an extra $500+ per year. At the very least you should be able to make $100 per hour over a very small number of hours on these. A couple of past examples I can recall, one prop bet was whether Apple would change the price of the iPhone before it released. A simple Google search would show there was next to no chance of that, based on marketing spent and contracts already signed. The odds here were 1.22 (-450) with a $50.00 max win – but it was pretty much easy money as we were 10 days away from the release. Another was a box office total for a specific movie and there were articles all over about how unfortunate the lineup and timing was, and why the opening weekend was likely to suffer. I asked on movie buff forums the chances of it hitting the total, and was met with plenty of sophisticated responses from experts showing it had a strong chance to fall under the posted total. Here the max bet was $250 on 1.91 (-110) which turned out an easy win.
+EV NBA Future Markets
Regarding the future bets offered, the major edge here is their NBA betting futures stay up overnight. NBA is obviously a long season, but there are certain key games that change team's chances at seeding. Even if it is a small change in their odds, the fact it is possible to bet NBA futures right after games are played adds a little extra edge. Where this really comes into play is for the 3rd, 4th and 5th favorites. When these guys beat the top favorite in an upset who happens to be from the same conference and Intertops was already competitive on these – you can actually find some small +EV value on futures.
20 Props on Each NFL Game
For NFL propositions I find about 10 opportunities per year where there is an arb available with 5dimes. In most cases I end up betting only the Intertops side to get max value. Again they offer 20 unique propositions for each and every game of the NFL season.