A Guide Live Betting Sports Online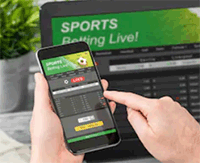 Live Betting, also known as in-play or in-running, is the ability to wager on a match while it's still in progress. At sports betting sites it's possible to wager not only on who will win the match, but also unique propositions. Using tennis betting as an example, we can bet much more than match winner. We can wager set winner, result of each point, next game to deuce, next game score, and current set race to five games. We can wager other propositions too. These days most bookies offer in-play wagering. But, for games offered, markets, betting odds, and software, there are market leaders.
Best Live Betting Sites
Which betting sites to use for live betting depends on the sport wagered. For football (soccer) Asian Bookies are the best. For example, www.188bet.com (no USA residents) offers European odds 1.94 / 1.94 base on Asian handicap. In other words, they offer by far the best odds. At 188Bet there is in-play odds on more than 4500 football matches each month. These span all the popular leagues as well as smaller leagues from all over the globe.
Best for American Sports
The sportsbook with by far the best live betting interface and most markets for American football, hockey, baseball and basketball is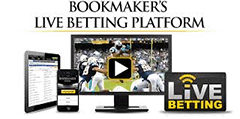 www.bookmaker.eu (USA residents welcome). Competitors claim to offer live betting but have archaic interfaces and limited markets. For example, 5Dimes requires browser refreshes during commercials. Most often they offer only point spreads and totals.
At Bookmaker.eu the in-play interface is state-of-the-art. It features point spreads, moneylines, totals and many propositions. The odds update in real time with no need to refresh. These guys are also creative. As an avid fan of live betting NFL football, I use them week in and week out. Each week I see at least one proposition offered that I've never seen before. In short, Bookmaker.eu is best for live betting American sports and there isn't a competitor in close sight.
Best for Players Outside the United States
www.188bet.com (No USA Residents) is where I do most of my own in-play wagering. I often check their competitors Ladbrokes, William Hill and Paddy Power at 5PM GMT on a Monday night. There I am met with very few odds. I am lucky to find 1-3 football matches available for in-play. There might also be a single match for each of cricket, volleyball and hockey available. At 188bet I often find 8 football matches, 5 tennis matches, 5 basketball matches. There is generally matches for cricket, floorball, handball, volleyball and hockey too. Their coverage expands all over the world.
I do use other websites besides 188bet. For the best odds on major markets I turn to Asian Bookies and betting exchanges. Betting exchanges are great for live-trading. They have a lot of liquidity on markets involving football, cricket, golf and tennis. They are also great for future betting outright championships for all leagues. I discuss that in the next section of this article.
Live Trading
Another unique way to wager matches in progress is live trading on betting exchanges. Unfortunately, this is only relevant to players living outside the United States. There is not enough liquidity at betting exchanges accepting US residents. For those in other countries this is an interesting way to live bet.
www.betfair.com (no USA players) is the world's largest peer to peer betting exchange. At this website players wager against each other, rather than against a bookmaker. Betfair makes their profit by charging bettors a commission off their net-win. This has a lot of advantages with in-play betting.
Most punters have experienced watching a match and seeing it is not going as expected. Had we bet on that match at Betfair, we can trade off it only for a small loss. This is because the hedge is vig-free on an exchange. We only pay commission on our wins.
Using an exchange has a small learning curve. Good news is that I have an article on How Betfair Works that explains the bulk of the details. Their website has a lot of liquidity on football, cricket, tennis, and golf. It is also good for betting outright winner in various leagues. Betfair is a website all players should consider getting familiar with. It is good for prematch betting too, but live betting exchanges is a beast of its own.
Live Betting Warning
When betting in-play it is vital you only do so with reputable bookmakers and even so, there are still risks. This 2+2 thread shows Heritage Sports unethically freerolling a player on in-play golf bets. Examples like this go way back. This YouTube video shows that years ago Centrebet.com cheated a client for €2500 over a live bet.
Often a betting site cancels a winning wager by claiming "past post". Meaning the punter wagered after the known result. Or, they wagered with advanced knowledge of a goal, injury, or similar occurrence. Of course, past posts do happen and the bookmaker has every right to void these bets. But, they should do so immediately. Less reputable bookmakers wait until after a match to claim past post giving themselves a freeroll. If the bet wins it is void, if it loses it stands. This is why it's VERY important to in-play bet only with reputable bookmakers.
Live Betting Strategy
Some bettors mistake live betting as a novelty reserved for recreational punters. The real professionals could write entire books on in-play betting strategy. For now I give only a few tips on how to use live betting to your advantage.
Slow Starts: Let's say you spot a football club who in all their recent English Premier League victories started slow but then finished strong. If they are the favourite in a match and you'd like the bet them, why do so prematch? If you wait for the odds to drop via in-play wagering, you could make the same wager at better odds.
Fast Starts: This applies less to soccer, and more to American football (NFL). Each season there are teams that have all the stats and a great Pythagorean record that find ways to lose games. The 2018 Pittsburgh Steelers were an example of this. By all statistical accounts, they were an elite offense with an above average defense. Their struggle all season was the fourth quarter. So much so, that five of their losses on the season involved blown fourth quarter leads. If you suspect this was more than luck, you could bet against them when they lead late in the third quarter.
Those were only two examples. Some talented sports bettors derive the majority of their profits from in-running wagers. You see, in-play odds are set by a computer using advanced mathematical algorithms. While the odds generated are tough to beat over the long haul using random bets, you can exploit them.
Looking at Human Factors
Sports are not only mathematical. There are human factors involved. A system generating the odds can't always account for these. A computer doesn't see how teams appear on the field. It doesn't notice composure, motivation, and body language. It might not see sideline personal packages for American football, or subs ready to check in. There are some chances to get an edge.
If you do decide to bet in play, be sure to be responsible. Too many punters let their emotions get the best of them. This is especially true when there is only seconds to decide on a bet. Prematch wagers we can analyse hours in advanced. Live bets can be gut decisions. Don't get too excited and don't bet over your limits chasing a loss.