5Dimes Upgraded to A (Dan vs. 5Dimes Dispute Archived)
Posted by admin on 22 July 2014 in Betting Sites News

www.5dimes.eu is the most popular online sportsbooks servicing the US market. Prior to December 2012 they had long held an A rating on our sportsbook ratings guide. Our then most honest competitor Bookmakers Review had given them the second highest rating possible (4.5 of 5). Multiple years in a row they were voted best sportsbook in the annual SBRForum.com poster's poll. The point: this is a sportsbook that for nearly 2 decades most players value and trust.
On 28 December 2012 we posted an article on this same URL you are visiting now involving a 5Dimes player dispute. For archive purposes this page still contains details of this dispute that caused 5Dimes to spend 18 months (December 2012 until 22 July 2014) rated B on our rating guide. We are the only sportsbook review portal that published details of this dispute and for 18 months had their rating lower over it. The one other site that ruled on it, who is granted is likely highly biased towards them, was SBR who sided with 5dimes. SBS has now decided we will no longer link to this article outside the news section and after 18 months having it lowered we have restored 5Dimes to a rating of A. We are however not hiding this decision at all. We have bumped it in our news section to first article, giving players plenty of time to see this message and it will always be archived in that section.
The reasons behind our decision are many, but over all the years they have operated as a large sportsbook that does huge volume, this is the sole dispute we felt was noteworthy. This site offers many more markets than their competitors and most often at far better odds. For outright markets, F1 races, golf bets, tennis bets, match ups, props, moneylines on big favorites or large underdogs on major sports and so many other markets it is not possible shopping all sites to find better than what 5Dimes offers for markets and odds. They also cover markets that no other US friendly sportsbook does. In short this website is all about delivering players the absolute best value and product.
5Dimes does not take advantage of recreational gamblers offering them poor odds the same way most their competitors do. They are also good for poker, and have a casino that pays higher than any other casino in the world. For example at American Roulette, odds/even, red/black, high/low pays 1.09 to 1 instead even money. Pai Gow poker pays 1.02 to 1 instead of 0.95 to 1 and the list goes on and on. 5Dimes gives players by far the best odds on every product, and all players who don't benefit from mistakes, or cheat them, get paid timely anytime they request a withdrawal. It is a considerable disservice to have players visiting other books where they will lose money faster or win far less with because those books are rated higher, while 5Dimes has a near perfect track record. This is why despite the potentially serious dispute their rating has been restored.
5Dimes Confiscates $32,563.09 and Threatens Further Collection (Archived)
The original dispute involved a complaint where a player had $32,563.09 confiscated and was threatened with additional collection. The original forum threads he brought the dispute to and their discussions can be found in threads Dan711 vs 5Dimes (2+2) and Dan bouton vs. 5Dimes (SBR). This report uses information found in both these threads to archive that dispute.
5Dimes vs. Dan777 (Dan bouton) Details
A played named Dan claims to have opened an account at 5Dimes around October 3, 2012. He made three deposits over a short period of time totaling $885. On October 9, 2012 he staked $0.57 on a progressive pleaser that had an incorrect pay table. Winning 5 out of 6 paid 7000-to-1 instead of the 70-to-1 it was intended to pay. This was one of dozens of pleaser bets he placed where option 5 out of 6 had an incorrect payout. It was however the only of these bets which he won.
Dan claims to be new to online sports betting. Suspecting this pay table was likely an error he began reading forums about how sites handle bad lines. Feeling his bet would likely be void if it was a mistake, he called 5Dimes to inquire about the pay table. It is important to note he did this while the bet was still pending and specifically stated he thought their pay table was wrong. He was told by a 5Dimes rep the pay table was correct. Still skeptical he asked to speak to a manager. A second person, this one Dan believed was a manager, also claimed the pay table was correct. This bet won and Dan was paid $3990 in winnings instead of $39.90 he should have been paid.
Dan continued to wager at 5Dimes running well and cashed out $10,840 while still holding an account balance. He claims ALL of his future wagers were on legit lines. He received no other winnings from incorrect odds. Dan had an amazing run winning over $25,000 legitimately during Week 11 of the 2012 NFL season. This was several hundred legit bets and more than a month after he was overpaid on his winning pleaser bet. At this point his account balance was $32,563.09. The excitement of his biggest winning week was ended when he found his 5Dimes account locked right after this win.
Dan then spoke to 5Dimes General Manager Tony Williams for the first time. The chat was not friendly as you can see from the log below.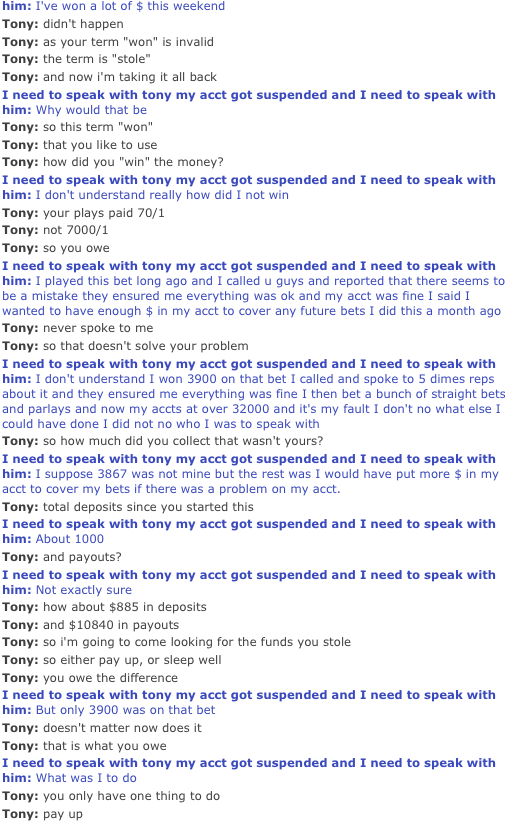 In the log above you can see 5Dimes General Manager Tony Williams takes the position that he is not only confiscating the $32,563.09 but he is voiding all of Dan's action period. He demands Dan returns the difference of $885 in deposits and $10,840 in payouts. He threatens collection.
Tony later alludes there will be no arbitration offered and that rulings (such as SBR) do not matter to him. He continues to make threats of collection.
Even after 5Dimes own rules were pointed out, Tony still makes threat of collection telling a player he should be packing his bags (which can easily be interpreted as the threat of physical harm).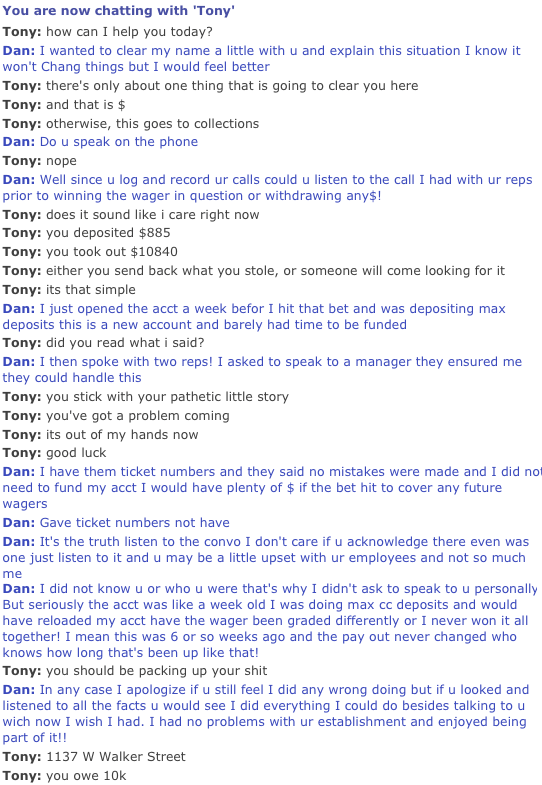 5Dimes Rules Cover How To Handle This Dispute
Remember: Dan attempted to report this error and was told it was correct. He asked for a manager and was told again that it was correct. He then wagered for more than a month making hundreds of wagers. It was only after a legitimate lucky weekend that this was detected and his account was closed. 5Dimes rules do however seem to cover in detail how this dispute should be handled. Below are screen shots from their rules page.
Relevant 5Dimes Rule #1

Relevant 5Dimes Rule #2

Relevant 5Dimes Rule #3
IF the facts are exactly as stated: the rules seem to imply correct way to handle this is to deduct the $3950 over-payment from the $32,563. This means Dan is owed $28,613. If 5Dimes General Manager Tony Williams disagrees then wouldn't it make sense the player is owed a mutually agreed upon fair arbitration over the disputed balance? In this case though 5Dimes is located in Costa Rica where regulation is non-existence and recourse next to nil so thus Tony Williams holds all the cards.
SBR Provides Player No Assistance

For many years self-proclaimed industry watchdog SportsBookReview.com (SBR) is where players go when they have a dispute with an online sportsbook. For the past 5-years their dispute analysis known as Justin7 has been their most respected authority on player vs. sportsbook disputes. His real name is Elihu D. Feustel. He authored the book Conquering Risk: Attacking Vegas and Wall Street. He is a former Pinnacle Sports employee, a licensed US attorney and has likely handled well over 1,000 sportsbook disputes.
In the SBR thread Dan started to report this 5Dimes complaint, Justin7 chimed in (post #51) and posted:

6 days after Justin7 made the post above Dan commented on it (post #256) in the 2+2 thread.

Of course if you read both threads you will see SBR was not interested in this dispute. About a month after this Justin7 offered SBR his resignation. I asked him several questions in a Roughing The Punter thread (update: that forum is now offline). One of them related to 5Dimes to which he answered: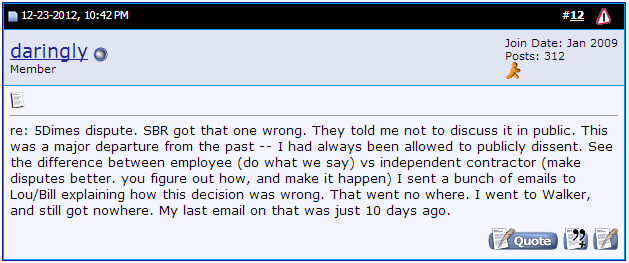 So it is the opinion of the man who has handled more complaints than anyone else: it was not handled correctly, but he was unable to comment on that due to SBR instructions.
SBS thoughts: There are many players that side 5Dimes in this dispute. To quote one of them Thremp had posted the following his blog.
Occasionally I read something written by someone who is retarded. Not in the sense of being born that way, but a self-imposed retardation born of ignorance and arrogance. Here is a good example. It isn't difficult to understand how a bet of +7000 could be mistakenly interpreted as 7000-1 and punched into the odds sheet. Holding a book responsible for every single typo (or the player) would be ridiculous.

5Dimes actually clearly makes this argument: "5Dimes reserves the right to reverse the incorrect application of funds into an account due to human or system/software error. Funds that were not intended to be credited into a customer's account will be reverted upon discovery of the inaccuracy."

Defending angle shooters is one of the worst things that many people do to harm their reputations without even realizing they're abetting unethical behavior.
This is not a sole example, many regulars sided 5dimes while many others took very much the same position as Justin7. There is of course certain players that will ALWAYS side player. We at SBS generally favor trusting trustworthy books with good track records but do take player disputes seriously.
Now in case anyone reading feels that our upgrade of 5Dimes to A is financially motivated, we should note that our website SBS is founded by the only active moderator at the sports betting sub forum of the largest gambling forum 2+2. Over there he recommends 5Dimes consistently to players and has done so right along without pause, and at 2+2 has not an ounce of financial incentive to do so. What it comes down to is this:
Rereading this 5dimes dispute, in retrospect, the short is that one player made a lot of money being paid 7000-1 instead of 70-1, but was in a great position to benefit due to rules seeming to imply his future bets should stand. We have no doubt that 5Dimes General Manager Tony Williams was beyond heated that what he viewed as an angle shooter had cashed out $10,000 in profit due to a mistake. We can certainly understand him being so and also do understand his actions. Considering 5Dimes has an otherwise spotless track record and offers the best value in the industry, 18 months later it seems silly not to restore their rating to A. Thus this is what we have done.