BetIslands to Close Stiffing Players for $1.5 Million
Posted by admin on 18 December 2012 in Betting Sites News
SportsbookReview.com is reporting that the online sportsbook BetIslands is set to close without paying players their existing account balances. Unfortunately, the opportunities for bailouts will likely be limited to special bonus offers at lower tier books. SBS will however keep an eye on this and report any reasonable offers that surface.
SBR to Blame?
Understand BetIslands has never been endorsed here at Sports Betting Sites. This was a small online sportsbook with only 3-5 employees, and no proven track record. Unfortunately this sportsbook grew extremely popular in 2012 due to endorsement by SBR, the same website that is now reporting BetIslands is becoming a stiff book.
SBR is a "self proclaimed" "industry watchdog" that is known for rating online sportsbooks. Initially part of DPT Sports Group, BetIslands was rated poorly at D along with other DPT brands. Then, after deleting references to BetIslands, SBR then made the following rating initiation and upgrades:

.
03/22/2011 BetIslands – SBR initiates rating coverage at C-
05/17/2011 BetIslands upgraded from C- to C
06/21/2011 BetIslands upgraded from C to C+
08/04/2011 BetIslands upgraded from C+ to B-
11/03/2011 BetIslands upgraded from B- to B
.

As you can see, in only about 7 months time they went from a rating of C- to B. SBR has been touting on their rating guide for about 6-years now they recommend players play at books rated B or higher.
Many experienced posters had seen SBR do similar before and were highly skeptical. BetCascade is a past example of a book SBR upgraded in a hurry that went on to stiff players. WSEX was formerly A+ rated at SBR and did the same. SBR however addressed the concerns on many occasions claiming they verified the backing, and went out of their way to tout this brand.
In short order their forum became inundate with posters boosting BetIslands reputation at every chance. Their own mods defended all criticism, and BI general manager Jon was also posting as well. SBS founder has never been shy to say BetIslands reputation was largely built from shills. He shared this opinion on several forums.
7RedSports and EZStreet
Numerous times there were reports claiming 7RedSports.com was operated by Jon (BetIslands) and Oscar (EZStreet). SBR's CEO Bill Dozers brushed this off as being sabotage attacks by former employees. SBR moderator Justin7 made the following claim:

Jon stepped in and made the same claim denying this: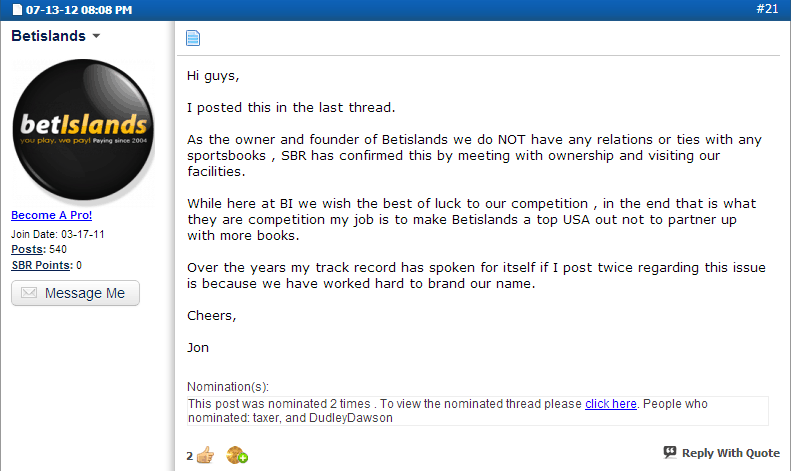 Conclusive evidence later surfaced that 7RedSports and BetIslands were indeed connected. There was then a spin by BetIslands and SBR that insulted player's intelligence. This spin was the idea BetIslands acquired the brand just now. This was after months of denial that they had any involvement with 7Red. The big deal here was 7RedSports and EZStreet were rated D by SBR due to robbing a player. Obviously if SBR was promoting an associated book as B, their reputation would be called into question.
Here is how Jon explained this:

Notice despite allegations dating back many months that BetIslands and 7RedSports were connected he is selling in December "over the past month" they acquired this brand.
SBR and Jon Lied About Ownership?
Sure there is some room to say it was spin and not a lie. However notice in the screen shots earlier Justin7 refers to Jon as the owner of BetIslands saying he has known him for many years, and Jon refers to himself as the owner as well.
Players Have Been Had
The entire reason Bet Islands was even relevant as a sportsbook was SBR's push of their brand. Now in one single day their rating at SBR has dropped from B to F, the lowest rating possible. This brand was heavily marketed at SBR and SBR's mods defended them at every given chance.
Suddenly the spin now is Jon was not the owner but rather just the marketing guy. Jon himself has made a post apologizing and claiming such as has Bill Dozer. The bottom line remains: the only reason people trusted this book was the fact SBR used their position as an industry watchdog to tout them.
If you are still supporting SBR I encourage you to read this thread. There are several forums such as PeepsPlace, 2+2, Roughing the Punter and others that are not sponsored by books. This means there are plenty of forums to hang around besides SBR or other affiliate ran forums. It might be time that players started giving the other forums a look.
Update December 22, 2012: AskTheBookie.com has leaked a BetIslands database showing all funded accounts linked to SBR. There were 458 accounts totaling $1,539,391 (USD) in post up balances. Their article on the topic claims SBR was aware of BetIslands insolvency for quite some time and had told BetIslands to hang on for as long as they could.