The History of Blue Square – Now Owned by Betfair
Posted by admin on 07 April 2013 in Betting Sites News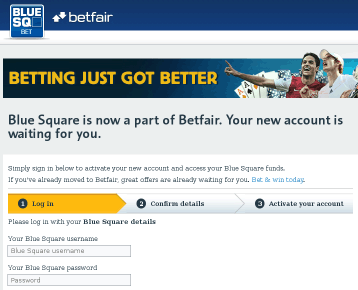 This report is to inform that Blue Square – one of the oldest UK internet betting brands – has ceased operation. On April 2, 2013 it was acquired by its competitor Betfair. Former account holders can visit bluesq.com where they will find a Betfair account waiting that contains their Blue Square account balance.
On April 7, 2013 Betfair announced it will not be utilizing the Blue Square name. They have already migrated accounts. Betfair further announced it will NOT renew Blue Square's sponsorship of England's Football Conference. This is the highest level of non-league football in England and was sponsored by Blue Square since the 2007-2008 season. When the sponsorship ends this year it will mark the end of the Blue Square brand name.
Migrating players will be transferred to Betfair – a company approximately 120,000 former Blue Square clients are not familiar with. You can learn about this acquiring company in our Betfair review. For players not happy with the change, it is worth noting that www.888sport.com all along had identical odds, software and markets as Blue Square. The two used the same host company for their sports betting products. 888 is extremely reputable and by joining their website you can find the BlueSq.com experience you were used to, plus so much more.
History of Blue Square
The history of Blue Square dates back to July, 8 1998 when Mirror Group and Press Association owned www.sporting-life.com added a new section to their website called BETonline. This was the first UK based website to offer internet wagering on sports and races and the odds were provided by City Index. In September 1998, this operation moved to the URL betonline.co.uk. Shortly later a sister brand called Blue Square was launched. These two companies merged effective 6PM on 4th of July 1999. Blue Square was the name the merged companies maintained.
In 2003, BlueSquare was purchased by the Rank Group for £63 million. From a corporate standpoint, Rank Group is quite diverse. They were founded in 1937 by Joseph Rank and were one of the early motion picture companies. They diversified their interests in 1956, by entering the photocopy market under the banner of Rank Xerox. They additionally expanded into other areas of entertainment, which included record production and radio/television broadcasting. Throughout the 90's, Rank focused more on leisure and entertainment services and it was during this time they entered the gambling realm on a serious level. They had owned bingo halls in the UK as early as 1960, as some of their movie cinemas were converted into bingo halls. In 1990, Rank purchased Mecca Leisure plc. This cemented them as the leader of live bingo in the UK.
While most of BlueSq.com players came from the UK, they did make an international attempt. This included supporting other currencies besides UK Pounds (GBP). These included Australian Dollars (AUD), Canadian Dollars (CAD), Euro (EUR) Japanese Yen (JPY), Singapore Dollar (SGD) or US Dollar (UDS). The only countries their company did not service were USA, France, Hong Kong, Netherlands and Turkey. Those were restricted for compliance reasons as BlueSq was licensed and regulated by the Alderney Gambling Control Commission (AGCC) and the UK Gambling Commission. Both commissions restrict their operators from servicing markets where online gambling is clearly illegal.
Rank grew rapidly over the years thanks to a strong management team. Ian Burke, who is the Chairman and CEO of Rank Group, runs the company as a whole. He has served in management in various aspects of Rank's business interests since 1991. Mark Jones was the Managing Director of Blue Square and Mecca Bingo, but now just Mecca Bingo. Mark joined Rank Group in 2009. He came in with vast experience having been the CEO of Pizza Hut UK, CEO of Yates Group plc, and CEO of Premium Bars and Restaurants PLC. Like Premium Bars & Restaurants, Yates group is a branded pub/restaurant in the UK. Clearly, the diverse backgrounds of Mr. Burke and Mr. Jones made for a solid and experienced management team.
Betfair Acquires BlueSquare
In January 2013, Rank Group announced it was to conduct a review into its Blue Square Bet enterprise. While there was a potential for sale, it did come as a bit of a surprise to the industry when this actually happened. The sale price was only £5 million and seen all of Blue Square Bet customers automatically redirected to Betfair, thus ending the use of the Blue Square brand name. At the time of the sale Betfair commented:

"The acquisition is consistent with Betfair's strategy of focusing on regulated markets and growing its sportsbook and gaming operations alongside the exchange."

Rank Group also owns MeccaBingo.com, bricks-and-mortar bingo halls of the same name, and Grosvenor Casinos. They commented Blue Square Bet had been operating at a loss. They went on to say:

"Rank intends to focus its resources on further developing Grosvenor Casinos and Mecca as multi-channel brands meeting customer needs in gaming-based entertainment via venues, online and through mobile devices."

SBS is sad to see BlueSquare.com go as it was a well rated brand here. They were rated B+ from SBS inception until the day they closed. The fact balances transferred right over to Betfair means we were correct in rating them well.