Bodog.co.uk Closes Sports Book and Poker Room
Posted by admin on 08 October 2012 in Betting Sites News

In a move that came as a shock to much of the gambling industry, Bodog.eu is now closed and Bodog.co.uk has closed its online poker room, race book, and sports book. This announcement was made via email on October 4, 2012 and went into effect the very next day. In this article I'll discuss the topic in great depth. First let me comment that for players affected by the change we suggest visiting our sportsbook ratings to find a suitable alternative. With that said, let me start at the beginning with a quick history of Bodog.com.
The History of Bodog
The company known as Bodog left the US market in December 2011, by transferring all US players to Bovada.lv. At the time of this change, they were one of the most popular and well respected gambling sites in the United States. Their founder does however have several strong critics. If you're sincerely interested in this topic I'd suggest reading our history of Bovada.lv (scroll to the bottom) and perhaps this post at peeps. If you were then to read the official account as told by Calvin Ayre or Bodog you'll find our version falls somewhere in the middle.
I want to make clear SBS is its own voice and has strict editorial independence. While we use affiliate links, we are not bought and paid for by anyone. It is our founder's sincere opinion that Bovada.lv and Bodog.ca are very strong websites for recreational players to use and whatever the truth is about Calvin Ayre's past, this past has never come close to having any effects on players using their brands. That out of the way, let me get on topic as to how this history relates.
UIGEA and Domain Seizure
The Unlawful Internet Gambling Enforcement Act (UIGEA) which was signed into law by former US president George Bush on October 13, 2006, was huge hit to Bodog's business as it made it much more difficult to process payments to and from US players. Their company had long used e-checks as its primary method for deposit and withdrawal and suddenly this processing method was largely unavailable due to this new US law.

This hit was nothing compared to the hit they took when their Bodog.com domain name stopped working on August 28, 2007. It turns out this was over a patent dispute. It was a couple weeks later that the name Mohawk Morris Gaming Group (MMGG) was introduced. In backdated press releases Bodog announced they had transferred all US business to this company. They then took the line in US court that the domain seized didn't even belong to them. The timing of this all has always made many skeptical about the changes. In any case from this time going forward Bodog has taken the position they are just a branding company and are no longer involved in online gambling as an operator. There are some hints that suggest today this is the case. For how long it was the case, that's up for interpretation.
Other Bodog's are Still Operational
Understand the closure of bodog.eu and bodog.co.uk has no effects on other gambling sites using the Bodog name. Bodog.ca and Bovada.lv until recently were owned by the same parent company, Mohawk Morris Gaming Group, but each is now registered as their own separate business entity. Canadian brand Bodog.ca is licensed in Antigua, while US brand Bovada is licensed in Kahnawake, a sovereign Indian reservation in Canada. Additionally, there is Bodog88.com which owned by Haydock Entertainment and licensed in the Cagayan Special Economic Zone and Freeport in the Philippines. Bodog.co.uk is another unique website that closed their poker room and sportsbook on October 5, 2012. I'll cover their history in the next section.
Bodog.co.uk History
A while after transferring ownership of North American business to Mohawk Morris Gaming Group (MMGG) of the Kahnawake Mohawk Reserve in Canada, Bodog launched new gambling sites. One was Bodog.ca in 2009, and note Bodog hadn't accepted Canadians previous to this time. The other was of course www.bodog.co.uk which went live in September 2009. This was a serious brand that a lot of money was spent on which makes the fact they closed in 2012 quite surprising.
To provide some evidence of their spends on branding, for the 2009 and 2010 Premier League seasons they were the official betting and gaming partner of London's oldest first class football club, Fulham FC. During this run something historic happened. Bodog who was one the largest bookies in the US, but had never took a bet in person, finally broke into the offline market. On 22 August 2010, Bodog-sponsored Fulham FC was hosting EPL powerhouse Manchester United. When fans arrived to historic Craven Cottage Stadium, they were greeted with Bodog betting booths staffed with Bodog Girls ready to take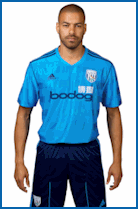 their bets.
In July 2011 Bodog received a UK gambling license. For the 2011-2012 Premier League Season Bodog did not sponsor Fulham, but rather they were the on-shirt sponsors of West Bromwich Albion. While a great deal of their marketing came from exposure to football fans, they also had a strong affiliate program. Many websites began promoting Bodog.co.uk with a £10 free bet offer. However, there were always lingering reports that the conversions and player retention just were not there in the UK market.
Bodog.co.uk did have a ton of betting coverage. Of course they offered betting on the major UK soccer leagues and the big four elsewhere in the Spanish La Liga, Italian Serie A, German Bundesliga, and MLS from the US. Bodog also covered soccer from everywhere else around the globe. It would take a page to list them all, but some of the additional inclusions by name were Chilean Primera Division, Czech 1. Liga, Danish Superligaen, Finnish Veikkausliiga, French Ligue, Greek Super League, Irish Premier League, Mexican Primera Division, Norwegian Eliteserien, Polish Ekstraklasa, Portuguese Primeira Liga, Romanian 1st League, Russian Premier League, Swiss Challenge League and Turkish Superlig. Again, this does not even come close to covering all the leagues they offered betting on.
While soccer was their bread and butter, Bodog UK also offered cricket, rugby, tennis, darts, Formula 1, handball, snooker, golf, cycling and all the American sports as well. No matter what sport players were looking to wager, a £10 free bet was available to those joining their website.
Poker and Casino Products
Bodog.co.uk also had a full integrated casino and poker room and offered the following:
£50.00 Free Casino Bonus – Players that downloaded the Bodog.co.uk casino with a new account could use Casino Code: CASINOBONUS1 to get a 100% up to £50 bonus. The bonus required a 40X play-through which could be met at any games other than Single Deck and Double Deck Blackjack, Baccarat, Sic Bo, Craps, Lucky Wheel, Casino Hold'Em and Roulette.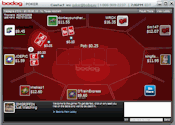 $1000 Poker Bonus – For the first 60-days UK account holders had all their deposits matched 100% towards a poker bonus, up to the maximum of $1,000 free. As they played in the poker room the bonus was released based on reaching poker point milestones. For 100 points – $10, 500 points – $40, 1,500 points $100, 3,000 points $150, 6,000 points $300, 10,000 points $400 (if you add those together you'll see they totalled $1,000) were released. Earning Poker Points: When playing real money ring games players earned 0.1 points for a pot raked $0.05 to $0.20 – 0.25 points for a pot raked $0.25 to $0.45, 0.5 points for a pot raked $0.50 to $0.95 – and 1 point for all pots raked $1.00 or more. In tournaments each dollar paid in entry fees earned 3 points. So for an example a $50+$5 SNG earned $5×3 points = 15 Bodog Poker points. This was about the equivalent of 30% rakeback, and the games were so soft that it was very worth it for serious poker players to take this bonus over bonuses offered at other sites.
Bodog UK's Management and Staff
Bodog.co.uk had an impressive team behind it, which is another reason them closing is so strange. Here's a quick introduction of just some of their staff.

The CEO of Bodog.co.uk was Patrick Selin, who had an impressive track record in online gambling before joining their team. He was the President and CEO of the world's largest poker network Ongame, right up until the time he completed their sale to BWIN for a sum of €500 million in 2006. He then served as the President and CEO of GNUF (Betway) until signing on to become the Bodog Europe CEO in 2010. During his roll with Bodog he signed some the best talent from around the industry.
Early staff signings instrumental for developing the new Bodog website included Mike Bohan of jackpotjoy.com, and AJ Thompson from Expekt.com. Bohan, a long time CRM expert, had spent 4-years with jackpotjoy.com before taking his position with Bodog. AJ Thompson has been in the gambling industry since it all began, having developed the first software for Pinnacle Sports, before eventually becoming the longtime Chief Technology Officer of Expekt.
On the Marketing Side of Bodog Europe – the signings were nothing short of amazing. The first move saw Unibet's head of online marketing Magnus Oldby recruited away to Bodog. Next they signed Sportingbet Affiliate manager James McMaster, Sky's social media manager Markus Smet, player retention expert from PartyGaming Keith Putley, and Ladbrokes casino VIP program manager Abid Riaz. From outside the gambling industry they also hired Philip Macartney (formerly with Bebo) to act as their Global Social Media Director.
The best industry talent continued to find its way to Bodog UK. They grabbed several key staff members formerly with Betfair including CMR expert Ed Perridge, product development guru Arijit Ghosh, and database manager Sathish Seshadri. Three additional Sportingbet talents were signed to Bodog as well – technical product analyst Richard Ashington, business analyst Conor Hickey, and quality assurance manager Sergio Neves Barros. The also brought on Bryan Hurwitz as the company's Mobile Product Manager – Bryan formerly worked for mobile gambling industry specialists Mfuse.

It certainly appeared Bodog.co.uk's strategy was to hire only the best and most experienced members of the gambling industry. They had made several huge signings from outside the industry – none bigger than, Dee Dutta who was hired as their Chief Marketing Officer (CMO) in October 2011. Mr. Dutta was previously the Head of Marketing for the Asia-Pacific region for Visa, and is best known for his 6-years as Vice President & Global Head of Marketing for Sony-Ericsson where he landed them key WTA tennis sponsorships.
As you can see Bodog.co.uk assembled an All Star Team in their quest to repeat the same success they experienced elsewhere in the UK market. Obviously, as reported here in this article, with all the best talent recruited it still did not work out.
Bodog.co.uk Gives Little Notice
After an all-out effort in the UK market, Bodog.co.uk closed their sports book and poker room with little to no notice, effective October 5, 2012. They will be keeping the Bodog.co.uk domain as an active gambling site which will be for online casino only. Existing players can continue to play the casino games, but no new players can register at this time. It is expected in the future the casino will open for new signups.
This move came as a complete shock to many online gamblers. Bodog has always been somewhat of a renegade in the online gambling world so it is unlike them to leave any market. Their brand continued to accept U.S. players well after the Unlawful Internet Gambling Enforcement Act (UIGEA) became law. Bovada, a brand related to the company, still accepts American players today. A large percentage of the poker network's players are located in the US. Leaving markets where online gambling is not expressly illegal, and in many cases clearly legal, seems like an odd move by a brand still powering a related site in the U.S. market. There are not many companies that choose to service Americans at their online sports book or poker room while excluding European players.
Many industry observers felt that Bodog moved U.S. players to Bovada so that they could protect the Bodog brand in regulated markets. The company had already received an interactive gaming license in the UK and was expanding in Europe through their Bodog.co.uk and Bodog.eu brands. This business was abandoned with only a day's notice to players.
Bodog Unique Management Opinions

Bodog has always been a mysterious company. Since ditching his Cole Turner alias in late 2004, Bodog founder Calvin Ayre was never shy about being in the public eye until he was indicted by U.S. authorities in February 2012. This included a March 2006 Forbes article titled " Catch Me if You Can" where he flaunted his questionably legal online gambling operation to U.S. law enforcement. Bodog advertised its brand openly in the U.S. through the media well after the UIGEA was signed into law in 2006. Ayre also posted regularly on his blog at Calvinayre.com where he regularly shared his well educated opinion on the online gambling industry. His last post was on January 3, 2012.
Bodog Recreational Poker Model
When discussing Bodog.co.uk and Bodog.eu closing with known poker player advocate John Mehaffey, best known online as pokeraddict, he offered SBS the following commentary:
"The legal side is not the only odd way Bodog has operated. The company has been obsessed with what the company calls the Bodog Recreational Poker Model. This model is unlike any other in online poker.

Winning players were essentially told that they were not welcome even though no winning poker players have ever been banned. The network even went so far as to remove wait lists and usernames from their poker software. All tables are anonymous and full tables are not even displayed in the poker lobby. Bodog is the only online poker room that does this for all games."
SBS management has mixed feelings about the anonymous poker offered on the Bodog Network, and for the most part agrees with and understands the points made by both sides. We present this as a great thing for soft games in our article on Best US Poker Sites. We however also started sceptical over the anti-collusion concerns.

Also one side has suggested this poker model was adopted due to the difficulty in processing U.S. payments. Winning poker players were making up a disproportionate percentage of U.S. withdrawals. Bodog may have felt that these players were not only fleecing their fish that would otherwise lose to the rake, but now these players taking money out of their poker ecosystem were causing a backlog in their payment system that was causing delays to their less serious players. Even if this was not the reason, Bodog has been open about their wish for winning poker players to play elsewhere. Perhaps the rush for serious players to cash out is what led to our past Bovada Payouts warning, which thankfully have now been resolved.
In any case, Jonas Odman and Patrik Selin who both joined Bodog after leaving the Ongame Network, have been vocal about their opposition to winning players populating their poker network. Both have written articles aimed at promoting their opinion of how winning poker players are bad for online poker networks. These articles encourage other online poker networks to follow their lead. Selin will be leaving Bodog with the closing of the European brands. After all of the discussion about how Bodog's poker model was the best, the company sold the poker network to their Asian partner Bodog88. This Asian bookie reportedly shares the same opinion about the poker model and so far it has remained in place.
Bodog Reputation Outside North America
Even though Bodog focused much of their attention on the U.S. market, the company assumed that Bodog was a worldwide brand. Almost any article on Calvin Ayre's blog about the business touts Bodog as the "World's Largest Gaming Brand". This claim is a bit dubious, and is even more so now that Bodog has abandoned an entire continent's worth of sports bettors and poker players.
Bodog banned players from 20 countries in August 2012. Bodog.eu was already shutting down, forwarding all of their players to Bodog.co.uk that were not already banned from the network. Now most of these sports and poker players will not have a home under any Bodog brand.
One of the biggest problems facing Bodog in Europe was its association with U.S. online gambling, especially after Black Friday. The indictment of Calvin Ayre, along with two other executives, did not help the brand's reputation in the rest of the world. This indictment also seized the Bodog.com domain name. At the time of the domain seizure, Bodog.com was not in use. It forwarded to the appropriate Bodog brand related to the player. American players were sent to Bovada.lv, Canadian players were forwarded to Bodog.ca, while most of the rest of the world went to Bodog.eu or Bodog88.

The problem is that many players were in the habit of typing in Bodog.com. This domain now greets visitors with a message from the U.S. Department of Justice stating that the domain has been seized. New players considering making a deposit also find this out when searching for any Bodog brand in Google. Most players will not consider making a deposit into an online gambling site if they fear the U.S. Government may seize their funds. The loss of money at Full Tilt Poker, Absolute Poker, Ultimate Bet and BetEd are too fresh in player's minds.
The Future of Bodog
Our website has a detailed Bovada.lv review. The US market has long been unstable. With the options currently available we at SBS feel this is one of the top gambling sites for recreational players from 48 US States. Note: Bovada does not accept players from Maryland and Washington State. They have a very rich history and a strong "overall" track record for payouts. This is meant with no disrespect to those critical of Calvin Ayre's past. This is sincere, and our founder Prop has never been shy about discussing this while also stating he does not believe this has had ever had any effects on players using these brands.

Keep in mind however Bovada is a different name. What is the future of the brand "Bodog"? Our outsider opinion is it is too early to call. They have an awesome well marketed product in Canada at bodog.ca. It offers many Canadian friendly banking options such as Interac e-Transfer, Instant e-check, credit card and Skrill. They have a branding deal with Prime Time Sports with Bob McCown on Sportsnet and are official gaming sponsors of the Canadian Football League (CFL). The Canadian version of Bodog is a very strong brand.

Over in Asia the Bodog brand is not well established just yet, but it is making a massive push. They have sponsored two different English Premier League football teams. EPL is well followed in Asia. Perhaps odd for a gambling site, but their ads are also shown on the most popular adult websites in Asia as well. Their affiliate push has also given Bodog Asia, solid branding on sports portals available in multiple Asian languages.
Bodog.ca and Bovada.lv Still Strong
The fact the bodog.com domain has the warning that it does, most certainly harms Bodog's brand potential. It does however appear Bodog is not ready to make a change and is pushing forward building their branding. At the current time we see only very limited cause for concern with Americans using Bovada.lv and Canadians using Bodog.ca. As for the rest of the markets, again in our opinion it is too early to call how Bodog will turnout. We'll continue watching the same as everyone else and will share our opinions at a later date. SBS has no problem at this time recommending Bovada or Bodog.eu.