Bovada Quickly Resolves Live Betting Complaint
Posted by admin on 25 January 2015 in Betting Sites News

US player only online sportsbook www.bovada.lv has fixed a wrongly graded NBA prop bet. The game was Brooklyn Nets at Los Angeles Clippers on Thursday, January 22, 2015. For the start of the 4th quarter they offered an in-play live betting prop on which would occur next:
Clippers Steal -100 Nets Steal +120
Clippers Block +330 Nets Block +450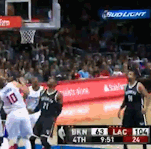 In the 4th quarter the first of those to happen came when Hedo Turkoglu of the Clippers blocked a layup attempt by Cory Jefferson with 9:51 left in the quarter. The winning option for this wager is therefore Clippers Block, as neither team had a steal, and the Nets didn't have a 4th quarter block before this occurred. The game log can be found here.
SBS Admin conversed with a player who bet this prop correctly, only to find his ticket had been graded a loss. The bet history of his Bovada account indicated the winning option was Nets block. The player reported the incorrect grade to Bovada directly, but was unsuccessful in getting it changed.
The response he received was:
We've correctly settled your wager with Reference Number 2——-9 as 'Loss'. Los Angeles Clippers failed to block Cory Jefferson of Brooklyn Nets from scoring a layup shot. Check the link below for the game results:
What likely occurred here is the person grading the wager missed that the winning Clippers block had occurred. In researching it, whoever looked into it on Bovada's end misread the game log which read "Jefferson Layup Shot: Missed Block: Turkoglu (1 BLK)", to mean it was a missed block. All blocks are listed the same way on the log. Better punctuation would be "Jefferson Layup Shot: Missed; Turkoglu: Block (1 BLK)" which is what actually occurred.
SBS reached out to multiple contacts related to Bovada asking them to look into it. To Bovada's credit they were very fast to fix this. They regarded the wager from a loss to a win. SBS is certain this was just a simple mistake. As sportsbooks manage so many of these propositions misgrades do happen. It is unfortunate that support was unable to fix it for the player on first contact but thankfully upon SBS Admin asking them to take a second look it was quickly resolved.
SBS encourages any other players who did in-play betting on this game, to check if they wagered Clippers Block on that market. If so, be sure the wager is graded correctly. If not contact Bovada support, then if needed contact SBS via our contact form.
The same applies for any other incorrect grades here or at other sportsbooks. All three sites listed on our US betting sites page are ones we have contacts with and can likely help resolve any simple, but frustrating, errors that come up. Do always contact the particular betting site directly first, giving them a chance to resolve it, before contacting us.