Bovada Payouts No Longer a Concern
Posted by admin on 26 August 2012 in Betting Sites News
January 24, 2015 Update – It has now been over 3 years since this post was first written. Bovada has been one the fastest paying US betting sites over the past 2.5 years. Over this winter SBS staff made multiple withdrawals by courier and had them in days. There is no issue here, and the news in this post is left here for archive purposes only.
August 26, 2012 Update – After almost 9 months this topic (Bovada payout concerns) has come to an end. All brands have returned to their A- rating held prior to December 2011. Many players are reporting checks in under a week and all outstanding issues have been resolved.
August 11, 2012 Update – Bovada has likely cleared their payout queue, and is now offering one free check by courier payout per month with a $3,000 maximum; additional checks are available for a $50.00 fee. The quoted time frame is 5-10 business days which is a great improvement. SBS has upgraded their rating to B- to reflect the improvements. Do understand it was only a short time ago players were waiting up to 2 months for a payout so we still advise some caution.
July 20, 2012 Update – Sports Betting Sites has upgraded the ratings of Mohawk Morris Gaming Group sites bovada.lv, bodog.eu and bodog.ca to C+ and has upgraded bodog.co.uk and bodog888.com to B-. This is a partial adjustment to the previous downgrade given over payout issues as the result of slightly improved payout times and good forum communication from their staff. We are still advising some caution here, but these new ratings reflect our current assessment of the risks involved in using these sites.
Previous Post
A Message from SBS Founder Jim Griffin, better known as prop from May 29, last updated June 7, 2012.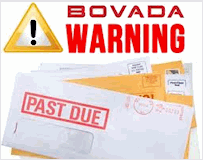 Sports Betting Sites issued a warning regarding Bodog.eu payouts on December 7, 2011. At the time Bovada.lv wasn't yet a gambling site. Once all US players were moved from Bodog to the new Bovada brand (December 14, 2011), I updated this warning to include Bovada payouts as well. Here we are more than six months later and the problem has gotten much worse. Feeling it's been long enough; today I lifted their suspended status on our sportsbook ratings page and downgraded them to C-.
Bovada continues to give excuses for why payouts are delayed. However, www.bookmaker.eu has a new method to pay US players within 1-3 business days (debit) and 5Dimes is always good for same or next day Western Union and MoneyGram payouts. In other words, Bovada's competition has no issues with timely payouts. Each of these betting sites offers poker, casino and sports the SAME as Bovada. So what's the challenge here?
Prior to December 2011, Bovada payouts came within 7 calendar days. Then, with no notice, this changed to 15 days, then three weeks. This left some bettors stuck for Christmas shopping as for a couple years checks came in 7 days, suddenly around December 7 it changed. Well the problem has gotten worse. It reached 20 business days, now for June 2012, it's 25 business days (That's 35 calendar days!) And!! they're not even coming close to meeting that deadline!!
In SBRForum's Bovada Payout Thread poster dward1030 as of May 29, 2012 has been waiting 43 days, and still has no check, nor a tracking number, nor an estimated time of arrival. If that sounds bad, WahooStrikesBack requested his April 8, and also has no check nor tracking number – that's 51 days he's been waiting! (update: on May 30, 2012 WahooStrikes back reported on forums his tracking number has finally been received). These are not isolated incidences either. normhal22 and Yolkix have been waiting 48 days, shushilove for 46 days, skyla316 for 41 days, and the list goes on and on.
Over at 2+2 the news isn't much better. compiler has been waiting 53 days for just a $175 payment. FARGOpokerND has been waiting 50 days for $2,500 – Bovada has given him a $500 bonus and applology but can't tell him when he'll be paid. PLAYOFFS has been waiting 49 days. zedonk and RaPoker have each been waiting 45 days, etc. etc. There are however some people getting paid after long delays which you read about in their Bovada Payouts thread.
There are also reports their affiliate program bettingpartners.com is grossly late on payments world-wide, and several CPA and flat-rate advertising deals have been cut.
If you still have funds in this sportsbook, consider getting the very next spot in line to cash them out. If things get better SportsBettingSites.org will be the first to report it, and we're hoping they will. However as the owner of an honest guide to sports betting sites, my conscious tells me the best advice is "Run Forrest, Run!" If I'm wrong, sure no problem, but so far SBS has been spot on and it's always better to be safe than sorry. At the very least the advice is to keep no more cash with Bodog/Bovada deposited than you can afford to lose should they become insolvent. To note: The last time I used those same words, the company was called Full Tilt, and this was in a post titled, Full Tilt Bankruptcy warning, made several weeks before they went offline.
To be clear the Full Tilt post I made at OnlinePokerSites.co.uk was a preliminary warning about the possibility of Full Tilt becoming insolvent, and acknowledged it was then unlikely, but the "possibility" exists. Well in December 2011 I warned I foreseen the "possibility" Bovada payouts could get worse and kept that warning on our home page. This happened. I still believe Bovada will likely be okay, but they're no doubt vulnerable with a lot of people unpaid. Should something else happen, an arrest, funds seized something else. There is always that risk, "one of these times" so to speak. So again: the advice is to keep no more cash deposited Bodog/Bovada than you can afford to lose should they become insolvent.
Initial Report Modified December 14, 2011
Below is our initial warning, with comments added in:

BOVADA (formerly Bodog.eu) had operated for several months with a quoted average processing time to door for check withdrawals listed at 7 days. A few days ago this was changed to 15-days, and today it was changed to within 3 weeks. Although this is still faster than some other reputable online gambling sites, when a site doubles and triples their processing times required to issue payments in such a short time frame it is always a cause for concern. Keep in mind those depositing just a week ago did so with the understanding checks took an average of 7-days to process. Now with no warning they discover requesting a cashout in time for Christmas has become unlikely. Also consider if you're fine with the within 3-week period what happens if BOVADA again triples this in the coming days? (Note: This is what happened)

Bovada Payout History

This matter has long since been resolved, but at our original site we had a warning to avoid Bodog.eu (now Bovada.lv) displayed for much of 2008. A similar situation started where quoted withdrawal times increased several times over a short period, and reached all the way to a published 60-day estimate for their only payout method of the time which was paper check. Note that often times back then payouts took well over the 60-day quoted time frame to arrive (sometimes 4-6 months). Although this is most likely the case of a backlog and something Bovada will pull through fine, it is worth noting a former A+ sportsbook called WSEX had processing issues, which turned into a run on the bank, and is now left in dire financial shape. At WSEX there are cash out requests nearing 2-years in age that have still not been processed. (Note: WSEX is now rated F, which means scam.) Compounding the issue is that Bovada has a lot of things working against them that will cause runs on the bank.

BOVADA Run on the Bank Risks

Many poker players are FURIOUS at Bovada over anonymous poker tables. Many websites have made accusations that players are not well protected against collusion and bots, or even worse have accused Bovada of doing this so they could operate rigged poker games, or games with Super Users. Even if these are dismissed as crackpot theories it wouldn't change the fact players are angry with Bovada and many are working in a wide spread effort to warn players not to patronize Bovada at all. So in addition to poker players cashing out their balance, other sirens and warnings are causing even sports bettors to pull out or avoid joining.
Bovada Competence and Integrity Called into Question – There was a known hack of the Party Poker anonymous tables, that Bovada went on record explaining why it was not possible with their software. They were discredited by hackers who did the honorable thing and exposed it on the wide scale. Bovada spun the story slightly via CalvinAyre.com; some 2+2 forum posters took this article and Calvin Ayre's initial comment as needling. These poker community members are having a field day using the poor security practices, software design and response at CalvinAyre.com to call Bovada's competency and integrity into question.
The Rebrand is Fresh. When we first wrote this post, Bovada was named Bodog.eu, they only changed their website to www.bovada.lv on December 14, 2011. As new users with funded accounts discover this they are likely to start searching and wonder "why the change?". When they do so, they're likely to find negative Bovada and Bodog press. Meanwhile anytime, regardless of bad press or not, that a gambling site changes its name players are going to be concerned. This has potential to further escalate a run on the bank.
Compounding Future Possibilities – Bovada has a no shortage of enemies right now who are becoming passionate about warning other players about them. Whether this is warranted or not does not change that this is a fact. What else might hackers discover? Or what if their bank accounts are discovered and frozen by DOJ? What if a key person is arrested? (Note: Nostradamus, I suppose. Their founder Calvin Ayre, their company, and three key employees were indicted by US authorities since I made this post. See the Forbes.com report). I'm not attempting to speculate here, I'm only pointing out Bovada is far more vulnerable now if something else were to come along and compound the problem.

Bovada has a solid history and we suspect all players will be paid. (Note: we're still optimistic this will be true, but suggest it's better to be safe than sorry.) Please understand this post is not a complaint about three weeks being too long to cash a player out. The intent is to show two back to back changes in quoted payout time frames (7 days to 15 days averages and then to within 3 weeks) over a couple day period is an indication Bovada is likely dealing with a high volume of cashout requests. There are also additional concerns that indicate the high volume of withdrawals and lesser number of deposits could carry on for a while. Given these factors we are unable to properly assess the risk level Bovada users face and have placed their rating on hold. All links from our website to bodog.eu or bovada.lv will be redirected to this page while this hold status is in place.

January 16, 2012 Update – Several payout requests from December 14 to December 18 were finally received in recent days, delivered to US players via check by courier using DHL. At this time we are still keep their rating on hold as the payout rush after the Super Bowl will be Bovada's next major challenge. If you're looking for an alternative that offers sports betting, casino and poker from the same website we strongly recommend www.5dimes.eu. As you can see on our page on US Poker Sites they are perhaps the best option for US players. Meanwhile for casino they use DGS software with modified payouts, for example red/black in roulette pays $1.09 per $1.00 wagered and this is consistent for all other games (payouts much higher than the competitors offer on each every winning bet, regardless of game played). Then finally for sports 5Dimes offers reduced juice (-105 base) which means on average you'll need to risk $1.05 for each dollar you want to win, as opposed to the industry standard (-110 base) which requires $1.10 risked. And the best news is not only do get better odds you also get fast payouts as well. Same day or next day cash transfers via WU and MG are available. 5Dimes has been in business since 1998 and has consensus top ratings all three major independent review portals, Sports Betting Sites, Sportsbook Review and Bookmakers Review.
Why I haven't Heard this Elsewhere?
Most gambling websites are run by affiliates who are paid well to give their recommendations. Some of these sites act as watchdogs, but even the reputable ones are often shams. They cover all valid players complaints, except those of their advertisers. If you go to 2+2 or any other forum players are allowed to complain, you'll find no shortage of Bovada payout complaints.
Help Required: Post like these are not popular with affiliate sites. Please help warn fellow players about the potential current risk of using Bovada. Perhaps by tweeting this post on twitter, writting your own, telling a few friends or whatever else. You have my permission to use or reference this post in anyway that will warn players of the potential risk.
Bovada Payouts Updates
May 30, 2012: At PokerAffiliateListings.com a Bodog rep with the handle Riyaz (Linkin Profile lists Abid Riyaz as VIP CRM Manager at Bodog Europe) posted an apology for the late affiliate payments. He assures all payments will be made, and that this isn't about lack of funds. He cites a restructuring due to processor changes to ensure faster payouts in the future. He states partner brands had to prioritize payments and focus on player payouts first, which makes sense. More importantly within the next month they hope player payouts will go back to 10-15 business days. We hope so and will be happy to evaluate Bodog's rating at the time. However, they remain C- on our ratings guide and the Bovada Payout warning remains in effect.
Also, a poster with handle creepingdeath19 reported getting his payout after a 53 day wait. However multiple new slow pay complaints have hit the forums. For example, a poster with handle faheemrob is still waiting for his April 11 Bovada payout request.
June 5, 2012: Since last update, more of the same on forums. A small number of Bovada payments reported, but a higher number of complaints – including those approaching 2 months unpaid. Also over at Wizard of Vegas a disappointing post was made to show this isn't likely to end anytime soon. Bovada's priority is getting caught up, meeting the 25 business days (35 calendar days) quoted for current requests and getting back to 15 business days (3 weeks) by the end of the summer. Again a reminder www.bookmaker.eu offers everything Bovada does and more and issues payouts in 1-3 days via a unique method that allows access to cash for just a $2.00 fee.
June 7, 2012: News hit today that Bodog sold their poker network to Bodog88. The buyer is an Asian bookie with the corporate name Haydock Entertainment who is licensed in the Cagayan Special Economic Zone under laws of the Philippines. They've been licensing the Bodog brand name since March 2009 and are less reliant on Bodog services than the other Bodog brands, specifically – Bovada.lv, Bodog.eu, Bodog.ca and Bodog.co.uk.
June 16, 2012: The good news is players are being paid (just slowly). There's no shortage of outstanding slow pay complaints, but there is enough reports that indicate Bovada is paying out. Time frame is about 6-8 weeks. Again I suggest www.bookmaker.eu if looking for a betting website that pays fast.
Additionally, the CEO of Bodog Europe Patrik Selin has announced he will soon step down and leave the brand all together.
This is the latest that helps paint a picture of the potential Bodog/Bovada financial situation. In addition to gross slow pays to both players and affiliates, there have been numerous cancelled advertisements. One specific example, their sponsorship of English Premier League football club West Bromwich Albion was dropped effective May 31, 2012. Bodog had announced the partnership in July 2011 and was originally scheduled to be their shirt sponsors for two seasons. This ended one season early. There have also been reduced advertising deals on several online portals.
Hopefully the sale of Bodog poker network, reduction of sponsorship spend, and elimination of salary to their high profile CEO, helps Bodog/Bovada have the liquidity needed to pay players in a timely fashion. As always SBS will continue to monitor and report.