Bodog Founder Calvin Ayre Indicted by US Authorities
Posted by admin on 28 February 2012 in Betting Sites News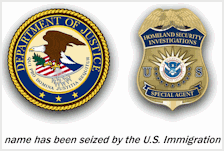 Early this afternoon, the website address www.bodog.com began displaying a notice it had been seized by U.S. Immigration and Customs Enforcement – Homeland Security Investigations in accordance with a warrant obtained in Maryland's US District Court. It also contained a message reminding it is unlawful to conduct illegal gambling business under Title 18 US Code § 1955. Very few in the online gambling industry so much as batted an eye over this notice for reason Bodog discontinued using this domain over nine months ago (May 23, 2011) and also left the US market eleven weeks ago (December 14, 2011).
It turns out the domain seizure was merely part of a much larger story. The bigger news is that the founder of Bodog Calvin Ayre and three fellow Canadian citizens named James Philip, David Ferguson and Derrick Maloney and the company Bodog Entertainment Group S.A. have been indicted by a Grand Jury in the United States District Court of Maryland. The charges as explained in the just released Calvin Ayre indictment document are Count One: Running a Gambling Business, and Count Two: Money Laundering Conspiracy.
The Allegations
Baltimore U.S. Attorney Rod Rosenstein alleges that from June 9, 2005 to at least January 6, 2012 the defendants "did knowingly and unlawfully conduct finance, manage, supervise, direct, and own all or part of an illegal gambling business, to wit, a gambling business involving online sports betting." In interview he claimed "Sports betting is illegal in Maryland, and federal law prohibits bookmakers from flouting that law simply because they are located outside the country." He then added typical US let's legislate morality and grown adults need the government to protect them rhetoric in saying "Many of the harms that underlie gambling prohibitions are exacerbated when the enterprises operate over the internet without regulation." Needless to say attorney Rod Rosenstein just became an early strike off the list of who will be receive SportsBettingSites.org Christmas cards next season.
Getting back on track with the news, the six-page indictment went on to claim that Bodog.com used payment processors to send over a hundred million dollars to United States citizens from bank accounts located Switzerland, England, Malta, Canada and elsewhere. In the document they specifically named two of the processors which were JBL Services who allegedly processing at least $43 million and ZipPayments who allegedly processing at least $57 million. Finally it was alleged that $42 million dollars was sent to media partners for US targeted advertising during the period 2005 through 2008.
Sports Betting Sites Smells Something Fishy
This entire business of seizing the domain and indicting Calvin Ayre and other Bodog reps well after the fact reeks of motive to create a media circus of messaging sending via cheap press than it does of actual criminal proceedings. As reported ages ago, back in 2008 the Internal Revenue Service (IRS) seized millions of dollars in Bodog assets sending them into their darkest periods where they struggled for months to make timely payments to US players. Included in those early 2008 seizures was $14.2 million on February 19, 2008 from JBL Services and $9.87 million from ZipPayments on July 2, 2008. Ring a bell? These are the same processors mentioned in this now four years later indictment.
I speculate the reason now four years after the fact the US authorities are finally taking action is simply vengeance over the fact gambling icon Calvin Ayre got the best of them yet again. After all, this is a man who was a feature cover story in a 2006 Forbes Magazine article named Catch Me if You Can. Interesting is that after the first (and before the second) of the two major Bodog fund seizures of 2008, Calvin Ayre retired from his position as the CEO of Bodog. At the same time he cleverly made it public knowledge that months earlier he had transferred ownership of Bodog's North American operation to Mohawk Morris Gaming Group (MMGG) which is based in the Kahnawake Mohawk Territory (Indian Reservation) of Quebec, Canada. They now run that business under the name Bovada.lv.
Over the most recent ten-month period, the US authorities have shut down gambling sites Full Tilt Poker, Absolute Poker, Ultimate Bet, and BetEd, while they also caused PokerStars.com and the Everleaf Gaming Network to exit the US market. The one man they never got was the one who had taunted them the most, that being the legend Calvin Ayre. So it appears what happened is they got a former high ranking employee in Bodog to give them the names James Philip, David Ferguson and Derrick Maloney. They then slapped together one most pathetic looking indictments of all time using dirt old info, got the Bodog.com domain seizure notice signed, and then contacted the press to get the media circus started.
Factual Error in the Indictment
First of all the indictment appears like it was written by the cheapest bidder at upwork.com. Seriously, via Google search the writer could have found other Bodog processors to include such as EGALO, MPS, Direct Channel and ZAFTIG. Heck they could even tracked down more staff as half of their programmers have pages at LinkedIn and who knows what else could have been discovered by becoming their Facebook friend. Anyways besides all this, the indictment specifically says "doing business as bodog.com" which hasn't been the case for over nine months. I guess having LA Times, NY Post, Forbes etc. at their beckoning call is US authorities saving grace as I'm not sure their latest work would cut it if they needed to rely on SEO. Moving on…
Sports Betting Sites Opinion
If you're looking for the dramatized report you can read the forbes.com version of the story by clicking here. A response by Calvin Ayre was posted on his website (since remove) which claims.
"These documents were filed with Forbes magazine before they were filed anywhere else and were drafted with the consumption of the media as a primary objective. We will all look at this and discuss the future with our advisors, but it will not stop my many business interests globally that are unrelated to anything in the U.S. and it will not stop my many charity projects through my foundation."
. What's important to understand that's not covered in the related news reports: indictments have long been common place in the world of US betting sites. The founder of Sportsbook.com was indicted an eternity ago; the founders of BetUS.com started their sportsbook while fugitives, Bookmaker.eu – those guys have been indicted more times than I can count. I could go on and on here, but the bottom line is these companies and individuals are located and licensed abroad and the US has no jurisdiction over them.
Now to clear: Marcia Murphy, a spokeswoman for the U.S. Attorney's office said the four are not in custody while spokeswoman Vickie LeDuc later added arrest warrants had been issued for all four defendants. Considering Calvin Ayre and his three amigos are NOT US CITIZENS how are they going to arrest them when sports betting is legal in most civilized nations? (yes, that statement is true. China, Russia, Taiwan, etc. etc. all have legal government operated or licensed sports betting).
Additionally, Bodog as in the company named in this indictment hasn't accepted US players in 4-5 years now, while the Bodog brand all together recently left the US market. I'll get the popcorn out to watch how this all plays out, but at this point I see only minor cause for players to be concerned. If found guilty: each face 5-years in prison for the gambling charges, 20-years in prison for money laundering and $1,000,000 in fines. Luckily for players, those fines are affordable and we have Mohawk Indians, Filipinos, and Albion Footballers to hold down the three Bodog brands while these men are away.
Wishing Bodog the Best
On more serious note SBS sends our deep sympathy to Calvin Ayre, James Philip, David Ferguson and Derrick Maloney. We thank you guys for all you've done for the gambling industry and wish you the best of luck in this matter.