Intertops Stops Accepting US Players on June 20, 2012
Posted by admin on 20 June 2012 in Betting Sites News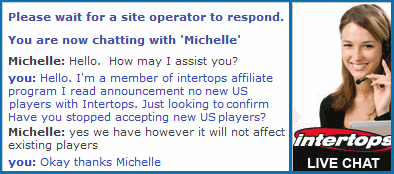 The internet's first online sportsbook, who was also the first to ever launch mobile betting, and the first to offer sports betting, casino and poker seamlessly from the same website has closed to the US market. This website is Intertops.eu (formerly intertops.com) who effective June 20, 2012 is no longer allowing United States residents to open real money player accounts. At the current time this does not affect existing US account holders.
This announcement was first reported on a popular industry forum, and SBS staff confirmed with live chat support.
Intertops Alternative
For residents of the United States looking to bet sports online, play online poker, or play internet casino games our top recommendation is www.5dimes.eu. They've been in business since 1998, and hold a consensus top rating on all major industry review portals. New players must make their first deposit via MoneyGram or Western Union and will need to contact live chat upon opening an account to have their cashier activated. Understand 5Dimes is the last site we know of in the US market that issues same day payout requests via Western Union and MoneyGram and does so at a very reasonable fee, which is reduced or eliminated on Fridays.
Intertops.eu History
Intertops was one of the first ever offshore bookmakers, that is of course if you can call the United Kingdom offshore. Their story began in 1982 when their founder started a bookmaking business in his home country. Less than a year he later ran into conflict with authorities, and moved to the UK. From here he started mail/phone in bookmaking business. Bettors would mail in checks weeks in advanced and these were only cashed if they lost. He targeted Germany and many Scandinavia countries initially. In 1992 their operation was moved to Austria and they began taking phone in bets from all over the world.
A key person to their internet success was Simon Noble, who in 1989 (age 18 at the time) took a job as a ticket writer in their London office. In 1994 he was relocated to Austria and chosen to head up their internet expansion team. This was a race to become the first ever online sportsbook. He was successful in this roll and on 17 January 1996, a Finnish gambler named Jukka Honkavaara made the first ever online sports bet. This was placed at intertops.com on a UK Football match between Hereford United and Tottenham. Simon Noble would soon later be named the CEO and the company was moved to Antigua. He eventually left intertops to become CEO of then internet giant World Wide Tele Sports (WWTS) – later acquired by Bodog (2006), before eventually becoming the marketing director of Pinnacle Sports.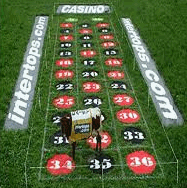 Intertops success as an online sportsbook came rapid. Simon Noble was a master of link bait before such a term even existed. He would post odds on controversial events and often give MSN.com or Yahoo.com a nudge who would cover these stories linked on their home page that started media frenzies. He also wasn't shy about attempting wild crazy ideas. One such example: in January 2002, he launched a live deal game called Moolette, which used cows as dealers. This broadcast four cows roaming a field with a giant 65-foot roulette wheel painted on it, and wagers were placed on where the next cow plop would land. Yes entirely legitimate this was one of their casino games a decade ago.
In 2003, Intertops.com partnered with PartyPoker.com becoming the first ever PartyPoker skin. When this was added to their website they became the first ever gambling site to offer sports betting, casino and poker seamlessly using the same player account bank. Eventually when PartyPoker closed their network they moved to Migrogaming and then later to Cake Poker now known as the Revolution Gaming Network.
A further indication that Intertops was well ahead of their time, in 1999 when others were worrying about Y2K, Intertops was developing the first ever mobile betting software. Their WAP enabled website went online in 2000! Today Intertops software might feel a bit dated. However, what's important to understand is this company did it all without footsteps to follow. The first betting website, the first mobile betting site, first live dealer casino, first seamless sports, casino, poker site etc. Intertops are true innovators of their field and have always paid US players quickly, right on through to the end. While good options such as Bookmaker and 5Dimes still exist, the exit of Intertops from US market is no doubt a considerable loss. Our Intertops Review has been updated to reflect their departure from the US market.