PinnacleSports.com Assures No Employees Arrested: Business as Usual
Posted by admin on 27 October 2012 in Betting Sites News
The website PinnacleSports.com was mentioned this week in United States legal action that saw 25 individuals arrested and indicted on enterprise corruption, money laundering and conspiracy charges. The indictment alleges 15 are bookies, 5 are agents and 5 are money distributors. In summary reports, a District Attorney from Queens, New York has alleged three of the men arrested are owners of Pinnacle Sports.
Pinnacle Sport Response
In response, PinnacleSports.com contacted the Associated Press to issue this statement:
Regarding the recent allegations surrounding the individuals allegedly affiliated with Pinnacle Sports, please be reassured that no Pinnacle Sports employees have been arrested or charged, and Pinnacle Sports itself was not charged in the indictment. We expect no interruptions to our day to day business activities at this time, and will continue to provide our clients the excellent value and service Pinnacle Sports has been known for.
SBS Opinion on Alleged Pinnacle Sports US Involvement
Please note this section is labeled "SBS Opinion" and is just that. It is our opinion as long time members of the gambling industry that the company operating PinnacleSports.com, which is licensed in Curacao and Alderney, does not directly service resident of the United States. In fact, they block at least 26 different countries and territories for compliance reasons. This includes United States and its territories, France and its territories, Spain, Turkey and Netherlands.
With that said, PinnacleSports.com is one of the friendliest betting websites to professional players. They have the highest betting limits found online, the lowest margins (best odds) and a track record dating back 15-years for the fastest payouts in the industry. This is a website the largest and most talented punters from around the world count on. There is no doubt there are many savvy American players who would love to have an account at PinnacleSports.com.
From here the question to ask is this. If one or more Pinnacle Sports master agents resident where sports betting is legal had sub agents operating in the United States under them is the Alderney and Curacao licensed PinnacleSports.com that no Americans can deposit with, responsible? How far do the US laws go? Is PinnacleSports violating US law, or is it further down on the chain to where the money actually enters or exits the United States? Also, understand Pinnacle has a product well recognized in the industry. If there were some players in the United States betting Pinnacle's product, are they likely to refer to it under some other name or as Pinnacle?
Hypothetical Scenarios
Again, to be clear, there are countless United States residents that would love to have a betting account at PinnacleSports.com and can't get one because this company refuses to service American players. To put this in perspective – here are two hypothetical scenarios.
Scenario 1: Massachusetts and New Hampshire are two US states that border one another. If you owned a fireworks shop in New Hampshire, is it your responsibility to walk each customer out to the parking lot and check if their car has Massachusetts plates? Understand fireworks are illegal in Massachusetts but are legal in New Hampshire. This is a similar situation. Pinnacle is legal where they operate and refuses to allow US sports bettors to fund betting accounts. They do however let them log into betting accounts, look at them, but they can't send any money to wager with.
Scenario 2: an agent comes to Pinnacle and says he can bring $4 million per month in turnover. He asks for 0.20% of turnover as a commission and agrees to settle with them personally in Curacao. Should Pinnacle turn this down? They are in the business of attracting such bets from around the world. Here they have an agent settling in their home country. Again, if this agent uses subs that are in the US and this is where his volume comes from, who is guilty here? The legal licensed company settling in their home country where they are fully legal or whichever person in the chain first conspired to take US bets?
The problem with much speculation on the internet, even from industry insiders, is the assumption that PinnacleSports.com conspired to take bets from American players. Is it not possible, or even just as likely, that due to having the best end product the action found them via businessmen that are agents?
Sure, a conspiracy is "possible", but where is the proof? Remember this is a company blocks US players from posting up, and in our opinion shouldn't be concerned what agents and sub agents might be doing and what risks they take. Unless there is proof Pinnacle conspired to take these bets, then how do you view it differently than PinnacleSports.com taking bets legally for or on behalf of agents? We suspect no proof of direct involvement at the corporate level is forth coming. Therefore much of the industry discussion is in our opinion speculation.
SBS Opinion on Allegation Owners Were Arrested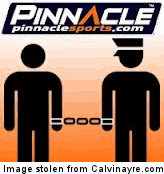 Industry insiders close to PinnacleSports.com when pressed have long said "many" people own this company. Our opinion here is that large ownership sitting in the United States all these years would be odd if the company was actually servicing the US. They are not servicing the US directly and many more than three people have an ownership in this company.
The names of the individuals arrested which we won't repeat, though can be found in US media reports, are also fishy.
Alleged Owner #1 had unrelated legal issue with a US government agency 8 years ago. Then 5 years ago he was accused of being a large agent for another respected betting site. He was shaken down, had cash and computers seized but was not arrested. Now he's being named as the owner of an entirely different site?
Alleged Owner #2 his name stuck out right away. He was one of the most feared sports bettors in the 1980s. He has been harassed several times by US authorities. He is a sports bettor that has been accused many times of being a bookmaker.
Alleged Owner #3 we were not familiar with. A quick Google search will show he's listed in court documents dating back the 1980's as being a known bookie. Not as a rat, but rather on minor details, he has testified in a criminal trial before.
What it largely appears like, and again this is our opinion, three individuals long known to have involvement in high stakes sports betting were accused of being owners. This is a nice addition to a 25 person arrest. The other factor is the indictment named four website that were used PinnacleSports, Jazz Sports, Wager4you.com and PlayHere.ag. Anyone familiar with the industry should be able to put together the fact this involved agents or clients of multiple different bookmakers.
Reevaluating Pinnacle Sports A+ Rating
To give the quick version first, SportsBettingSites.org has decided to leave PinnacleSports.com A+ score on our sportsbook ratings intact. I'll explain why in detail, but first let me make a quick disclosure. SBS is a member of the Pinnacle Sports affiliate program. When a visitor clicks our tracking link, joins Pinnacle, deposits and bets, we earn a small commission off their turnover.
Do however understand SBS has a reputation in the industry as being one of the most honest player friendly portals on the net. Also, PinnacleSports pays affiliates on turnover while other sites pay on per referral or profit share. The latter two are higher paying options. If our website was motivated by profits, which it is not, it would be a better move for us to use this news as an excuse to downgrade Pinnacle so that other betting sites appear higher on our ratings page.
Our Assessment of PinnacleSports.com Risks
Heavily factored in our assessment is that only $7.5 million in cash was seized. This money was seized from many different individuals. While millions of dollars are a significant sum, for Pinnacle's size this is not an amount that should come anywhere close to breaking them, and again it is still a huge if that they were even involved and remember there were multiple sites named. There is also lot to suggest that the company that owns the website more than 50% of the world's population can access and wager with legally www.pinnaclesports.com was not involved here. Keep in mind this website is available in over a dozen currencies and languages.
Now anytime there is a major hit to large sports bettors anywhere in the world it does hurt the market. This can mean less arbitrage players sharpening the line and less information to go on. This could, and in fact likely will, have some effects on the market. It shouldn't minimize at all. However, we see no indication that post up players are at added risk here. Pinnacle has held a consensus top rating at industry review portals for 7+ years. While data for comparison is not released, it is not at all a stretch to assume they are the largest online bookmaker in the world in terms of volume.
Here we have a case of he said she said. One side is saying everything is fine and business as usual and this side is largely viewed as the most trusted bookmaker in the industry. The other side has used all sort of propaganda in their press releases to sway public opinion. Their associates in similar positions have gone as far to suggest online gambling funds terrorism in the past. It is up to each player to decide which side they want to believe. We at SBS see no concerns with PinnacleSports.com and still consider them the safest website for sports bettors living in the countries Pinnacle services to use.
Business as Usual
Finally, it is worth noting, even though we felt no need to cash out, we did the responsible thing and made some tests. Our staff used their own player accounts to test four unique e-wallet withdrawal methods. Each e-wallet payout request was for a small four figure amount. The payout times were 19 minutes, 6 minutes, 4 minutes and 13 minutes, all received without problem.
At this time we see no reason not to keep PinnacleSports.com rated A+. Again, they have the highest limits, lowest margins and best track record for fast payouts. This is a site the sports betting industry most trusts. It would be a grave injustice not to continue recommending them as the best website for global players over some propaganda from the United States.