The Wizard Declares BLR Technologies Rogue (Updated)
Posted by admin on 03 November 2011 in Betting Sites News
03 FEBRUARY 2012 UPDATE: From 18 November 2011 to 02 to February 2012 Legends.com was rated C- on our rating guide over this incident. Our concern was comments by Legends general manager Rachel Miller in a Pittsburgh Tribune article as apparently the RNG was not the cause of the problem. Also Panama is long known for licensing scam sites so we do know Legends is not heavily regulated. The fact remains however Legends has a spotless track record for sports betting and is one of the fastest paying US Sportsbooks. Considering there is no proof rigged games were played on their website, and is plenty to suggest the software provider was at fault, we have raised Legends rating to the point it should be had this incident not occurred. This decision might not be popular, but we believe Legends is a decent option for sports and just suggest players be careful of, or avoid, their casino.
18 NOVEMBER 2011 UPDATE: Legends has been downgraded from B- to C- over the possibility they used rigged online casino software. The casino experts are laughing out loud at the comments by Legends general manager Rachel Miller in a Pittsburgh Tribune article as apparently the RNG was not the cause of the problem. It's likely if they did use rigged software this is now covered up and we'll never know. Considering Panama is long known for licensing scam sites, and SBR has a policy of reporting issues at all sportsbooks except for those that they sponsor (which includes Legends), well C- isn't too far off regardless because players have no recourse in any legends.com disputes.
Original Report Included Below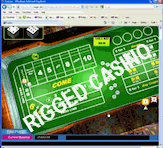 Wizardofodds.com posted an article about BLR Technologies less than 24 hours ago, which contains conclusive evidence this casino software provider has been operating a rigged online casino game. The back story relates to a casino gambler uploading 4h26m worth of video coverage to YouTube that documented and analysed his craps play at the online casino of World Wide Wagering (SBS: Unrated) who operates at www.wager.dm.
Famous gambling math expert Michael Shackleford who operates Wizard of Odds, and is known in some circles as simply "The Wizard" did his own analysis of this craps game. His determination was the odds of winning powerball twice in just two attempts is 184 times more likely than experiencing the results he did while analysing this game. His colleague Dr. Eliot Jacobson had even worse results. You can read about this in detail here.
SBS Casino Warning
Although our Sportsbook Rating Guide applies only to sports betting and not online casinos we are still advising readers to avoid the online casinos of the following online sportsbooks:
World Wide Sports (wager.dm)
724Sports (724sports.com)
BetHorizon (bethorizon.com)
PantherSports (betpanther.com)
The first casino on this list is where the rigged online craps game was found. The final three sportsooks on this list used BLR Technologies casino software at one point – we are unable to confirm if this is still the case as these sites are private (need to know someone to open an account).
Legends.com Casino Affected by This?
The reason Legends is given specific attention is because they are rated highly by our competitors and are quite popular with US residents. Here at SBS they hold a rating of B. When I first posted this story 8-hours ago we had Legends included on the original list. Since this time their company has claimed their game is immune to these issues due to running a certified and tested RNG which is not the same one wager.dm was using. As all information is preliminary I (prop – the owner of SBS) have edited this post to add them to the caution (as opposed to avoid) list, until more facts are known.
Who is BLR Technologies?
According to their own website located at blrtech.com they are "the ultimate provider of gaming industry software solutions." Yes, that's the first sentence of their website and the entire remainder of the website isn't too impressive either. This same website also claims they "provide both front-end and back-end solutions for the online gaming industry such as Sportsbooks, Racebooks and Online Casinos." Their copyright starts at year 1999 and their website mentions their "first decade was only the beginning!" The website iGaming Suppliers lists their founding month as August 1998, their CEO as Mr. Javier Pereira and their marketing director as Mr. Andrew Leetz.
To provide our own analysis – BLR Technologies serviced mostly small gambling operators with online betting and casino software until signing the now Bookmaker.eu (SBS Rated A+) bailed out and closed BetJoint and then later Legends who back then used the URL legendz.com. The later signed on with them in 2006 with the conversion from their old IQL powered software to BLR technologies completed on July 10, 2006.
How Long Has the Game Been Rigged?
At this time we are not aware of the answer to this question. There is some "non-conclusive" evidence that suggests in May 2011 the game was not paying fairly at wager.dm, for how long that's been the case is unknown to us. The conclusive evidence is the recent analysis done by Michael Shackleford and separate analysis by Dr. Eliot Jacobson that together prove beyond even the remotest shadow of a doubt that the online craps game at wager.dm was rigged at the time these analyses were done, which was just in the past few days.
Are Other Casino Games Rigged?
At this time only an examination of BLR powered craps game at wager.dm has been published. We are not aware if any other casino games have been tested by gambling math experts to ensure their fairness. Certainly it is possible but we couldn't tell you either way.
SBS Responsible Action
While I realize this is a situation not all of our visitors will agree with, we are only a watchdog for "sports betting sites". The only sportsbook using BLR Technologies which is rated on our guide is Legends (SBS Rated: B-). At this time we are not going to change their rating over a casino issue. Considering our rating guide deals with sports betting, not casino, we believe this is appropriate. However, knowingly running a rigged game is a sign of character and integrity, and rest assured that while we don't rate online casinos, if aware of this happening, no matter if it was an A+ or a D- book or anywhere in between, that site will immediately be moved to "scam site" which is an SBS rating of F. In this situation, the dedicated posters at the best watchdog site for online casinos are on it, in a thread that can be read here. We'll await for the consensus of respected posters on the casino side of things before considering any action here.
Sometimes Online Casinos Are Rigged!
Of course this is a reminder that sometimes online casino software actually is rigged. Always be responsible when betting casino games over the internet, and never chase losses as there is no guarantee you'll be given a fair chance to win them back should you find yourself playing in a rigged online casino. While most casinos of the big name brands are safe, it's always better to play it safe than to end up losing your roll and wondering was it your own fault, or were you cheated. As always SBS encourages you to gamble smart, and be disciplined and responsible. If you struggle with that, check out gamblersanonymous.org.
Notes: Some sites have made reported that Heritage Sports uses BLR Technologies software, this is false and has been for as long as I can recall.