Warning: Sportsbook.com New Card Counting Rule
Posted by admin on 24 March 2012 in Betting Sites News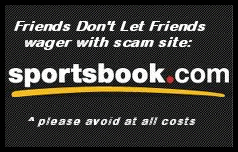 Moments ago, I came across an interesting player vs. betting site dispute at SBR. The quick gist is a player deposited $300, received a $60.00 bonus and managed via live dealer blackjack to run his balance up to $8,000 in a single night. He then completed the account verification process, and was cleared to request payouts via check. After another 48 hours he ran his balance up to a whopping $30,000 + a $5,000 pending withdrawal, which on March 14 he was told would take 6-8 weeks to process.
At this point, one can only imagine this player was loving life, so glad to have found sportsbook.com. However, hours after making this $5,000 withdrawal request, he logged in and discovered his account was disabled. He was then accused of counting cards which was prohibited by their terms and conditions. A quick check of their terms and conditions revealed under the heading VegasLive Casino the following rule was in fact listed:
Professional card counters are prohibited. If you are found to be a professional card counter, your account is subject to immediate closure. Any winnings deemed to be won from card counting will be removed.
An interesting point – how do you distinguish between a professional and amateur card counter? The first two sentences of that rule are incredibly subjective and can simply be scratched, while the final sentence is relevant: "any winnings deemed to be won from card counting will be removed."
This is of course a ridiculous rule. There are many times card counting is obvious. However, with this rule, a complete degenerate fish could sit down while the count is favorable, make a large bet and be accused of playing in syndicate. Such a rule has no place in an online casino. If your game is beatable due to card counting then you simply do not belong in the business! That game should not be online because on the internet we can literally sit with a pen and paper and count cards.
So can the game be beaten by card counting?
To be blunt, I'm not willing to deposit with this rogue sportsbook to find out. What I can tell you is their live dealer games are provided by Visionary iGaming, which is considered a reputable software provider. Visionary's management includes former PokerStars executive Steve Obia as their CEO, and Gian Perroni as Senior Vice President of Marketing. Many in the industry remember Gian Perroni as Absolute Poker's card room manager during their early days, where he also headed up their prop team. For 3-years he was an executive with DublinBet before joining Visionary iGaming's management team in August 2010.
The challenge here is the fact these are "dedicated games" meaning Visionary provides unique tables exclusive to Sportsbook.com who can set their own rules. The best I can tell you here is that after checking several of Visionary's iGaming's other clients, I see no mention of "card counting rules" anywhere else? So why do they exist at Sportsbook.com?
Well as the SBR article on this topic reveals, they didn't exist – these were added rules intended for no other reason than to mug a big winner. You see, SBR did some investigative work and found via Google cache these rules were only added after this particular player won $35,000. They then tried telling him his winnings were confiscated for violating a rule they added to their terms that day – in other words a made-up rule that never existed, and was added simply to perpetrate theft against this player.
Thankfully SBR caught them red handed, and Sportsbook.com quickly reversed their decision and decided to pay the player in full. This however should serve as yet another warning, and reason to avoid sportsbook.com. As I posted in my last article on sportsbook.com theft, this company has a long history of mugging players and shouldn't be trusted. When you play there and win, there's no telling what rule they might make up to steal your winnings.
If you're looking for a safe and fair gambling site with spotless track record for timely payouts and player dispute resolution look no further than www.5dimes.eu. These guys offer an online casino with the best odds in the industry, have live dealer games, a reduced juice sportsbook, and are also number one our list of Best Poker Sites. Seriously, avoid rogue companies like Sportsbook.com and go with a site you can trust – that site being 5Dimes for all you gambling needs from a single website.
I can't stress enough, avoid global.sportsbook.com and www.sportsbook.ag. If you play there, you never know if you'll be the next victim they decide to mug.