September 2012 US Betting Sites Rating Reassessments
Posted by admin on 18 September 2012 in Betting Sites News
Over the past month, Sports Betting Sites has changed the rating of several US sportsbooks. Starting with what we expect will be the most controversial ones, BetOnine.com (.ag) and Sportsbetting.ag are now rated B-. Other changes include Topbet.eu upgraded to C and LowVig.com initiated at D+. In this article I'll discuss each change, and also explain why WagerWeb.com remains D- Rated.
BetOnline and SportsBetting Rating Change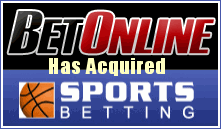 In November 2011, we made a downgrade from B+ to C- over serious BetOnline Poker issues. Initially we stated that while still a good option for sports betting their poker room is extremely high risk. We removed the earlier part of that statement when complaints continued. After hacking incidents, slow pays with associated brands, and numerous support issues we were in no hurry to upgrade their rating. For anyone skeptical of their recent upgrade now, understand BetOnline was not advertised at any of our websites during all the years we had them B+ rated. Covering their issues has brought us great traffic surges, and it's certainly more profitable for us to rank in search engines for their negative terms and refer players to other brands than it is to upgrade their rating. This is however not the type of portal we run; their B- rating is our sincere assessment.
Regarding slow pays with associated brands, the major issue was lowvig.com. They recently had a long $15,000 slow pay to forum poster mathdotcom, which due to lack of update we suspect has since been resolved (note: see update at bottom of this post). This brand originated in late 2011 when BetOnline ended their reduced juice (-105 offer) to players that were previously grandfathered into this promo. These players were given the option to transfer their balance to LowVig.com where they could continue to get reduced juice. Well LowVig is/was just a copy of BetOnline hosted on the same server. BetOnline support however has all along maintained a position that the two are separate companies and BetOnline is not guaranteeing LowVig balances. Considering a young company with now a history of slow pays, we've initiated LowVig's rating at D+.
Same Day Update: It turn out the gross LowVig $15,000 slow pay has NOT been settled. Poster mathdotcom shared on a forum today that after assistance from SBR's founder, LowVig transferred half of his balance to A+ rated Bookmaker.eu. As of the time of this update the other half remains unpaid. This is a several month long slow pay.
As previous reported: BetOnline purchased Sportsbetting.ag in late May 2012. When they did, there were a large number of outstanding payout requests left unprocessed by former owners. BetOnline was slow to pay these but has since cleared this backlog and has paid or has payments in process for all outstanding requests. They also went back and settled some old disputes the old owners refused to address. With all players now either paid or having payments on the way, we feel confident giving SportsBetting.ag the same rating as BetOnline. Therefore Sportsbetting.ag is now rated B-.
Regarding all other complaints, I can't recall any complaint brought to forums against BetOnline that was not eventually settled fairly. In fact, what I do know is many of the players complaining and lobbying anti-BetOnline on forums also continue to use their site. They have decent betting limits, soft openers, and pay fast via Person2Person (P2P) and Book2Book (B2B) transfers. The real issue here is their customer support department is extremely poor. To date that side is still a major issue. We believe players' funds are secure and all is on the up and up. It's only the support that could cause players undue stress and can sometimes result in delayed payouts and other frustrating experiences. Their support truly is atrocious and if anyone from BetOnline is reading this, I hope you guys can work this out. In any case BetOnline's rating is now a respectable B-.
Topbet.eu Upgraded to C

One of our industry contacts from a top rated sportsbook let us in on some details regarding Topbet ownership. We are now more confident this is not a Futurebet owned website. They are leasing software from the well-known crooks behind oddsmakers.ag but are not the same company. They also do their own processing and are less likely to have the same issues other Futurebet sites have had. Our reassessment of their rating is as follows: this sportsbook appears to be taking large risks with their bonus offers and some sloppy bookmaking. New books generally start at C- on rating guide unless there's a positive track record behind ownership to warrant a better starting rating. The high risk model Topbet uses is tough to pull off long term. However with a year's positive track record under their belt, had we initiated them at C-, they'd now be rated C. Hence the reason we've reassessed their rating to this same grade. For those not familiar with our ratings: do be extra careful using any book rated lower than B+.
WagerWeb Still Rated D-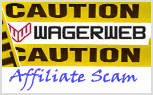 Someway, somehow WagerWeb managed to get removed from the blacklist of Sportsbookreview.com. SBS has however since confirmed multiple thefts covered in our WagerWeb Review are still unresolved. Anyone upgrading them must be corrupt (bribed) or naive.
Final Words
We strongly encourage bettors to use our sportsbook rating guide when selecting an online sportsbook. www.5dimes.eu with their proven since 1998 track record for same day payouts and -105 on NFL sides is probably the current best option for most US sports bettors. However if you need high limits www.bookmaker.eu is wise. If you're a recreational bettor and like live betting and also casino and poker games from the same website, and want to deposit with a VISA card, you can't go wrong selecting www.bovada.lv. All three of these sites are much better options than BetOnline, Sportsbetting.ag and TopBet. However for fairness these brands I just mentioned now do have respectable ratings.