WagerWeb Pays TrixTrix Settling 42-month-old Correlated Parlay Theft
Posted by admin on 10 May 2013 in Betting Sites News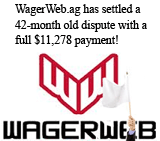 WagerWeb.ag has resolved a 42-month old dispute by paying a player known as TrixTrix his full $11,278 balance. This was previously a high profile dispute that SBS and other industry watchdogs had long classified as theft. Multiple times WagerWeb did attempt to settle this for less than was owed including an offer in January 2013. The player always refused to settle for anything less than his full balance which SBS agreed was rightfully owed.
Shortly after BetLegends.eu player accounts and balances were transfer to WagerWeb, they decided to finally settle this past dispute. The player was sent an email on April 22, 2013 which said "Good news we have come to an understanding with SBR and one of the issues on the table was resolving the player dispute we have pending with you.". His address was requested and full payment of his balance from 42-months ago was sent. The player has since confirmed receipt.
History of This Now Resolved Complaint
In order to fully understand the details of this past dispute there are some terms to define and details to explain.
Parlays Defined: a parlay is a wager where you place multiple bets on the same ticket. For example let's say you stake $110 on Patriots -3.5 -110. This is $110 to win $100. If you instead staked $110 on a 2-team parlay of Patriots -3.5 -110 and Jets +4.5 -110 this is how it works: For the Patriots selection a win returns $110 stake + $100 win = $210. This $210 then rolls over to the Jets +4.5 -110. $210 staked at -110 pays a return of $210 stake +$191 win = $401. Of this, $110 was your stake and winnings are $291. Bookmakers offer parlays to give players the option to roll their stakes forward on wins. It's attractive because it requires making one bet instead of multiple bets and doesn't require as much initial stake.
Correlated Parlays: A correlated parlay is a situation where the outcome of one event makes another more likely to occur. For example: in college football if you're betting a parlay on a large favorite of first half -14 / o20.5 you have heavily correlated parlay bet.
Who is TrixTrix: He's a well-respected member of many betting forums where he uses the same handle. In his prime he was one of the more helpful posters and it's possible to learn a lot reading his past posts.
Some Correlated Parlays are Blocked: In the example I gave of a correlated parlay -14 / o20.5 for first half the software of online betting sites will not allow parlay bets. In such an example the correlation is too heavy and gives the player a large edge over the bookmaker.
Some Correlated Parlays are Allowed: There are however correlated parlays which are allowed. Betting a full game -3 / o48 has a very tiny correlation. It is not enough of a correlation that most bookmakers would ever consider blocking a parlay on those selections.
Thoughts on Correlated Parlays: Betting sites need to block the parlays they don't want. This is how it works at most all betting sites, and this is how it worked at WagerWeb. Some are blocked, some are allowed. The ones the software allows are considered binding bets. There is no ands, ifs, nor buts about this. Voiding legit action after the fact is theft.
The image I shared in the intro to this section was a correlated parlay that on October 11, 2012 some betting sites let me bet and others did not. Understand before attempting this bet I wasn't sure if it would be allowed or not. It is a close one where, while there is a strong correlation, there is not enough correlation to fully overcome the vig. For competitive advantage reasons I will not mention the sites that accepted the wager, but one site that blocked it was 5Dimes Sportsbook where I got the following message:

Understand if a highly reputable betting site such as Bookmaker.eu accepted the bet I would have no fear it would be cancelled. Reputable sites via the software block parlays they don't want and accept ones they are willing to book.
Details of TrixTrix vs. WagerWeb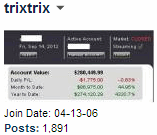 TrixTrix began making "allowed" correlated parlay wagers at WagerWeb on August 23, 2009. He was not very successful at first and by October 17, 2009 was down $11,000 betting these. His lucky break came October 24, 2009 when he grew to net $3752 positive, and was now ahead $4300 from correlated parlay betting.
If you've read this article in full you might recall I have covered other instances where WagerWeb benefited from free roll situations. Their company had no problem with the bets trixtrix made when he was down large money. However once he won they confiscated his full balance. Keep in mind this player did not break any rules at all. If they had confiscated only the $4300 in correlated parlay winnings this would be unjust. However what they did here was steal $7,000 additional that was in his account.
This complaint lingered on and took 42-months to settle. A couple years into it WagerWeb attempted to play the new management roll blaming it on past staff. They've also changed the story several times. They went as far as alleging trixtrix is a beard for Elihu Feustel who previously worked for SBR and was their top dispute analyst. He was working for SBR at the time they made this claim and had handled this complaint.
Some quick facts: yes there have been some changes in WagerWeb management. Dave Johnson is now with sportsbettingonline.ag. However, Dan Richards who at the time they were making these claims was billed as the new owner, had been with this company since the very beginning. In 2000 he was billed as the head of marketing. At another time he was billed as the manager of their shady white label brands. For several years now he's been the "non-marketing name" head of WagerWeb, billed simply as being the manager. Recent reports call him the "new owner" which is quite deceptive. His name was used in BetCBS/WagerWeb complaints that date back a dozen years and he also handled this trixtrix case.
Anyone who did unbiased research on the trixtrix complaint considered this theft. WagerWeb even took it to a site they advertised with (OSGA) who ruled mostly against them. After no one sided with them, they attempted to claim software glitches – which evidence suggested is false. Their claim of new ownership we challenged, but even if true – this ownership for a long failed to right this wrong and even threw in the claim that the player was a beard. They multiple times stated they have proof of this, yet refused to share it.
There is much more we could report here. Our traffic logs indicate that the negative press WagerWeb received from this complaint cost them well over $11,278 in lost business. There was also the issue of our competitor SBR changing their stance along the way and giving WagerWeb multiple upgrades despite not paying the player. There was even extortion involved where extra money not part of the dispute was taken and WagerWeb refused to pay it unless the player took their offered settlement. Details of all this however have now been archived.
Whatever the motive for paying may have been, WagerWeb has since made full payment and has no outstanding disputes.